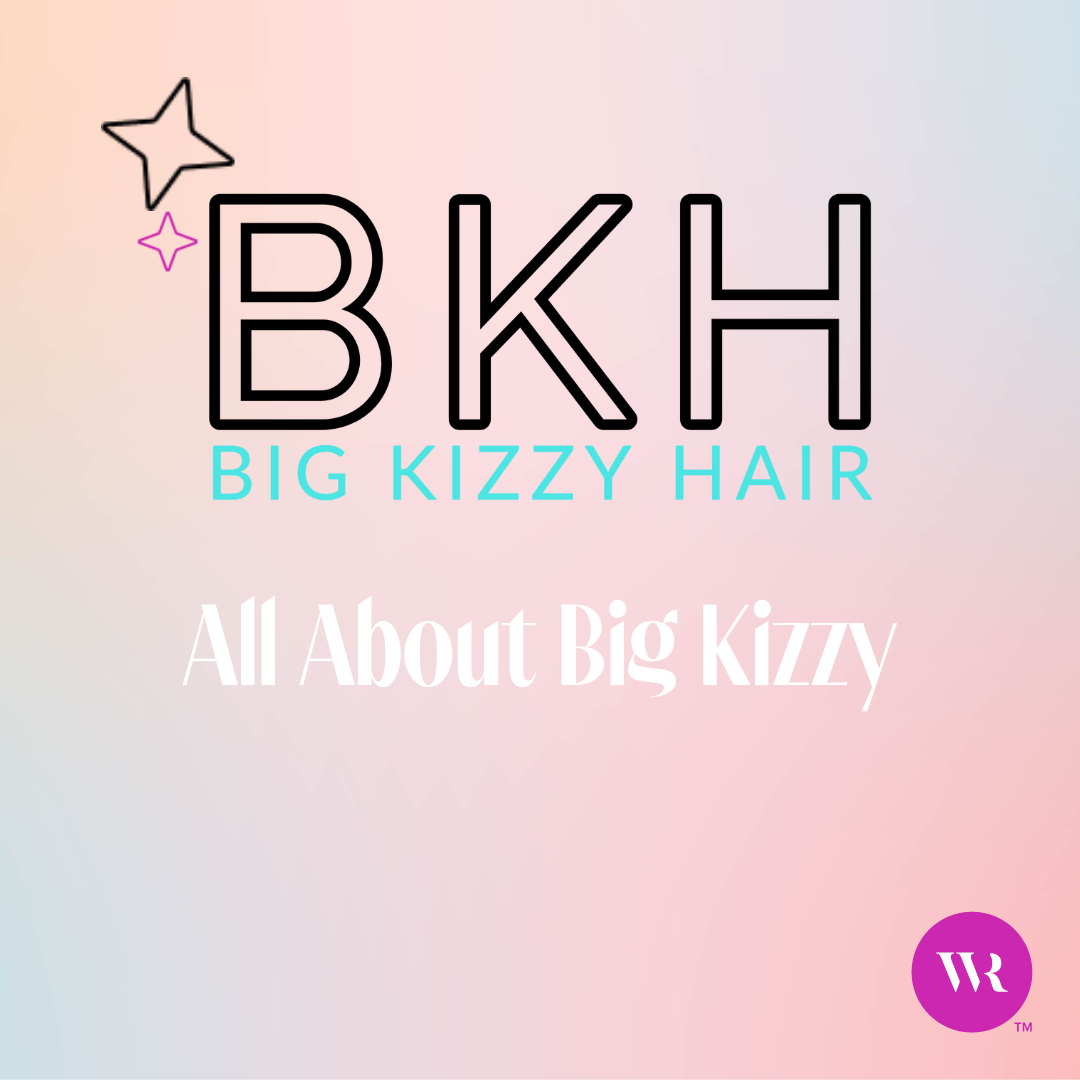 November 23rd 2022
All About Big Kizzy
You got your perfect Wicked Roots hair extensions and are now looking for the perfect products to complement them? Look no further than our besties at Big Kizzy Hair and hear from the Owner himself, Christopher Box, on why Big Kizzy makes the perfect match with Wicked!
Meet BIG KIZZY HAIR - The World's FIRST Hair Care Line for Anyone in a Complicated Relationship with Their Hair.
Big Kizzy Hair was born out of my passion for the hair extension and beauty industry. I started working with hair extensions in 1998.I remember the first time I saw a co-worker installing extensions on one of her clients. I was completely mesmerized and enamored by the entire experience. I literally felt like I was watching someone work magic. I knew immediately that I wanted to dedicate my career to the art and craft of hair extensions.
Not only did I dedicate my career to becoming knowledgeable on all the ways to weave but I have also gotten the opportunity to leave my mark on the actual industry. I helped develop one of the first tape extension products on the market in the early 2000's. My love of hair extensions allowed me to travel the globe working as a brand ambassador for several hair extension companies. I even got to work as an extension consultant at New York Fashion week for brands like Betsey Johnson, Badgley Mischka and Carolina Herrera.
In 2018 I decided to hang up my salon owner and stylist hat and pursue my dream of creating an actual hair care line. I wanted to create something that would not only enhance your extension experience but also support your own natural hair. It had to be energetic, chic, intuitive and inclusive. A hair care line designed for the unique needs of anyone who navigates MULTIPLE modern services.
Ever feel like your hair has an identity crisis?
The truth is that most people these days get a variety of hair services done in (and out) of the hair salon. Changing up your look isn't something you do once in a while - it's something you do several times a year.
I had my "there has got to be a better way" moment in late 2016 at my Dallas based extension salon. I had to spend 20 minutes explaining to one of my clients how, why and when to use the 2 shampoos, 2 conditioners, and several other hair care products for each of the services she had received. I remember she asked me if I was joking. I assured her that I was not. I remember thinking just how ridiculous I sounded. I asked myself - why isn't anyone making products that can keep up with these services?
Here is a list of the services she received that day:
She had thinner/fine hair - AND it was a frizzy texture.
A volumizing treatment of tape in hair extensions - 4 sets a year.
Base color to cover her gray - every 5 weeks.
Balayage highlights - 3 times a year.
Keratin Treatment - 3 times a year.
Needless to say - she had a lot of moving parts in the look she was wanting to maintain. Not only did I need to consider the care of the chemical services AND extensions BUT I also needed to consider the texture of her hair AND the extensions. It was more than a little bit confusing! (even for me as a stylist!). I had a real conundrum on my hands. Most of the hair products designed to support and care for her hair services didn't always match up to her hair type. Or worse, could make her hair extensions slip or didn't properly care for her keratin treatment.
To be fair - not everyone gets this much done to their hair. However, in my experience, most of my clients did get more than just 1 type of service done. It gets complicated when you start adding services like hair extensions and keratin treatments. It can get confusing when you get home and read the instructions on the bottle only to find out that there are not any for the services you just received.
For years, I pieced together hair care regimens for my clients from different hair care lines. The truth is that A LOT of the products manufactured in a large hair care line can actually be used for several different types of hair and services - even if the label says it only does one thing. Go ahead - check the label of your hair care. It will tell you that it does this 1 thing for this 1 type of hair. In my experience, hair care companies aren't interested in making multi purpose hair care products. There is more money to be made having a product for each service and hair type.
The problem I kept running into was how confusing it was trying to explain to my clients that even though the shampoo didn't say it was hair extension or keratin safe - that it was indeed fantastic for these services. Sometimes new clients would even question our integrity. They would often feel that my team and I were just trying to sell products for the sake of selling products. Does anyone really want 2 shampoos and 2 conditioners and 42 styling products for their hair? The answer is NO!
Maybe I tend to over exaggerate (a little). There is some truth in what I am saying though. You shouldn't have to sacrifice your overall experience just because you want to have the best hair you possibly can.
One "Tissue" for Many Issues - Multi Purpose Hair Care Line
One of my main goals was to make Big Kizzy more than just a hair care line. I wanted Big Kizzy to be an experience designed to support your hair and lifestyle. I leveraged all the knowledge and experience that I gained from the many years I spent behind the chair providing salon services. The details really matter to me and I think they matter to our customers.
I paid special attention to details like responsible ingredients, packaging, scent, and even the clever names of each product. I am an experiential learner - a fancy way of saying I like to get my hands in it - to feel it, to ponder it. Big Kizzy is the fruit of many years of doing hair. All of our products are very high performance and can do multiple things for your hair. It is the line I needed as a stylist to make my job easier.
The whole line can be mixed, matched, and cocktailed to create a custom and unique experience tailored just for you. I believe that you and your hair are not, nor will you ever be - one size fits all. Big Kizzy Hair was born out of the love I have for the magic of being an extension expert and stylist. Because it really is magic, being able to unveil someone's hidden potential. Bringing Big Kizzy to life has been a powerful and humbling experience.
Christopher Box Owner & Founding Stylist of Big Kizzy Hair
Shop Big Kizzy Extension Tape & Tools
Learn about the power of The Holy Trinity hair products
Use CODE: WICKEDROOTS20 to get 20% off these products!