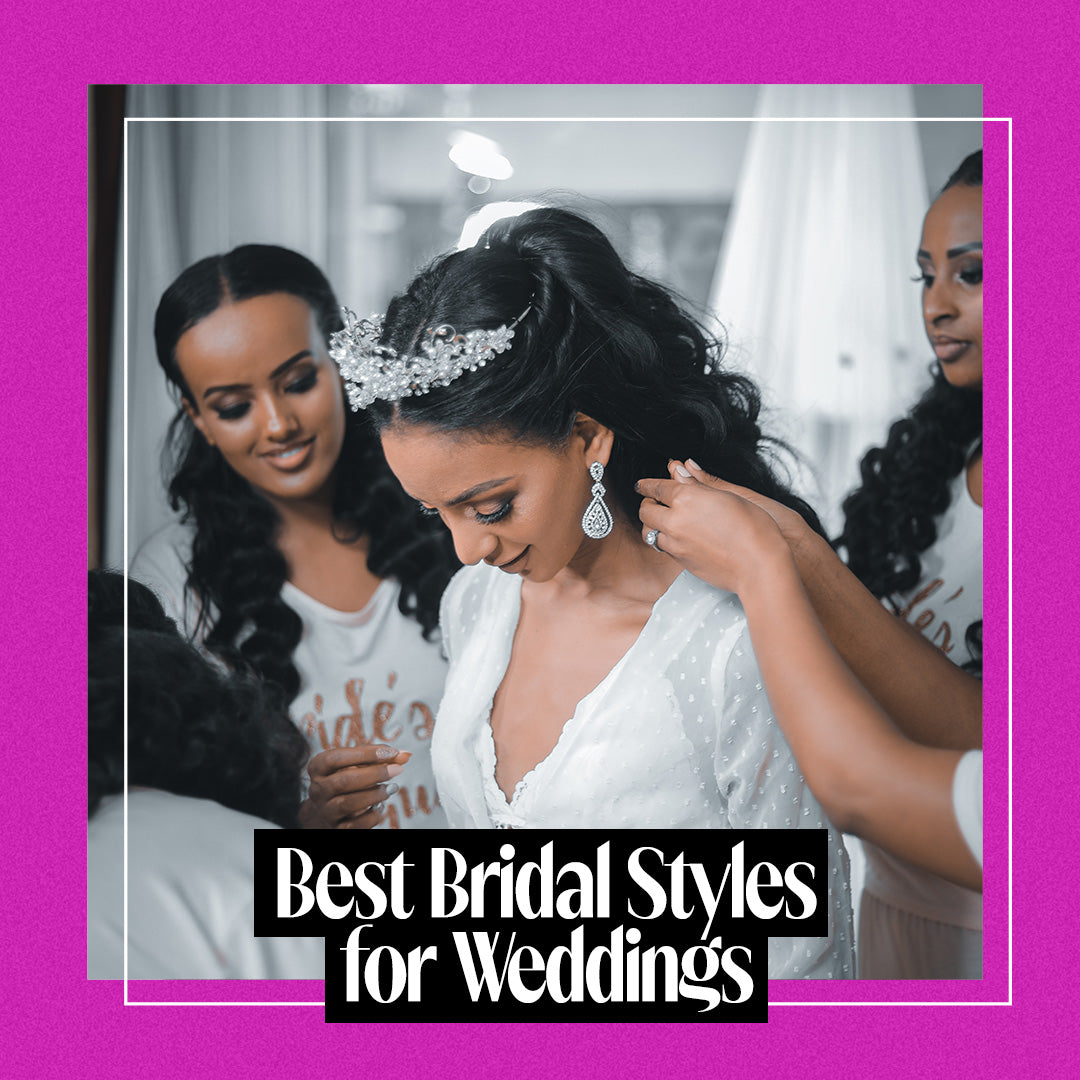 August 27th 2021
5 Best Bridal Hairstyles for Your Wedding
Your big day is coming up (you know, the one you've been dreaming about forever!), and there's a good chance you're stressing out about how you're going to wear your hair. You
 want your look is perfect - we feel you! Here are 5 gorgeous bridal hairstyles for the big day.
miaYour big day is coming up (you know, the one you've been dreaming about forever!), and there's a good chance you're stressing out about how you're going to wear your hair. 
Maybe you have questions like: 
Will it look better to wear my hair up or leave it down?

Do I go with bridal hair extensions or natural hair?? 

Should I allow curly hair or something tousled? 
This is a monumental day in your life, one that will be documented and shared for a lifetime. You want to make sure your look is perfect. We feel you!
Share these ideas with your glam team as inspiration for your wedding day. You can't go wrong with any of these beautiful bridal hairstyles.
5 Gorgeous Bridal Hairstyles For The Big Day
Not sure how to wear your hair on your wedding day? Check out these five absolutely enchanting options! 
Tousled Updo
A tousled updo is chic yet flirty - the perfect wedding day vibe! This hairstyle is lovely for a medium-length cut and can be enhanced with tiny braids or even a hairpiece. 
Chignon
This classic look is sure to stun. It's a voluminous low bun pulled back at the nape of the neck. If you're going for a simple yet elegant look, try this one.
Loose Waves
Loose waves, especially long loose waves, are so beautiful, especially for strapless wedding gowns. If you lack length or volume, you can still achieve perfection by adding hair extensions. Whether you want tape-in hair extensions for the big day and beyond or just want a set of clip-ins to make the look that day magical, you'll be happy you said I do!
Half-Up Half-Down with a Hairpiece
For an elevated look that keeps the hair off of your face, go for the especially gorgeous half up-half down look. This style will always be on-trend. Use a sparkly hairpiece to accessorize your look with some fun and personality!
Side Braid
A long side braid, paired with some loosely curled hair strands, has Boho energy to the max. It's fun, it's light-hearted, and it's definitely a great wedding day option. 

Do I Need Hair Extensions for My Wedding?
You might be wondering: do these bridal hairstyles require a lot of hair? Should I get hair extensions for my wedding? 
At the end of the day, you want to feel confident and beautiful at your wedding. Short or long, the day is all about you! If you rock short hair, there are many beautiful styles you can wear. But if you want a more intricate, flowing look or elaborate updo for the best day of your life, you should absolutely get hair extensions for your wedding. Hair extensions will not just give you extra length but also extra volume and texture for your stylist to play around with.
So, What's the Best Kind of Bridal Hair with Clip-In Extensions? 
The possibilities for bridal hair with clip-in extensions are seriously endless. There isn't necessarily one kind of bridal look that works best. However, if you're envisioning yourself walking down the aisle with a train of locks or a long, beautiful side braid, you'll love the look with clip-in extensions added.
What Are The Best Clip-In Hair Extensions for Weddings? 
When it comes to the best clip in hair extensions for weddings, you should definitely use 100% Remy Human Hair extensions. These are easily the most popular kind of clip-in extensions for weddings, as they're extremely high-quality and made out of actual human hair. They will look most natural and feel most comfortable, two things that are non-negotiable for us. Browse our Clip It Hair Extensions or start by finding your perfect color match with our Swatch It samples. You'll absolutely fall in love with our hair extensions for weddings.
Should I Wear My Wedding Hair with a Clip? Or No Clip?
Great question – here's our two-cents: Wedding clips can be absolute show-stoppers if you're going for a dreamy, romantic look. We believe that dainty, elegant hair clips (with pearls or sparkles) make the best wedding hair pieces. They add that extra pizzazz and compliment the sparkle in your eye.
However, it really depends on the look you choose. If you're going for an elaborate hairstyle with braids and flowing strands, then a hairclip might complicate or overpower the initial beauty of a look. 
Pictures are worth a thousand words, and your wedding photos are forever. Choose one of these bridal hairstyles for your wedding, and you can feel confident that you'll be absolutely in love with your look and your memories of it. And don't miss out! You can save money on your wedding day hair by joining the Wicked Weddings Program!