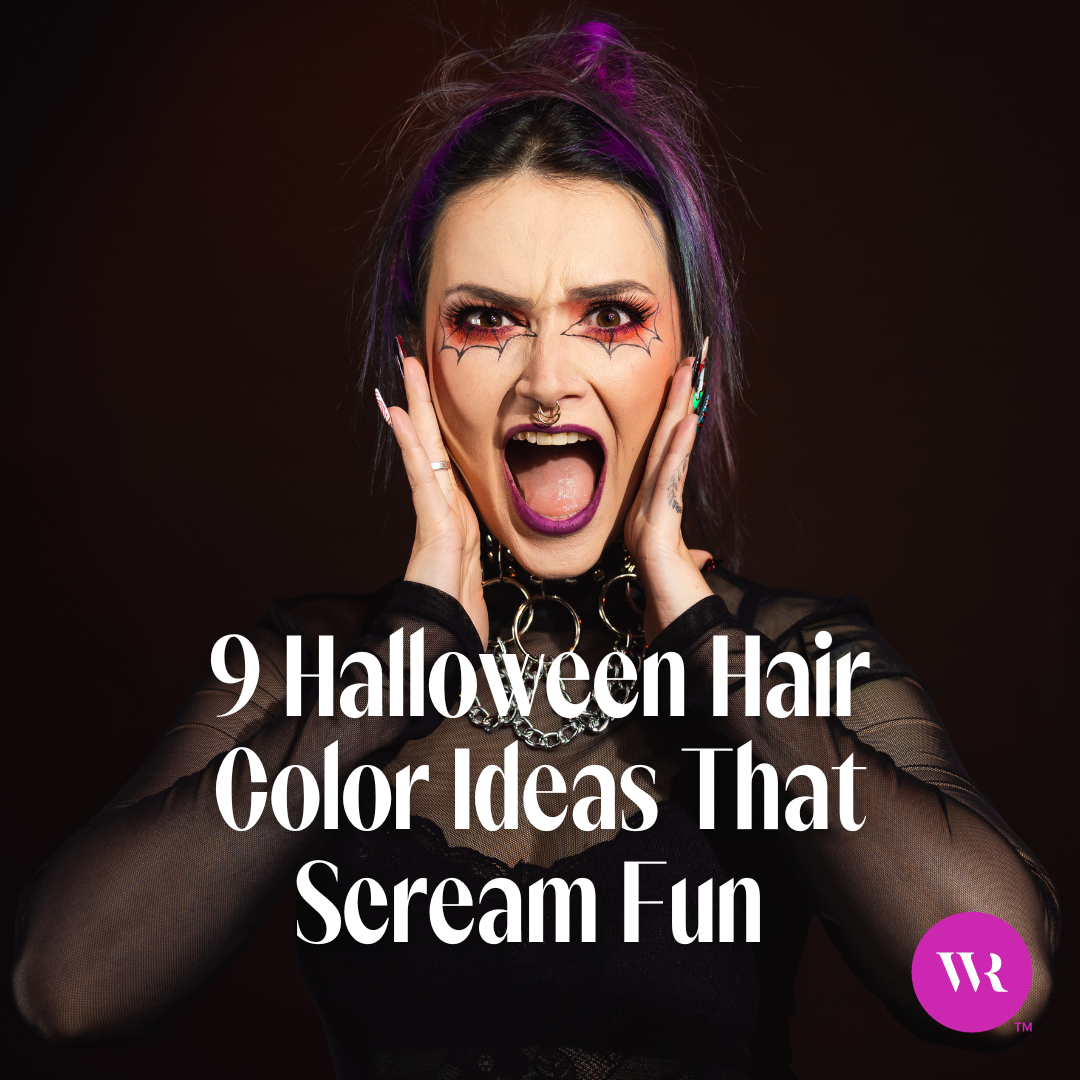 October 4th 2023
9 Halloween Hair Color Ideas That Scream Fun
What will you be this year? A spellbinding witch? A cute cat? Or perhaps a treasure-seeking pirate? This is your moment to be whatever you want to be. And no, you're never too old to dress up! Whatever your costume is, you can't forget about the finishing touch: your
Halloween hairstyles
!  
Hey, boo-tiful, are you feeling Wicked? We've got fun Halloween hair colors for the upcoming spooky season! It's that time of year again when things go bump in the night that might bring you a fright! The only thing we're scared of is bad hair days on All Hallows Eve. That won't be a problem though, because you're preparing early for your Halloween costumes (right?) Yes, of course! That's why you're here. 
What will you be this year? A spellbinding witch? A cute cat? Or perhaps a treasure-seeking pirate? This is your moment to be whatever you want to be. And no, you're never too old to dress up! Whatever your costume is, you can't forget about the finishing touch: your Halloween hairstyles!  
Have fun and stay safe out there with these Halloween inspired hair color ideas:  
Black 
Dark as the night sky, black hair for Halloween is a number one choice! It's sexy, sultry, and mysterious. You can't go wrong with this classic and quintessential choice for your Halloween festivities. Channel your inner Wednesday Addams or a vampire—this shade is so versatile it'll go with literally any of your Halloween costumes (bonus points if you already have black hair!)  
Blonde 
Be a blonde bombshell this Halloween with bright and beautifully golden locks. How many of you are going as Barbie this year? How about Marilyn Monroe or Tinkerbell? There are endless Blonde-haired costumes out there. If you're a natural blonde, why not embrace it?  
Brown 
Brunette babes, we didn't forget about you! From Beauty and the Beast to Harry Potter to Dorothy, you can rock your natural brown locks for endless costumes. Whether you have lighter brown strands or deep chocolate, you'll look spooktacular no matter what you wear!  
Silver 
Feel magical and mystical with shiny silver hair complementing your costume this year. Maybe you're dressing up as an ice queen or a mythical sorceress with long silver locks. Lighten up your locks like a silver vixen, ready to take on the night!  
Red 
Be bold and vivacious as a redhead for Halloween! Are you longing to be a seaside mermaid or a powerful Poison Ivy? Red is a timeless classic that exudes confidence. This Halloween hair color will be one to remember with red locks!  
Orange
Bright and bubbly, the color orange goes hand in hand with Halloween! Will you be a jack-o'-lantern, a Flintstone babe, or a mystery-solving Velma? As far as Halloween hair color ideas go, Orange is the new black this spooky season!  
Blue  
A cool blue hue is sure to impress your crew! Blue is all the rage whether you're a superhero, a faerie, or Marge Simpson. You'll feel anything but blue when you rock this Halloween hair color. 
Purple 
Get funky with Halloween hair color ideas that make you feel wild and free! Purple can go with any costume, from a unicorn to an alien warrior princess. Whatever your mood is, purple will bring a unique twist to your spooky festivities.  
Green 
All of your friends will be green with envy when you show up with this shade! Neon green is the usual go-to color for Halloween hues. Rock the green strands as a garden goddess, wondrous witch, or Beetlejuice. Stand out from the crowd with bright green tresses this year!  
No Tricks, Only Treats with Wicked Roots Hair™ 
Have you decided what you're dressing up as yet? We hope these positively gourd-geous Halloween hair color ideas are getting you excited for Halloween! Once you decide on your costume, you have to rock the perfect Halloween hair color to match. But what if you don't have the extra volume or length? Maybe you don't want to fully commit to a crazy color but want to do pops of color? 
It's time to trick or treat yourself to hair extensions for Halloween. Don't forget to put in your hair extensions when heading out for the night! Get creative with your hair and express yourself. If you want to do pops of fashion colors, some of our Wicked baddies have dyed their own hair extensions (starting with a light neutral color like platinum blonde.) This way, you can add those fun pops of color with Halloween hair extensions! 
Maybe you're going out with your natural hair color this year instead of the fashion Halloween hair color options. If you already have black, brown, blonde, or silver hair, why not make those locks extra voluminous and long for your Halloween costume? You might as well go all out, right? We have 42 shades to choose from, so you're sure to find your perfect match.  
Make this Halloween absolutely Wicked with our hair extension collection. We'd love to see your Wicked Roots Hair™ Halloween inspired hair color in action. Tag us on Instagram with #WickedRootsFam. We can't wait to see your costumes!