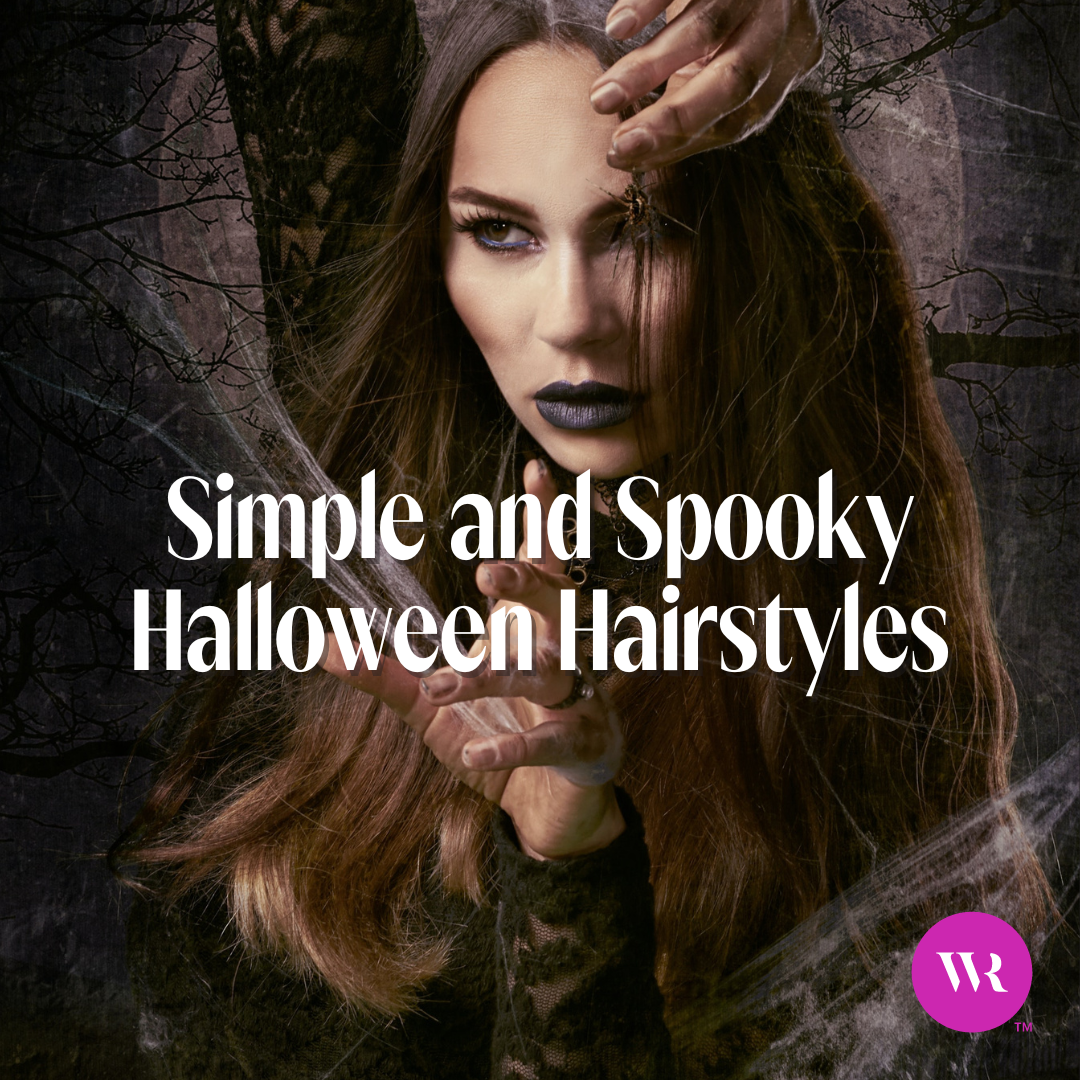 //wickedrootshair.com/cdn/shop/users/avatar_250x250_crop_center_f0ad1dc6-4182-4412-8f45-052bf7447aa9_200x200.png?v=1685998438
October 24th 2022
Simple and Spooky Halloween Hairstyles
Spooky season is officially here! When planning your fright night look, if you're struggling for ideas, start with these
Halloween hairstyles
to inspire your costume from there.
Spooky season is officially here! Cobwebs, skulls, and pumpkins have become your new décor. The store's seasonal shelves are overflowing with trick-or-treat candy (we're not complaining!) With Halloween right around the corner, you might be waiting until the last minute to decide what your plans are and what to dress up as—we're totally guilty of this too. 
When planning your fright night look, if you're struggling for ideas, start with these Halloween hairstyles to inspire your costume from there. Spooky hairstyles paired with killer makeup and a simple yet sexy dress can work perfectly without going over the top. 
These cool easy Halloween hairstyles give a variety of options and look even better with hair extensions to add extra volume and scream-worthy strands. We've got your inspo for Halloween hairstyles, so you can show off your wicked hair!
Fairy Top Knot
Ethereal and soft, a magical top knot bun is sure to sparkle as your fairy dust channels your inner Tinkerbell.
Brush your hair away from your forehead and pull your strands into a high ponytail at the crown of your head.

Secure your strands with a hair tie. 

Divide your ponytail into two sections. 

Twist the sections together by wrapping them around each other. 

Wrap your twisted hair around your hair tie clockwise, then secure the top and bottom of the bun with bobby pins.

Spray with hairspray to finish your mystical style.

Sprinkle some glitter into your bun for that extra level of shimmer.
Gothic Braided Pigtails
Let's get creepy and kooky with mysterious and spooky hairstyles inspired by Wednesday Addams. Summon gothic vibes by rocking Halloween hair color ideas like jet black strands for this style.  
Take each section and divide it into three equal sections for the braids. 

Cross the right strand of hair into the middle, and then cross the left into the middle.

Repeat on both sides and secure braids with hair ties. 

Spray hairspray onto both braids for the extra hold and summon those demons.
Popstar High Pony
Embrace the spotlight as you live out your popstar dreams for a night as your favorite diva rocking a fierce high ponytail with super long locks.
Brush all of your hair away from your forehead and into a ponytail at the crown of your head.

Wrap a small piece of hair around your hair tie and secure it with a bobby pin. 

Push up your hair at the crown to add extra volume.

Spray hairspray over the top of your hair and get ready to hit the stage.

Add some bling with cute clips to outshine the rest. 
Devil Hair Horns 
If you're feeling extra devious, this style works well with Halloween hair color ideas like using red or black colored hair to enhance this evil look. 
Part your hair down the middle with a

rat tail comb

.

Create a half-up half-down style and pull your hair into two pigtails on the top of your head using hair ties.

Start with one of the pigtails and dampen the hair.

Hold the hair flat and twist it around the hair tie to form a horn shape all the way around and secure with bobby pins.

Repeat the same process for the second pigtail.

Finish with hairspray on each horn, and pull gently at the hair to get it in the right shape for hellraising.  
Mermaid Flowy Waves
If you want to be part of that world, head under the sea with long locks that flow underwater and on the shore for this mermaid-inspired mane. 
Apply a heat protectant spray to your hair. 

Create 1-2 inch sections and curl each individual section about two inches down from the roots.

Continue throughout your hair to ensure curls are distributed evenly.

Use your fingers to gently separate the curls.

Finish with texturizing spray to keep your waves intact.

Accessorize this look with a starfish hair clip or shells and feel the ocean breeze.
Enchant
Halloween Hairstyles
with Hair Extensions
Add hair extensions to your spooky hairstyles to glam up your ghoulish garbs. The extra length and volume will make a statement with your Halloween hairstyles and complete your costumes. With Wicked Roots Hair extensions, all of our extensions are made of 100% Remy human hair, so you'll be able to blend them in perfectly with your natural hair. You can also cut, color, and heat style these as you wish! 
Are you wearing our hair extensions this Halloween? Be sure to tag us on Instagram with your Halloween hairstyles using #WickedRootsFam!