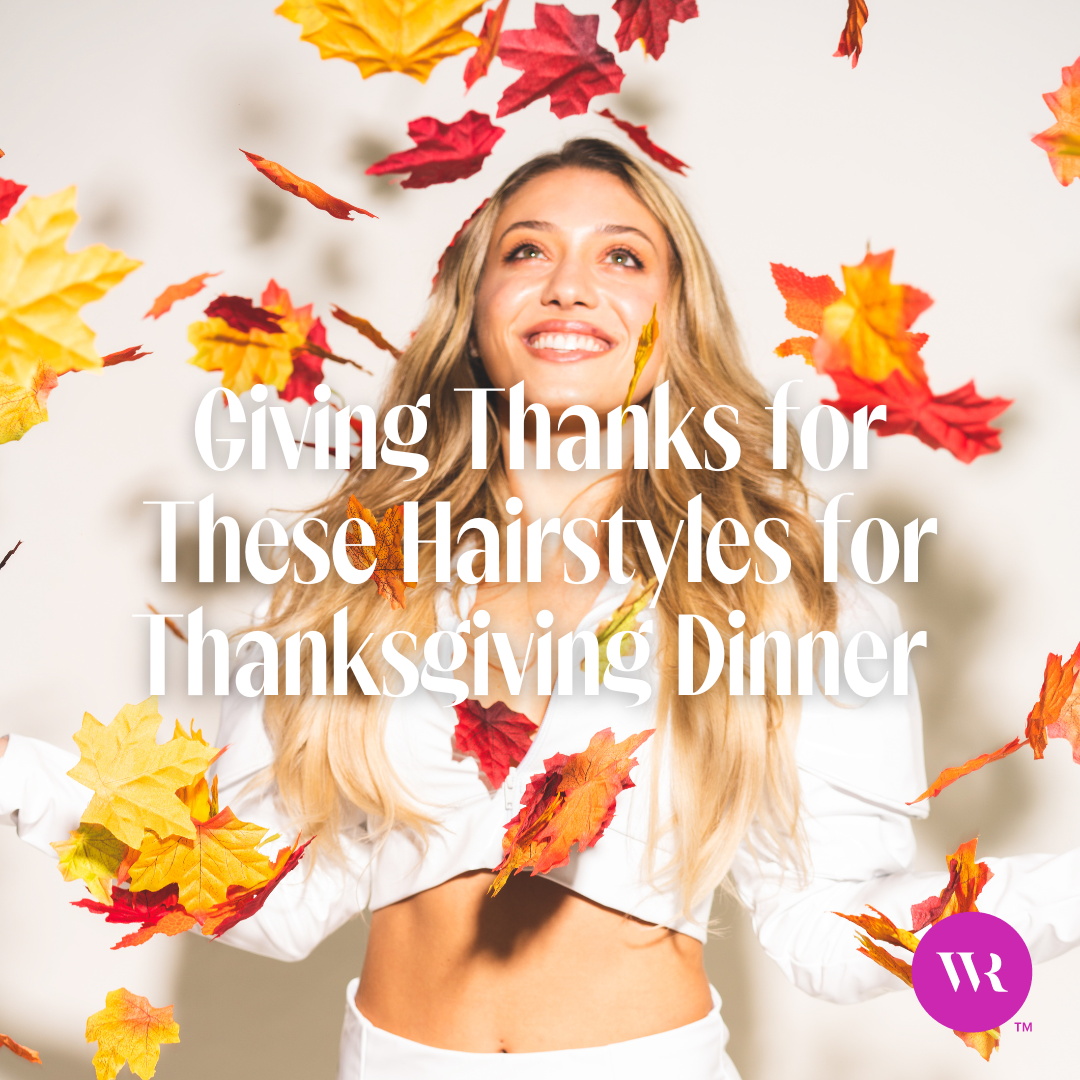 November 6th 2023
Giving Thanks for These Hairstyles for Thanksgiving Dinner
After a few years of not being able to gather, it's time to really appreciate the good times with those we love. And as for those extended family members you haven't seen since last year, let's show them what you're working with by rocking these

 
cute hairstyles for Thanksgiving
!  
Gather up the fam or the Friendsgiving crew because we need a reason to flaunt these gorg hairstyles for Thanksgiving dinner! We've got a lot of things to be thankful for this year—including our salon-quality hair extensions. After a few years of not being able to gather, it's time to really appreciate the good times with those we love. And as for those extended family members you haven't seen since last year, let's show them what you're working with by rocking these cute hairstyles for Thanksgiving!  
We're Thankful for These
Hairstyles for Thanksgiving 
Pull up a seat at the table and get your appetite ready, cause your hairstyle for Thanksgiving will be a feast for the eyes! All of these styles are quick, easy, and super stunning. Now the question is, which of these hairstyles for Thanksgiving dinner will you choose?  
Ballerina Bun 
If you're looking for cute hairstyles for Thanksgiving, the ballerina bun will be your top pick! We love the prim and proper look that pairs perfectly with a dress. Reach new heights with a perfectly coifed ballerina bun that's sure to impress. 
Get your hair silky and soft by brushing your hair to get any tangles out.  
Use your brush to pull all of your hair into a ponytail at the crown of your head. 
You can use a spray bottle with water or hairspray to smooth out any stray hairs. 
Twist the ponytail into a coil and wrap it around the hair tie. 
Secure the ballet bun by sticking hair pins into its center and along the bottom base of the bun near your scalp.  
Add a final layer of hairspray to finish off the look and tame any flyaways at the festivities.   

 
Side Braid 
As far as hairstyles for Thanksgiving go, side braids look flattering on everyone AND are uncomplicated to do. It's a great way to dress up your Thanksgiving outfit. Plus, you won't have to worry about spending too much time on your hair.  
Ensure you brush your hair to smooth it out and make sure it's tangle-free. 
Part your hair to the side or whatever part you naturally wear. 
Choose the side farthest from your part and gather all of your hair to that side. 
Divide your hair into three even sections. 
Grab the outer sections on either side and cross to the middle. 
Take the outer section on the opposite side and pull it across the middle. 
Alternate sides and repeat this process all the way down your hair. 
Once you have about an inch of hair left unbraided, secure it with a hair elastic.  
Loosen your braid up a bit by tugging gently at the sides. 
Finish off this look with an ample coat of hairspray to keep everything in place as you feast.  
Twisted Ponytail 
Looking for that effortlessly polished hairstyle for Thanksgiving? A twisted ponytail exudes the perfect balance of easy yet put together. This one is quick and simple when you're rushing out the door to dinner! 
Start by brushing out your hair, you can keep it straight, wavy, or curly, whatever you like! 
Tie your hair into a low ponytail at the nape of your neck and secure it with a hair tie. 
Separate your hair right above the hair tie and make a small hole to fit your ponytail through. 
Twist the ponytail up and through that hole at the top of your hair tie.  
Tighten your ponytail and use bobby pins for any flyaway strands. 
Finish with hairspray, and you're ready to indulge!  
Feeling Grateful for Hair Extensions 
When it comes to giving thanks, you have to show some appreciation for these hairstyles for Thanksgiving dinner! Not only will you be eating some delicious food, but you'll have hair that will look great too. But what if you want to pull off a long and voluminous look? Hair extensions will be your saving grace. Thanksgiving hairstyles for short hair can be transformed with hair extensions! With gorgeous length and thickness, your friends and relatives will ask you how you did it.  
Your secret? Wicked Roots Hair™ extensions will glow up your hairstyles for Thanksgiving! Our extensions are made of high-quality 100% Remy Human Hair. This means fewer tangles, more manageability, and longer-lasting strands—what's not to be thankful for here? We have three different styles to choose from (Tape It™, Clip It™, and Band It™) along with 42 shades to find your perfect match!  
Glam up your Thanksgiving dinner table this year with a side of stunning hair. Shop our full collection of hair extensions, hair products, and accessories. Let us know if you need help choosing the best style and color for your needs. We're here to help!