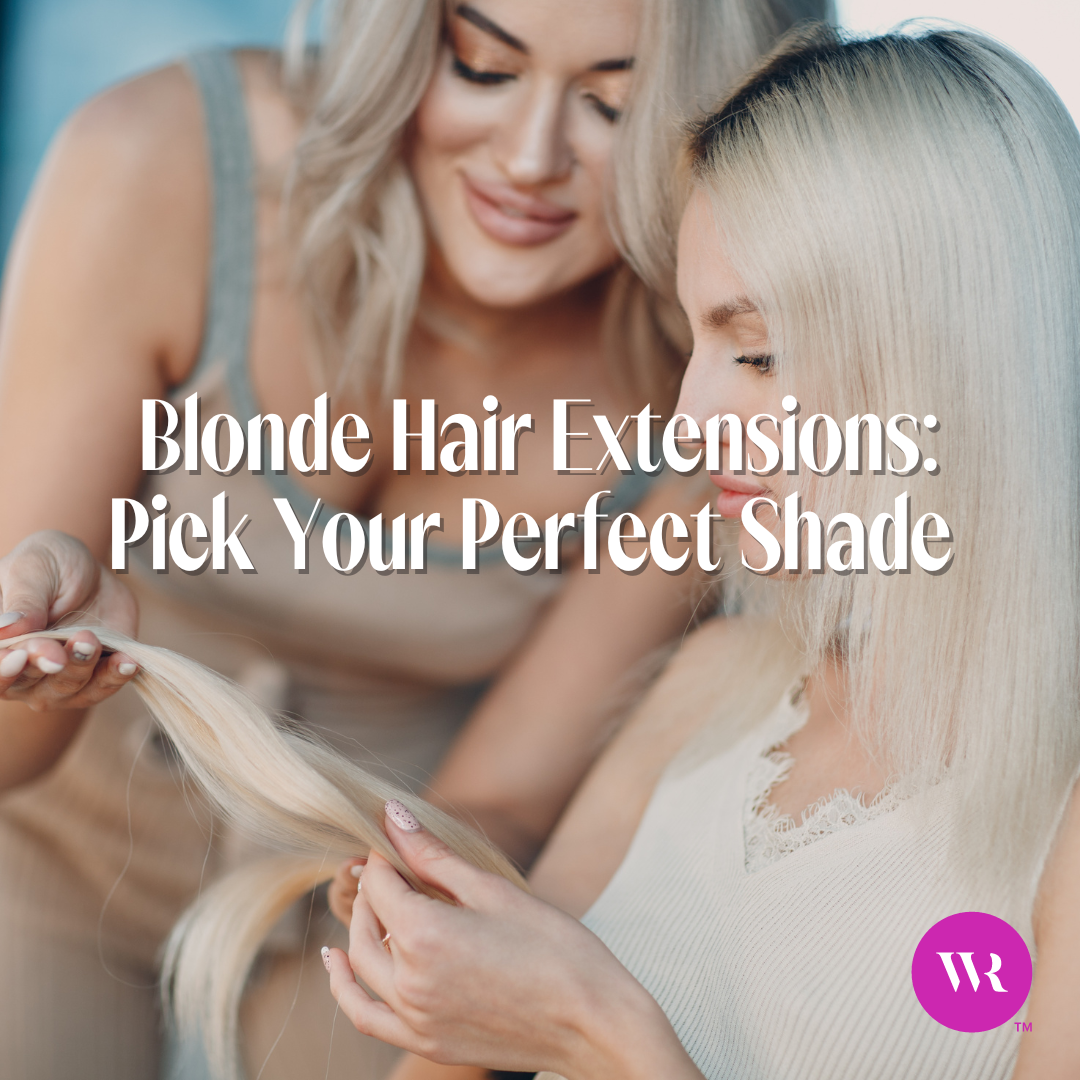 May 1st 2023
Blonde Hair Extensions: Pick Your Perfect Shade
Whether you're already blonde or thinking about going blonde, we'll cover ALL of the shades of

 
hair extensions for blonde
 

hair we offer and help you decide which color match works best for you.   
The rumors you've heard are true. Blondes do have more fun—with our Wicked Roots Hair blonde hair extensions! We still love our brunette baddies and ravishing redheads, but this one's for the blondies out there. Having blonde hair, there are so many different blends and variations you can play with.   
Forget about blonde moments meaning anything negative. Let's rebrand to a blonde moment to be positive! When you get your fresh set of natural blonde hair extensions that brighten up your day—that's the new blonde moment. 
Whether you're already blonde or thinking about going blonde, we'll cover ALL of the shades of hair extensions for blonde hair we offer and help you decide which color match works best for you.   
What Blonde Shade is Right for Me? 
Will you choose bright platinum or dirty blonde? How about a golden ombré or bronde? See what color best matches your natural hair, or have fun with dimensional color added to your strands. Wicked Roots Hair carries 25 different shades of blonde hair extensions, which is more than half of our 42 color shades available! So, it's safe to say we'll have hair extensions for blonde hair that matches your look. 
Here's the official list of all our blonde hair extensions shades:  
Brownish-Blondes 
Bronde 
Light Bronde 
Ash Blonde 
Dirty Blonde 
Medium to Light Blondes 
Dimensional Blonde 
Goldie Blonde 
Butter Blonde 
Pale Blonde
Honey Blonde 
Beach Blonde 
L.A. Blonde 
Platinum Blonde  
Ombré Blondes 
Bronde Ombré 
Golden Ombré 
Almond Ombré 
Butter Ombré 
L.A. Blonde Ombré 
Butterscotch Ombré 
Pale Ombré 
Platinum Ombré 
Dirty Blonde Ombré  
Dark Root Blondes 
Goldie Blonde + Almond Root 
Pale Blonde + Bronde Root 
L.A. Blonde + Dark Chocolate Root 
Platinum Blonde + Ash Blonde Root 
Now that you know the shades, next is deciding what type of hair extensions are best for your hair. It all depends on your hair needs and how you plan to wear your extensions. We have three types of hair extensions to choose from for your blonde locks: Clip It™, Tape It™, and Band It™. Each one has all of our shades for blonde hair extensions, so it's up to you which style you choose! 
Color Matching
Hair Extensions for Blonde
Hair 
Ready to find blonde hair extensions that flawlessly blend with your natural strands? Most blonde hair, whether it's natural or dyed, will have various tones and hues. It's essential to compare a few different shades that are most similar to your hair for the best results. 
Follow these easy steps for color-matching blonde hair extensions: 
Take our 

color match quiz

 to see which shades most closely match your natural hair. 

Place your order for swatch samples based on your results to use for color matching at home. 
 PRO TIP: We recommend ordering at least three different swatches—when you sign-up for our emails, you'll get a code for three FREE swatches! 
Once those hair color samples arrive, try to find natural lighting by a window, door, or even outside.  
Clip up the top layer of your hair and compare the color swatch against the hair behind your ears, paying close attention to the color from midshaft to ends. 

Brush the sample

 

into your natural hair to blend and compare shades. 
Once you've figured out which swatch most closely matches your color, then you can choose which hair extension type and length to order.  
Haircare Tips for
Blonde Hair Extensions 
With your delicate new locks, you might be wondering how to care for blonde extensions. If you're a natural blonde or dyed blonde, you know how important it is to keep up with a haircare routine for shiny, healthy strands. Since our hair extensions for blonde hair are made with 100% Remy human hair, you'll be able to wash and style it just like your natural hair.  
Keep in mind these tips for bright and long-lasting blonde hair extensions: 
Since

blonde hair extensions

require more processing to achieve a lighter tone, it's essential to condition your strands to keep them moisturized. Use a

conditioner

that's free from parabens and sulfates to avoid damaging your strands. For extra hydration,

leave-in conditioner

and

hair masks

will help keep your strands looking their best.  

Protect your hair from the sun! Harsh UV rays can fade and dry out your

blonde hair extensions

. It's best to wear a hat or head scarf or spritz some extra leave-in conditioner to keep your strands protected.  

Use the right brush for your extensions! A regular hairbrush can damage your

hair extensions for blonde

hair. Look for

brushes specifically made for hair extensions

or ones with natural soft bristles like boar's hair.  

If you're planning to take a dip in the pool, make sure your extensions don't get any chlorine on them! Chlorine can be highly damaging to your hair extensions by discoloring and drying them out. Tie your hair up before enjoying a day poolside.  
And now it's time to rock your bright blonde hair extensions by Wicked Roots Hair. Don't forget to tag us on your social posts with #WickedRootsFam. We'd love to see your beautiful blonde locks on Instagram!