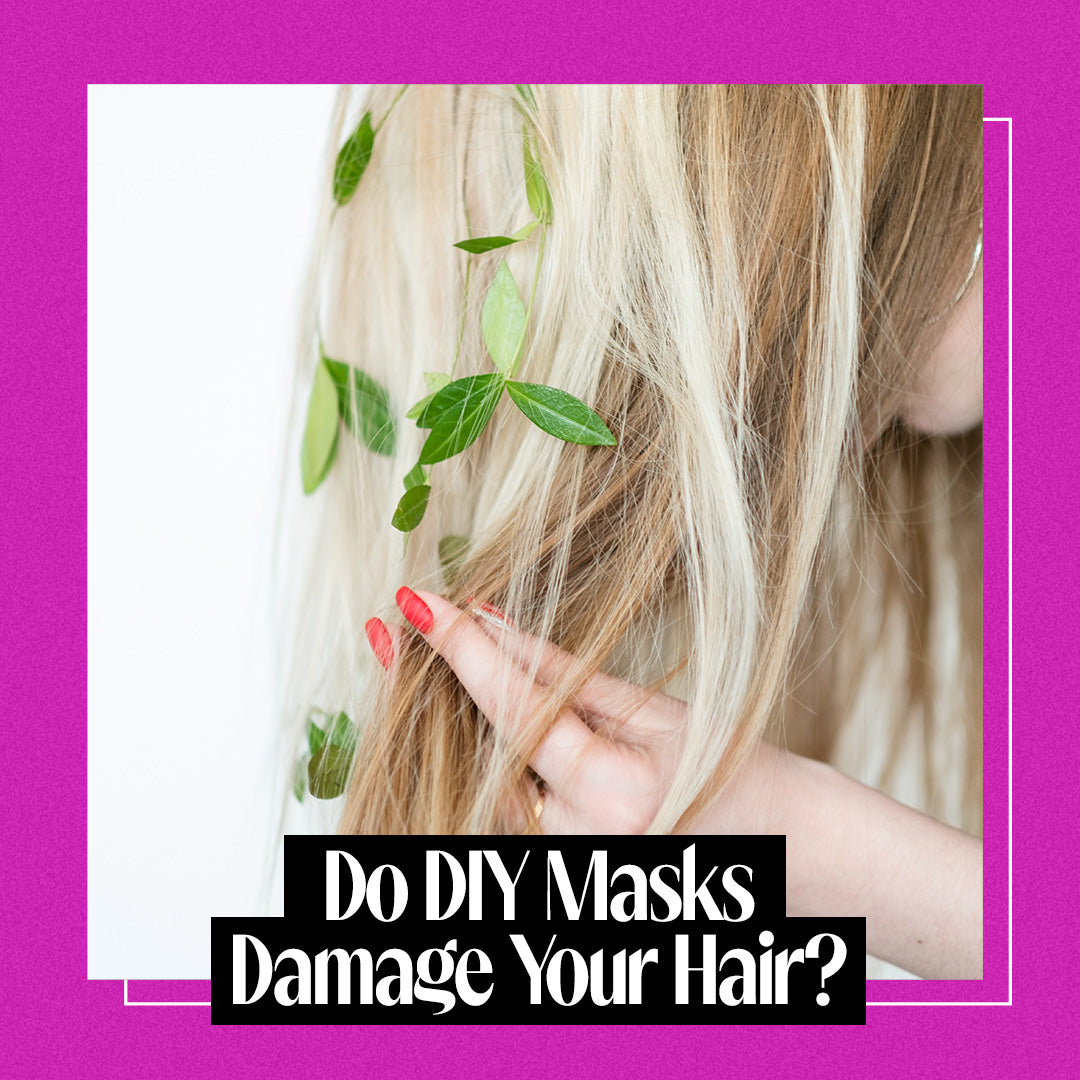 July 5th 2022
Do DIY Hair Masks Damage Hair?
Looking to give your locks some extra love? A DIY hair mask might just be the way to go! 
 And did you know your hair extensions can benefit from that extra love, too? Keep reading to find out how!
If you're like us, you absolutely love treating your natural hair to hot oil treatments, masks, and deep conditioners. But did you know your hair extensions can benefit from that extra love, too?
Unlike your natural hair, hair extensions won't get moisture, protein, vitamins, and minerals from your scalp. Dry hair extensions can become dull and brittle (no thank you!).
That's where DIY hair extensions masks come in! When you moisturize those locks with the right ingredients, clip-in, tape-in, and band extensions can all reap the benefits from at-home masks.
How Often Should You Do a
DIY Hair Extension Mask
Treatment?
Great question, but the answer varies! Here are some general guidelines:

Protein hair masks should be applied more sparingly – around once a month.

Hydrating, oiling, or moisturizing hair masks can be applied once a week.

Reparative masks can be applied to damaged hair twice a week.
Though you might not have the time for consistent, luxurious DIY hair extensions masks, your Remy hair extensions, and your natural hair, will thank you any time you CAN make and apply them.
DIY Hair Extension Mask
Recipes 
Wondering how to make DIY hair masks? All of these recipes are natural and safe for hair extensions, so pick your favorites and enjoy smooth, healthy, lustrous-looking locks! 
Coconut Oil
Coconut oil is always hyped for its benefits. Understandably – it's great for your skin, nutrition, and, of course, your hair! Coconut oil is a star ingredient in DIY hair extensions masks because it seeps into the hair shaft instead of just sitting on top of it. It also brings that shine!
A word of caution when using coconut oil on your extensions: It's incredibly moisturizing and can weigh down those locks if you use too much. Keep it away from your bond, tape, or beads. Instead, concentrate the coconut oil on the ends of your hair extensions.
If you have lighter hair – go with around 1 teaspoon of coconut oil. Longer, more voluminous manes can handle 1 or 2 tablespoons.
Coconut Oil Egg Yolk Hair Mask
This mask is ideal for dry or damaged hair – the coconut oil moisturizes and makes those strands extra soft. The protein in the eggs rebuilds and strengthens damaged ends, and the honey helps your hair retain moisture while strengthening your hair follicles.
Ingredients: 

2 tbsp coconut oil

1 egg yolk

1 tbsp honey
Directions:
Mix the ingredients in a bowl. Work into hair, paying particular attention to the ends. Leave on for 30 minutes and rinse completely. Style as usual.
Apple Cider Vinegar and
Coconut Oil Hair Mask for Extensions
If you're experiencing dull, lackluster hair, this simple DIY hair smoothing mask will bring vibrancy back to your locks in no time! It also locks in color and is great for all hair extension textures. The apple cider vinegar enhances the natural shine of your hair, so you're guaranteed to get heads turning in your new look. 
Ingredients:
4 tbsp coconut oil

3 tbsp apple cider vinegar

3 tbsp raw honey
Directions:
Whisk ingredients together and apply to damp hair, avoiding your bond, tape, or beads. Leave on for 15 minutes and shampoo, condition, and style as usual. (Don't forget a good cold rinse every now and then, too!)
Coconut Oil, Lemon, and Honey Hair Mask
We already raved about how great coconut oil and honey are for our hair. The essential minerals and fatty acids are incredibly nourishing! The yogurt contains vitamins and fatty acids that eliminate dandruff and itchiness. And the lemon kicks things up a notch, helping unclog hair follicles while stimulating dormant ones. (Just be sure to not overdo the lemon and wash it out fully before stepping out into the sunshine!)
Ingredients: 
1 tbsp coconut oil

1 tbsp honey

1 tbsp lemon juice

2 tbsp plain yogurt

1 tsp rose water (optional)
Directions:
Mix the ingredients together. Apply to wet, shampooed hair. Add the rose water if you want your mask to smell extra nice. Leave on your hair for 15 minutes and rinse out with warm water. Style as usual.
Argan Oil Hair Mask
Produced from the nut of the Argan tree, argan oil is considered the liquid gold of the gods. (We'll definitely take some of that!)  A homemade argan oil hair mask is packed with a wealth of heavenly benefits: It protects your hair from the sun, locks in color, moisturizes, promotes hair growth, and prevents overall damage. 
Ingredients:
3 tbsp argan oil

2 tbsp olive oil

2 tbsp organic honey
Directions:
Whisk all the ingredients together in a bowl. Apply the mask, focusing on the ends to help prevent future breakage. Leave on for 15 minutes — shampoo, condition, and style as usual.
So,
Do DIY Hair Masks Damage Hair Extensions
?
The short answer is no. As long as you use high-quality, natural ingredients, you can unleash that creative baddie! 
When it comes to DIY hair extensions masks for 100% Remy hair, here's your rule of thumb: If the ingredient is good for your natural hair, it's probably good for your extensions too. Just be sure to avoid applying products to the bond or tape of your extensions to extend their lifespan. 

As you use these recipes or experiment with DIY hair extensions masks of your own, show us what works for you. Tag us on Instagram or send us a photo - we can't wait to get a glimpse of your wicked creativity!
*As with all hair products, apply at your own risk. Any damage to the hair extensions from hair products or altering treatments will not be covered within our warranty or return policy.