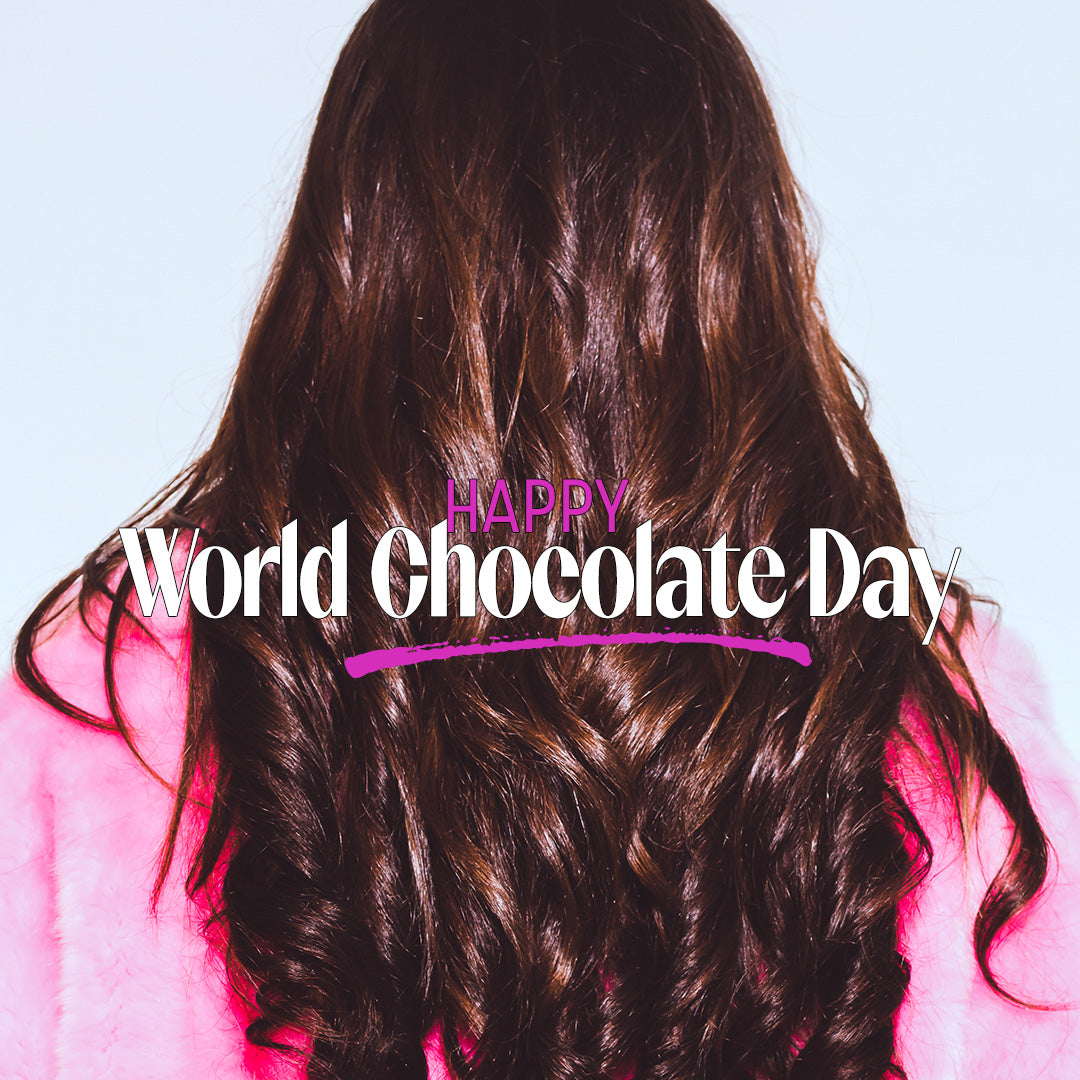 July 7th 2022
Celebrating Our Delectable Chocolate Extensions on World Chocolate Day
We're feeling extra sweet with our Wicked Roots Hair
chocolate hair color
extensions for World Chocolate Day! Keep reading to see which chocolate color is your flavor of choice.
We're big fans of the #treatyoself mantra, and what better day to do that than World Chocolate Day 2022?! Chocolate gives us a sweet moment of decadent bliss, and we think it's DEFINITELY worthy of its own day!
And you know what reminds us of chocolate? Shades of brown hair colors!  Did you know they're the most common hair colors in the world? No surprise, really: Sultry and sweet chocolate hair colors are super versatile and flattering. If you just want to add dimension to your locks, rocking chocolate hair color with highlights is always an equally gorgeous option.
To honor World Chocolate Day 2022, we're celebrating all things chocolate, including our chocolate hair extensions. Read on for chocolate hair color dyeing tips, and to learn all about the cocoa shades we offer. (Umm, anyone else have a sudden chocolate craving??)
Chocolate Hair Color
Curious?
Thinking about adding a little chocolate to your strands? Chocolate brown hair dye is perfect for achieving that rich cocoa look you're after! If you're already a brunette, the transition will be pretty straightforward and seamless. But if you want to go from a lighter hair color to a chocolate hair color, we suggest having a consultation with your hairstylist first. They can help you find the right shade of chocolate hair color for your tone and maintenance commitment.
Here are some pro tips on going from blonde to shades of brown hair colors.
Tip 1: Share Color Inspo Photos with Your Stylist.
Before heading to your salon appointment, gather some photos of your favorite chocolate hair colors. You can find plenty of hair color inspiration online (and check out the next section for some Wicked Roots Hair chocolate hair color inspo).
Tip 2: Transition from Light to Dark Slowly.
Listen. We're not saying you're making this bold decision on a whim, but you might want to take it slow. Try some lowlights first to add depth and darkness to your hair. Like that? Cool. Then you can try a lighter brown next. As you get used to seeing yourself as a brunette, start playing with darker chocolate hair colors. It's WAY easier (on your hair AND your wallet) to go darker than it is to go lighter – or back to blonde.
Tip 3: Prepare for Extended Salon Time.
Depending on how porous your hair is, you're looking at anywhere from two to three hours (minimum) at the salon. If you have blonde hair, it usually needs to be filled with a warm color so you don't end up with any gray or green discoloration. Your stylist does this with toners, glosses, or semi-permanent colors. The lighter your hair, the more time you'll need at the salon to let that chocolate brown hair dye set. The initial color usually isn't as dark as expected after the first dye, so your stylist will probably recommend coming back to the salon for another session if you're going for darker shades of brown hair colors.
Chocolate transformation complete? Your next step is to upgrade your look with some chocolate hair color extensions. Check out our sinfully sweet collection below!
Wicked Roots Hair -
Chocolate Hair Color
s
Whether you've always had a chocolate hair color or are new to the brunette crew, you can easily add extra volume and length with one of our scrumptious chocolate hair extension shades. The full glam makeover is on!
We have six different shades of brown hair colors in our high-quality 100% Remy human hair extension collection so there's something to satisfy all of your chocolate hair color cravings!
Not sure which chocolate hair color will blend with your hair the best? Try our color matching quiz! It can help you narrow down the options to your three closest matches. Then, you can order your Swatch Its to compare the shades in person and determine the one that'll give you that flawless natural look. (If you want more options, our Swatch Ring is the perfect solution. It includes ALL 42 of our shades!)
All You Need Is Love (and Chocolate)
We LOVE our chocolate hair color baddies! They look stunning in our chocolate shades! Check out our Wicked Ambassadors rocking their chocolate hair color extensions – plenty of chocolate hair color ideas here!
@_fashionablynoble_ understood the assignment! Head-to-toe chocolate hues paired perfectly with her dark chocolate 16" Clip Its.
@oliviapura looking extra sweet in her chocolate 16" Clip Its.
@tamiastyles leaves us wanting more in her Chocolate 16" and 20" Clip Its.
Rocking our chocolate locks? Share the chocolate love by showing us your sweet selfies with the hashtag #WickedRootsFam on Instagram!