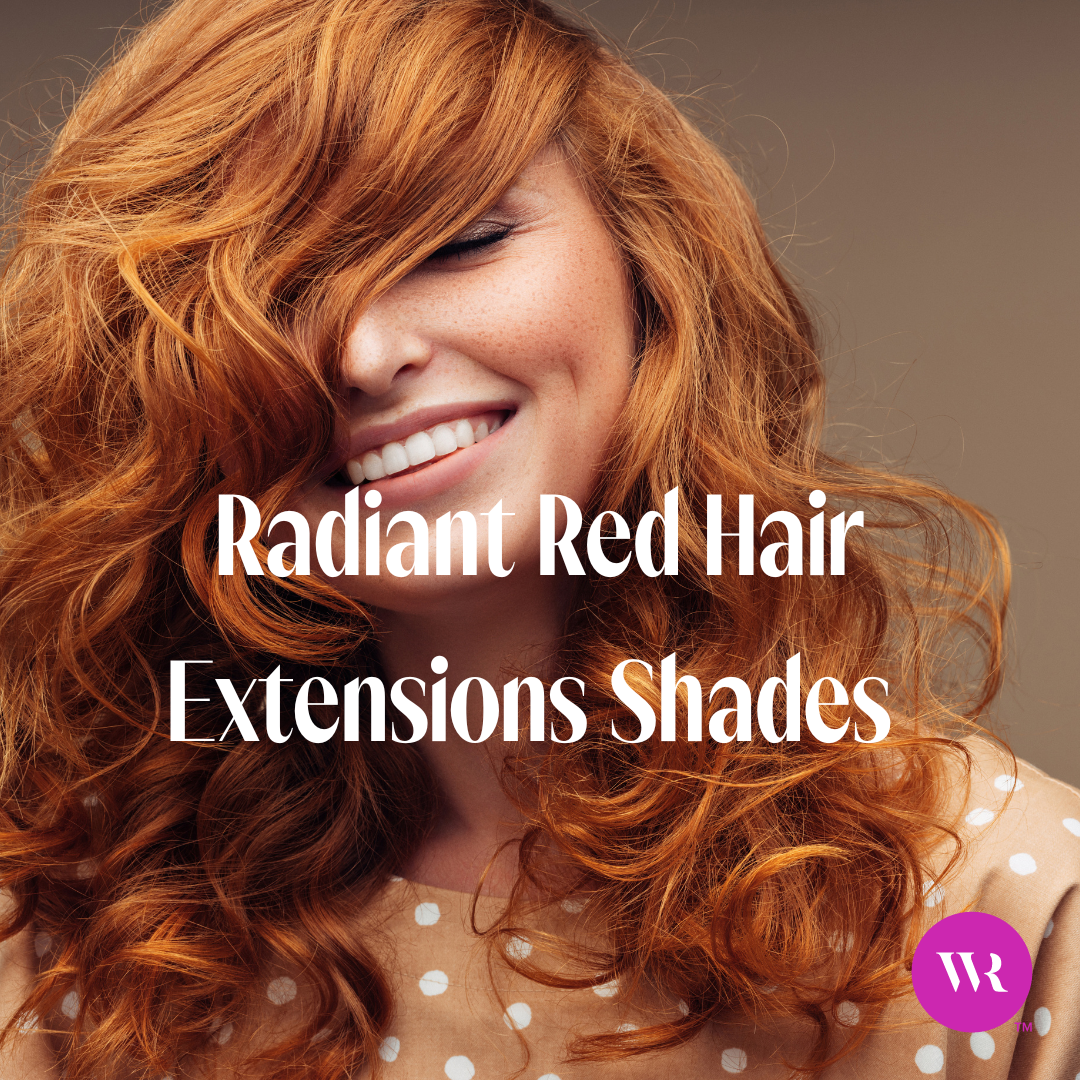 May 12th 2023
Radiant Red Hair Extensions Shades
This one is for all the redheads (and aspiring redheads!) who love being bold and vibrant with

 
red hair extensions. Which red hair hue suits you best?  
This one is for all the redheads (and aspiring redheads!) who love being bold and vibrant with red hair extensions. Adding extra length and volume with hair extensions will enhance your ravishing red locks. There are a few different red hair extension shades you'll want to consider based on your current color or the one you want to achieve. Bring on the bold red hues!  
Red Hair Extension
Options  
At Wicked Roots Hair™, we offer five different red hair extension shades. Whether you choose our red clip in hair extensions, tape in, or band style, all three types will carry these colors. Which red hair hue suits you best?  
Redhead 
If you're looking for a classic red hair extension color, this shade will be your new favorite! The tone of these red hair extensions leans more toward a light ginger color with notes of copper red hues.  
Strawberry 
For a more subtle look, strawberry is sweet and soft. This red hybrid color has a peachy undertone. It's the lightest natural shade of red you can choose from on the hair color spectrum.   
Auburn
This reddish-brown color is on the opposite spectrum of the strawberry color. Think deep brown hues with a red undertone for dark red hair extensions.  
Pinot Noir 
This color is a darker version of the auburn for more reddish-brown tones. Its richer brown color is dark with a subtle red hue. If you're looking for dark red hair extensions, this shade is the darkest red available.   
Cabernet 
Achieve a red without the orange or brown undertones with this burgundy shade. The look is deep and sultry with a gorgeously bold vibe.  
Color Matching
Red Extensions Hair 
Now that you have a better understanding of all the shades for red hair extensions, it's time to find the best match for you! If you want to color-match your current red hair, it's important to note that your hair will have various tones and hues. You'll want to compare a few shades to see what matches most closely. 
To get that perfect match, you'll need to follow these steps: 
Take our

 

color match quiz

 

to find out the closest matches for your natural hair. 

Order your three closest

swatch samples

(if you sign up for our emails, you'll get a code for three free swatches!) 
When you receive your hair samples, find a spot that gives you the most natural light. 

Clip up the top layer of your hair so you can hold the swatch near the hair behind your ears. 

Compare the color from your midshaft to your ends and

brush the sample

into your natural hair to compare the shades. 
 After deciding on a swatch that best matches your red strands, you can order your hair extensions for a seamless blend.  
Haircare Tips for
Extensions Red Hair 
Whether you're new to red hair or a natural redhead, it's essential to have a proper haircare routine in place. This way, you can make your red hair extensions last as long as possible while still keeping their vibrant shine and color. Our hair extensions are made with 100% Remy human hair, so you can wash and style them like your natural hair! 
Add these tips to your routine for shiny and healthy red extensions hair: 
Don't overwash your

red hair extensions

. Red hair can fade really quickly, so the less you wash your extensions, the better. Aim for only as needed based on how often you wear them. 

Use heat styling tools sparingly. If you want your radiant red color to last, try not to blow dry or heat style your extensions. Heat can damage your strands and cause them to fade. Look for alternative

heat-free styling techniques

instead! 

 
With the proper care and maintenance, enjoy long-lasting vibrant red hair extensions by Wicked Roots Hair™. Make sure to tag us on your social posts with #WickedRootsFam. Show us your lengthy and voluminous radiant red locks on Instagram!