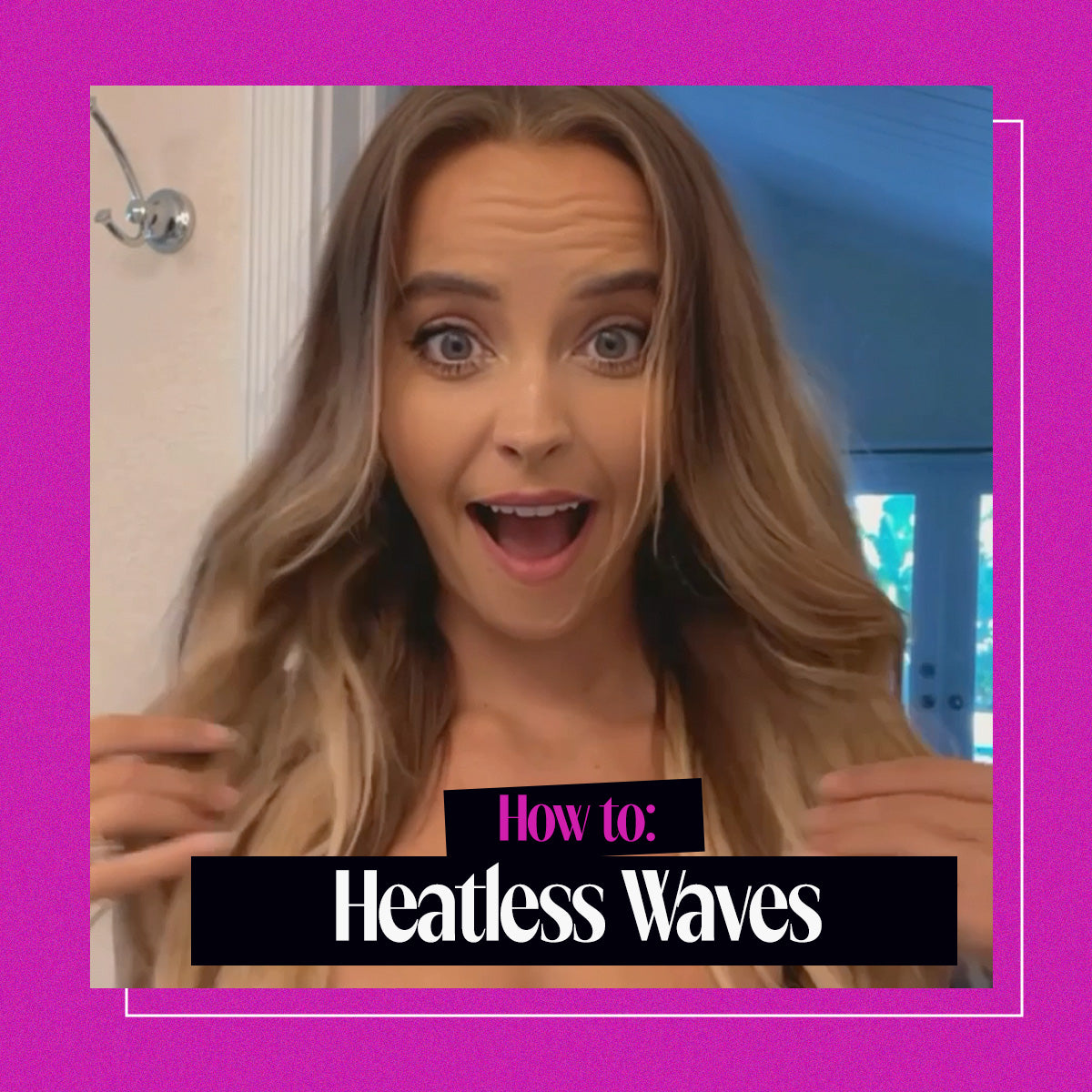 January 19th 2022
How to Style Your Hair Without Heated Tools
Have you been relying on your straightening iron, curling wand, or hairdryer a little too much? Using them every day can cause serious breakage to your tresses. Luckily, there are tons of no-heat hairstyles you can rock so your hair stays healthy and looks gorgeous. Here are a few of our faves.
Have you been relying on your straightening iron, curling wand, or hairdryer a little too much? Boo, that'll make your hair dry, damaged, and frizzy! Sure, heat styling can be great if you wanna wow 'em at a special event, but using them every day can cause serious breakage to your tresses. Luckily, there are tons of no-heat hairstyles you can rock so your hair stays healthy and looks gorgeous.
Fuss-Free Mermaid Hair
Want beautiful, beachy waves without investing hours in your 'do? A simple sea salt spray can give your hair that sexy, tousled texture you're after. For extra staying power, spritz it in when your hair is still wet and let it air dry. If your hair is naturally straight, try braiding it and sleeping with the braids overnight – this simple trick can extend the life of your beachy waves.
Sock It In, Sass It Up
Okay, what if you want luscious curls – without whipping out your curling iron? Try this hack for cute heatless hairstyles. You'll need two long songs handy for this look. Simply part  your hair down the middle to create a section on each side. Then create two sections from each of those. Wrap the sections in opposite directions around each sock and fasten it around the bottom of the sock with a hair tie. Lastly, tuck your hair up into the bottom of the sock to protect it! Start on your makeup, pick out your outfits, and then  scroll through Insta while you let your hair set. (The longer, the tighter the curl!) Take both sides out and voila! You've got beautiful, natural heatless curls! (Even better when you do them with your Clip It extensions in!) 
Watch Sydney's tutorial below while rocking her 16" Butter Ombre Clip It extensions.
Bun, Spun, and Done 
Let's be real: Nothing's more put-together and classic than a simple bun. With just a few simple steps, you instantly elevate your look. Start by smoothing your hair out and pulling it back into a high ponytail. Using the ponytail, wrap your hair around itself again and secure it with another elastic. If you style your hair damp, don't forget to add a bit of conditioning love (our After Party leave-in conditioner is the best sidekick.)  For a clean, polished look, smooth any flyaways and then give your hair a generous spritz of hairspray. For everyone's favorite messy bun, make the bun looser and pull out a few face-framing layers.
Pretty and Perfect Bubble Ponytails
You can't go wrong with a classic ponytail for jogging and bad hair days. But if you really want to elevate your pony, let us introduce you to the fun bubble ponytail. You'll only need a few minutes to create this easy, hassle-free hairstyle. Simply pull your hair into a traditional ponytail and then use elastics down the length of your hair to create smaller, bubble-like sections in your pony. Finish your look by gently pulling at the bubbles so all of your sections are roughly the same size.
Messy Hair, Not Messy Life
We've all been there: those days where, no matter what, your hair just won't cooperate. And busy gals don't have time to rewash and style! Luckily, fun and chunky hair accessories are totally in! Try covering up those oily roots with a stylish headband or sweeping a section of hair into a pretty pearl barrette. People will be so focused on your cute accessory they won't even notice you maybe haven't shampooed in a few days.
Not Your Grandma's Heatless Curls
Umm, no, these aren't the 1950s rollers! Today, just about any drugstore sells rollers that don't require heat to work their magic are in – whether you opt for flexi rollers, pin curls, robe belt curls, or just regular ol' rollers. To make your heatless curls look good and last, we recommend setting your hair when it's slightly damp, using a texturizing spray, and sleeping with your rollers in overnight. 
Sleek and Straight
Good news: It's possible to straighten your short hair without the heat! Check out these methods (that work for long hair, too, by the way!) to get sleek tresses without any unnecessary damage:
Hair wrapping.
Grab some long bobby pins and a hair wrapping scarf or turban. Start by separating your hair into different sections and combing your hair flat. Hold your hair taut and bring one section of hair around to the other side of your head. Continue down the length of your hair and secure it with your scarf or turban.
Products!
You can incorporate hair straightening products into your daily routine that'll sleekify your hair: straightening shampoos and conditioners, smoothing serums, and products that contain keratin are all good bets. You can also work a hair mask into your regimen to keep your hair shiny, moisturized, and strong.
Hairspray.
We've all got a neglected bottle of hairspray shoved in the corner of our bathroom cabinet. Dig it out! Armed with your handy hairspray and a bristle brush, you're one step closer to sleek hair. Just spray the bristle brush with the hairspray, and then slick your 'do back into a bump-free hairstyle.
Did this inspire you to freshen up your locks without heat? Let us know in the comments if you tried any of these tips!