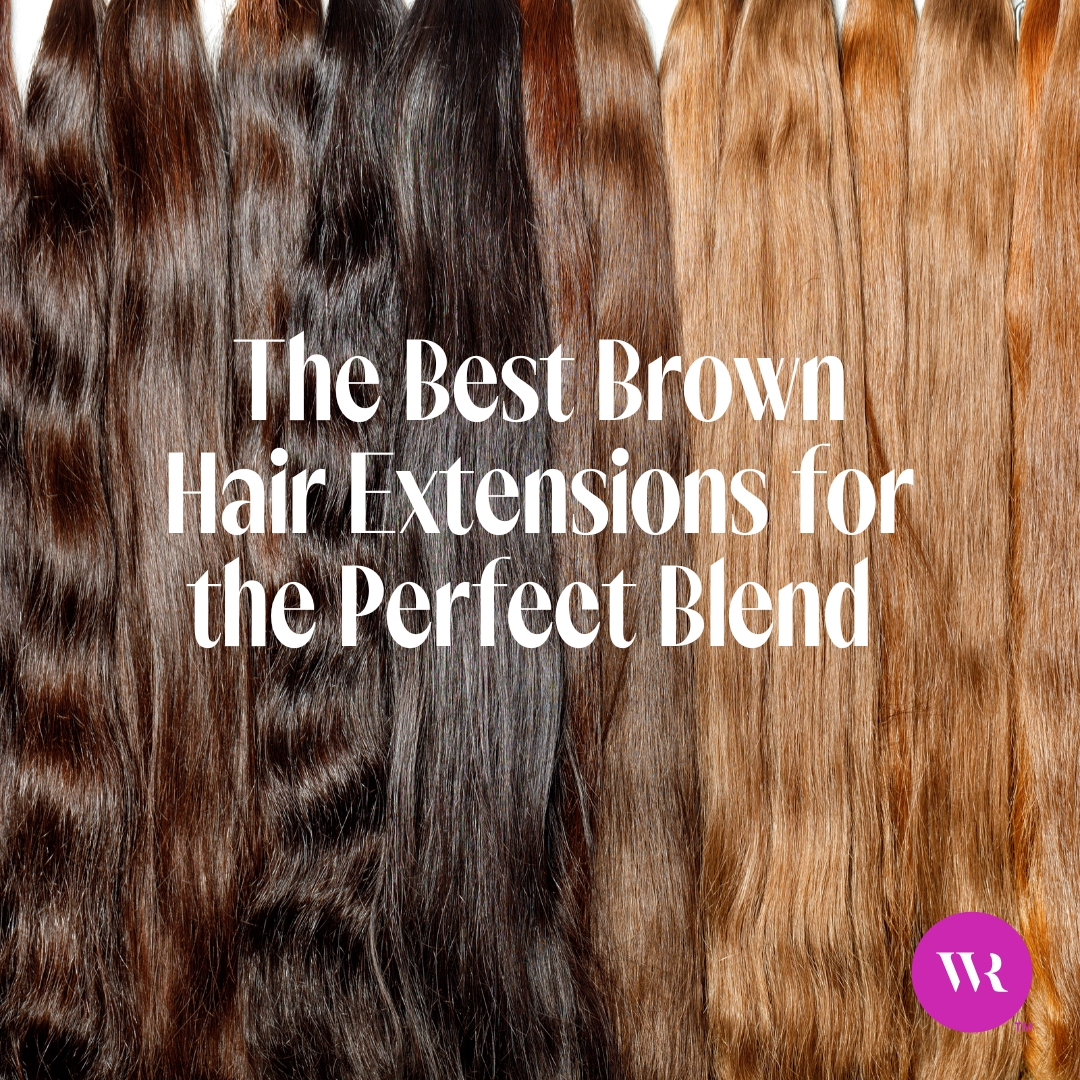 June 14th 2023
The Best Brown Hair Extensions for the Perfect Blend
Whether you're already a brunette or thinking about rocking 
long brown hair
, we'll cover ALL of the shades of 
brown hair extensions
 we offer.
A classic beauty, brunettes will never go out of style! And how do you possibly make brown-haired baddies any more stunning? By rocking long brown hair with the help of brown hair extensions! 
There are so many fun tones and hues to play with when you have brown hair. Do you want to be mysterious with dark brown hair extensions? Or playful with light brown hair extensions? Maybe you want something in between with medium brown hair extensions? Whichever shade you choose, find the perfect blend to complement your gorgeous natural locks.  
Whether you're already a brunette or thinking about rocking long brown hair, we'll cover ALL of the shades of brown hair extensions we offer. There's also a section to help you decide which shade or color combo works best for you, with an added bonus of brunette hair care tips to finish it all off. We see lovely long brown hair in your hair future! 
Which
Brown Hair Extensions
Are Right for Me?
There are plenty of options if you're looking for brown hair extensions. Will you go with chocolate brown hair extensions or dark brown clip in hair extensions? What about long brown hair in an ombré or bronde style? Pick a shade that blends best with your natural strands, or play around with various hues for dimensional color. Out of our 42 shades available at Wicked Roots Hair™, there are 12 luscious shades of brown hair extensions for that perfect blend.  
Here's the official list of all our brown hair extensions shades:   
Dark Brown Hair Extensions
Dark Brown 
Dark Chocolate 
Dark Chocolate Ash 
Medium
Brown Hair Extensions
 Chocolate  
Almond 
Chestnut 
Light Brown Hair Extensions
Bronde 
Light Bronde 
Ombré
Brown Hair Extensions
 Rich Chocolate Ombré 
Cocoa Ombré 
Mocha Ombré 
Bronde Ombré 
Once you find your perfect shade, choose between brown hair extensions clip in, tape in, or band style. It all depends on your hair needs and how you want to wear your extensions. At Wicked Roots Hair™, we have three types of hair extensions to choose from for your brown hair with extensions: Clip It™, Tape It™, and Band It™. Each one has all of our shades for brown hair extensions, so it's up to you which style you rock! 
Color Matching Your
Brown Hair Extensions
If you aren't sure which brown hair extensions will flawlessly blend with your natural locks, get ready to color match! With brown hair, no matter if it's dyed or natural, it will have various hues and tones to it. For best results, compare a few closest matching shades for long brown hair bliss.  
Follow these easy steps for color-matching brown hair extensions:  
Take our 

color match quiz

 to see which shades most closely match your natural hair. 

 

Place your order for swatch samples based on your results for color matching at home. 

 
PRO TIP: We recommend ordering at least three different swatches—when you sign-up for our emails, you'll get a code for three FREE swatches!   
Once those hair color samples arrive, try to find natural lighting to get the most accurate blend. 

 

Clip up the top layer of your hair and compare the color swatch against the hair behind your ears, looking at the color from midshaft to ends. 

 

Brush the sample

 into your natural hair to blend and compare shades. 

 
Once you've figured out which swatch most closely matches your color, you can choose which brown hair extensions to order! 
Haircare Tips for
Brown Hair Extensions
Now that you have your new long brown hair extensions, take the best care of them for long-lasting locks. Having a haircare routine is essential! When you get brown hair extensions from Wicked Roots Hair™, you're getting 100% Remy human hair, so you'll be able to wash and style it just like your natural hair.  
Follow these tips below for ultimate long brown hair extensions perfection:  
Use

gentle brushes

such as a wide-tooth comb, looped bristle, or soft bristle brush for your

brown hair extensions

.

 

Wash your extensions with a sulfate-free and alcohol-free

cleansing shampoo

followed by

hydrating conditioner

. 

 

When drying your

brown hair extensions

, towel dry and then let air dry. If you must blow dry, always apply a heat protectant first. 

 

Keep heat styling to a minimum (or try

heatless styling

.) When you do heat style, use the lowest setting and never exceed 350°F. 

 

Avoid overusing sticky hair products such as hair spray, hair oil, hair gel, or hair wax. These products can affect the lifespan of your

brown hair extensions

.

 

 
Get ready to show off your brown hair extensions by Wicked Roots Hair™. Make sure to tag us on your social posts with #WickedRootsFam. We'd love to see your beautiful long brown hair on Instagram!