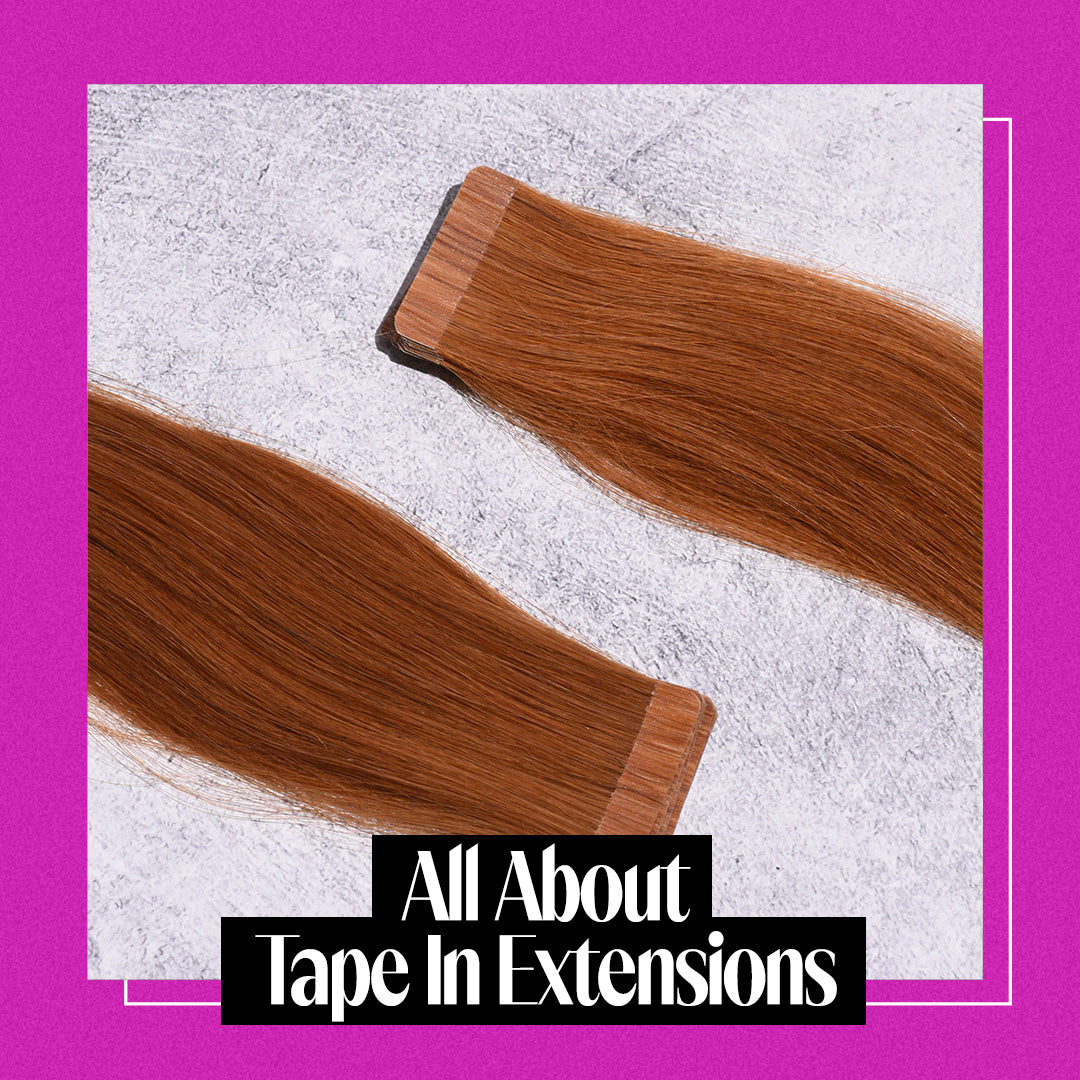 February 22nd 2022
All About Tape-In Extensions
If you're an extensions newbie, here's the 4-1-1 on these hairstylist faves. E
xtension tape is incredibly sturdy, making tape-in extensions durable and long-lasting. 
Dreaming about long hair? You've got a few choices, friend. 
If you're looking for an easy option that can add length,  for a night out or a special event, clip-in extensions might be the perfect DIY solution for you. If you want long hair more permanently, sew-in weft extensions are a better option. However, if you're looking for a happy-medium that's semi-permanent, gentle on your hair, virtually undetectable, and quick to apply, tape-ins will make your hair dreams a reality. Keep reading to learn more about tape-in extensions and how they'll help you reach your #HairGoals.
What are Tape-In Extensions?
If you're an extensions newbie, here's the 4-1-1 on these hairstylist faves. Tape-in hair extensions attach to the root of your hair with double-sided tape strips. The extension tape is incredibly sturdy, making tape-in extensions durable and long-lasting. 
While tape-in extensions usually need to be applied by an experienced hairstylist, they're effortless to put on and remove, and don't require hours in the salon chair, unlike their sew-in counterparts. They work on many different hair lengths and textures too! 
Tape-In extensions can be used to not only add length, but also add dimension, volume, and color (without the chemicals needed for highlights!). 
And, if you're wondering, "How much are tape-in extensions?" you'll be happy to know tape-ins tend to be less expensive than other permanent or semi-permanent hair extensions. Plus, you don't need to worry about tape-in extensions damaging your natural locks. The wefts lay flat and gently against the scalp, so they're much less damaging than other types of hairpieces.
Tape-in extensions come in many different lengths. Some of the most popular include:
12-in hair

16-in hair

18-in hair

20-in hair

22-in hair

24-in hair 
Not sure which to choose? Have a consultation with your stylist to determine the best length and number of packs you'll need to achieve your desired look. 
How Do You Care for Tape-In Extensions?
Tape-in extensions do require a bit of TLC and some time commitment to keep them looking great. Here are a few tips to maintain those tape-in extensions as long as possible:
Keep the delicate strands tangle-free with an extension brush, wide-toothed comb, looped bristle, or a soft bristle brush.

 Keep products away from the tape to prevent it from getting damaged. 

Wash and style your extensions sparingly, and only use product on your ends. Try to use product on just the ends and keep any products away from the tape at the top. 

Brush your extensions when dry. Brushing wet extensions can create tension on the tape (and your scalp).
The key to longer lasting tape extensions is the quality and stickiness of the tape. Never remove your tape-in extensions yourself. Your stylist will use high-quality products to remove and replace the tape tabs. (Impatient and ready to remove those strands at home? Be sure to use a hair extension removal solvent like Break Up Spray to separate the strips from your roots.) 
How Do I Decide on Tape-In Hair Extensions?
When it comes to finding the best tape-in hair extensions, we can't emphasize quality enough. It's better to spend a little bit more for high-quality, 100% natural Remy human hair than buy a synthetic extension that looks (and feels) cheap. No matter the color, human hair extensions blend seamlessly with your real hair. They also can also be heat styled, though be sure to keep that temperature around 350 degrees. 
To find the best tape-in extensions, look for:
High-quality, ethically sourced hair 

Wide selection of colors to match your look

Medical-grade tape tabs

Killer looks!
There are plenty of tape-in human hair extensions out there, but – as with anything – not all are created equal.
The Best Tape-In Hair Extensions: The Wicked Roots Difference
Come on; you knew our shameless plug for Tape-It extensions were coming! But seriously, we have the best tape-in human hair extensions on the market. We check all the "must-haves" on your list:
High quality.

Our hair is simply the best! Our extensions are made from 100% cuticle-on natural Remy human hair. The hair tape we use is hypoallergenic and creates a long-lasting, comfortable bond. 

Look good, do better.

We feel pretty strongly that beautiful hair isn't sexy if it's sourced through shady practices. All Wicked Roots extensions are cruelty-free, ethically sourced, gluten-free, and allergy-free. We want you to look good

and

feel good!

Color is beautiful.

No matter your color, we have extensions to suit you. With over 42 swatch options (including ombré!), everyone can have the gorgeous hair of their dreams.
Ready to take the plunge? Snag our Tape-It extensions (4-6 packs for your whole head!) and get ready to take your natural beauty to the next level.