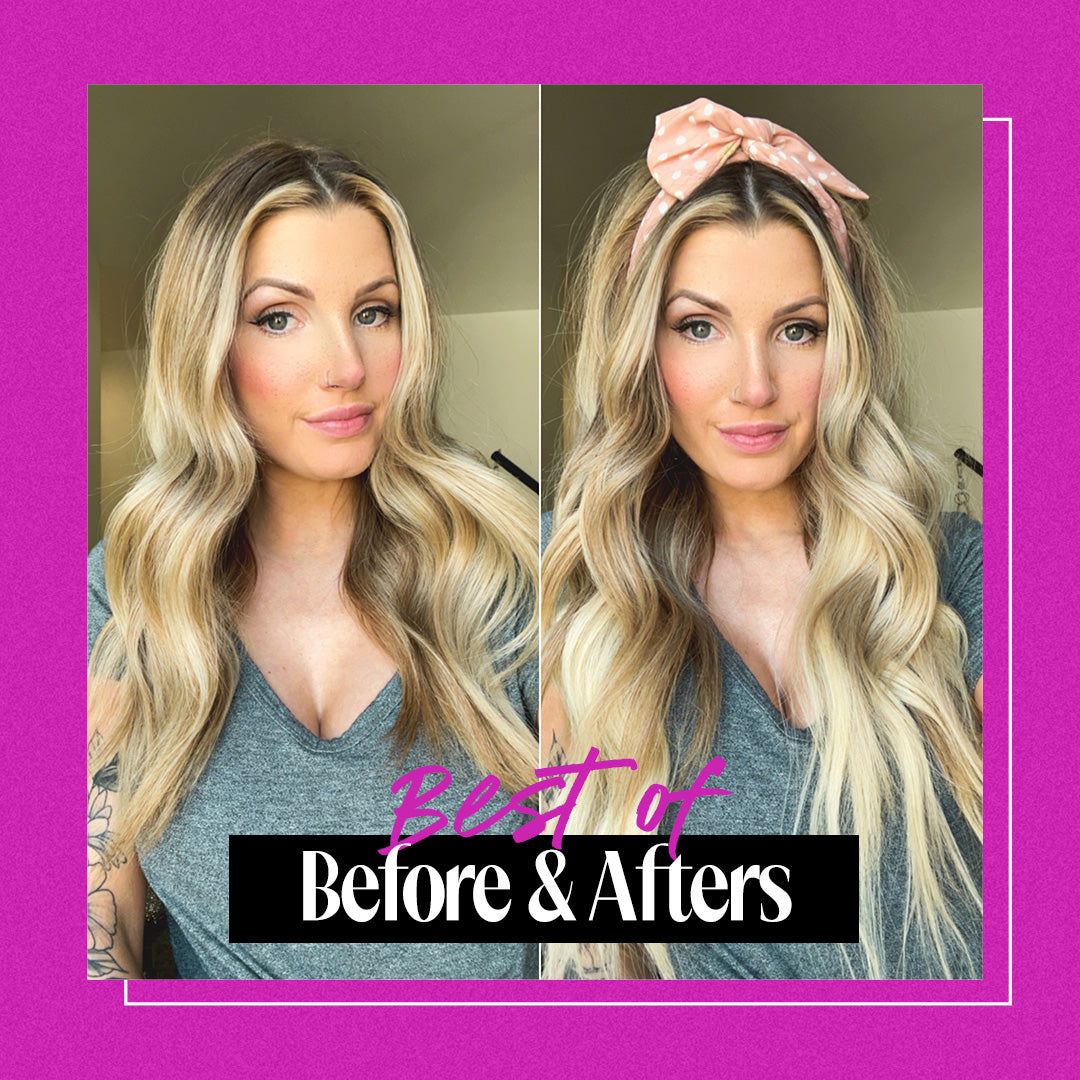 June 23rd 2022
Best Before and After's with Extensions
Ready to see some FABULOUS hair transformations?! This blog highlights the types of hair extensions that best fit your hairstyle and lifestyle!
Dreaming of a hair makeover? With #WickedRoots hair extensions, we can make your hair goals come true! But before we get into our favorite before and afters, let's find the best hair match for you to upgrade your locks.
Finding Your Perfect Match
We love setting people up with their perfect hair matches! With 42 shades to choose from for our extensions, you are sure to meet your match. Not sure where to start? We recommend figuring out what color fits your natural hair best. Our color match quiz is the best place to start to get that flawless finish.
Your Unique Color & Shade
With our Color Match Quiz, you'll be one step closer to long, luscious locks in under two minutes.
First, look at your natural hair color from your midshaft to ends (natural light works best!) and choose the option that fits your color best. Then take a closer look at what shade most closely matches yours.
After that, it's time to match those roots! See what color best matches your roots and the shade. Grab measuring tape to see how long your roots are for the most accurate results. 
Next, decide what you most want to achieve with your hair extensions. Are you looking to lengthen your color, add dimension or lighten your ends? Pick the option that most suits your glow-up goals. 
Swatch It Up 
At the end of the quiz, sign up for our emails to get an exclusive code for three free Swatch It's on us! 
You can see which color works best by comparing each color swatch with your natural hair:
Find a source of natural light (outside, bathroom window)

Hold your Swatch It's against your ends, then at the root.

Choose your closest match(es) and order your hair online!
Our Swatch It color swatches are made of the same 100% Remy human hair we use for our extensions to ensure you find the most accurate color to match your natural hair.  
Meet Our Hair Extension Collections
What type of hair extensions best fit your lifestyle? That's the next step on your hair extension journey. Let's take a closer look at the features of our high-quality hair extensions:
Clip It:

Go with our 7-piece clip-in hair extension set for a fully customizable temporary option. You can install these at home with silicone wrapped clips that have a matte coating for a secure fit. Available in 16" & 20" lengths.

Band It:

Our 1-piece band hair extension set features the quickest, most simple application. This one-step band comes ready to apply and has two additional mono-lines with flexible connectors for a custom fit. Available in 16" & 20" lengths.

Tape It:

Our 10-piece tape-in hair extension set is ideal for mixing and matching shades as a completely customizable semi-permanent option. Have these applied by a professional stylist and reapplied after six weeks. They can be reused 2-3 times! Available in 12", 16", 20" & 24" lengths.
For you on-the-go DIY baddies, Clip It or Band It is your best bet. Want more dimension and a semi-permanent option? Tape It will work better for you!
Time For the Main Hair Event
Ready for your gorgeous glow up, baddies? We've got show-stopping transformations with our stunning Wicked Roots ambassadors. It's time to take your tresses to the next level – major hair goals inspo ahead! 
@tamiastyles with 16" & 20" Clip It in Dark Brown and 16" Band It in Black
Style Tip: Tamia is rocking shorter hair. She added Clip Its to the front of her hair after applying Band It to get va-va-voom volume.
@kissysbombshellbeauties with 20" Band It in Pale Ombre
Style Tip: Want to blend your extensions perfectly? Follow Kisandra's lead: Gently brush your natural hair over the invisible band that sits on the crown of your head. Boom.
@jaxvicious with 20" Clip It in Platinum Blonde
Style Tip: To get her unique shade, Jax used a toner on her Clip Its to land on the exact color she wanted. Our extensions are made of real human hair, so they can be toned or dyed (though any alterations does null the warranty).
@oliviapura with 16" Clip It in Chocolate
Style Tip: Olivia's hair has a natural wave, so she curls her Clip Its before applying them to add some extra bounce. That's right: You can heat style your extensions up to 350°F!
Have your own bangin' before and after to show off? Tag us on Instagram with #WickedRootsFam and show us how you rock our extensions! We'd love to feature your look on our feed.