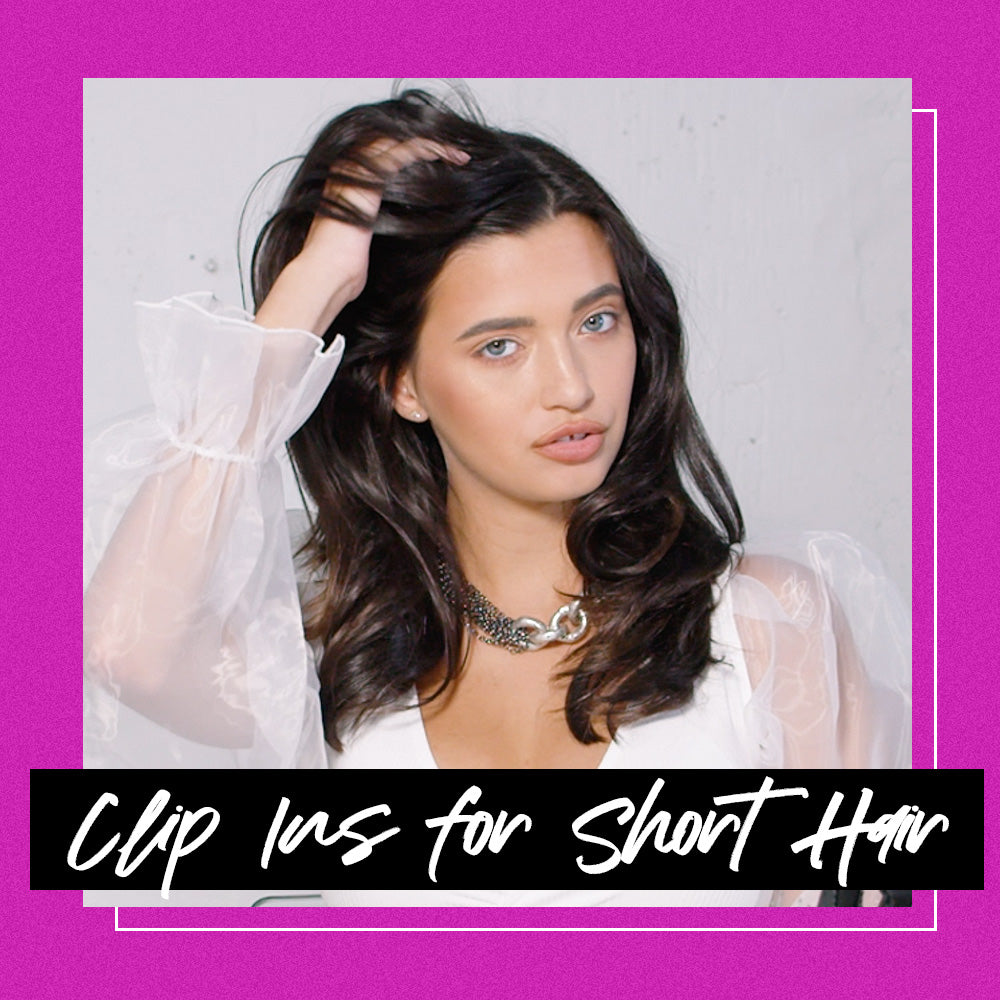 August 11th 2021
Best Way to Blend Hair Extensions in with Short Hair
Hair extensions are all the rage right now, which is no surprise to us here at Wicked Roots! Hair extensions (especially our DIY Band It and Clip It Remy hair extensions) are the easiest way to add volume and length to every type of hair. With the right blend of color and application, you'll be amazed at how many (well-deserved!) compliments come your way.   
If you have shorter hair, you may be hesitant about your ability to make your new favorite accessory look natural. Let's squash that fear! We're here to give you the baddie confidence you need to step out in style. Keep scrolling to learn how to blend hair extensions for short hair.
How To Use Clip-in Hair Extensions For Short Hair
Hair extensions can make an especially dramatic difference when they are applied to short hair. One of the best types of short hair extensions is clip-in extensions. (Our Clip Its will be your new BFF.) Follow these steps to create your new favorite look!
Step One: Take a mental picture of that flawless beauty in the mirror and get ready for an epic transformation.
Step Two: Brush out your hair and the extensions separately to remove any of those obnoxious tangles.
Step Three: Secure most of your hair at the top of your head. You'll want to start about 1.5 inches away from the nape of your neck and clip the rest up, so it's out of your way.
Step Four: For short hair, you may want to tease your hair a bit at the roots to give your hair some extra texture. Start with the middle clip and clip it as close to the roots as possible, making it nice and secure. Pull the weft tightly and secure the left and right clips as well.
Step Five: Continue moving up along your scalp using the same process. Go one at a time, stopping about an inch above the previous weft and letting down a thin straight layer as you move. This layering technique is the best strategy to blend hair extensions in with short hair. Repeat the process until all of your extensions are in. We always suggest starting with the longest extensions first. Use any shorter extensions as additional layers that frame your face. 
Step Six: Once you've positioned the three-clip wefts, add any two-clip wefts (or the short clip-in hair extensions) to the left and right sides. We recommend starting about two inches above the ear and two inches back from your hairline. (Don't forget to check for symmetry on both sides of your head!)
Step Seven: Lucky number seven is all it takes. Let your hair down and check out that masterpiece. Now you can go ahead and style your hair however you'd like.
Just remember, practice makes perfect! The process is easy, but the more you do it, the more you'll werk it.
Hair Extensions for Very Short Hair – Do They Work?
If you have very short hair and you're looking for a massive hair transformation, extensions may be exactly the piece(s) you've been missing!
How to Hide Extensions in Very Short Hair 
Although it can be initially challenging to hide hair extensions in very short hair, you can use a few hacks to make it work. 
First, be sure to always layer your hair extensions properly, so they're thick but secure. Extra teasing and hairspray can do wonders for a stronger hold and increased volume. It's helpful to have lots of extra hair to play with when hiding your short hair. 
You can also try going for a look with more dimension. Match two or more similarly colored hair extensions with your hair color. This can help hide your shorter hair and give you more depth, ultimately making your short hair extensions appear more natural.
Our last trick is bobby pins! Any short hair strands that stick out can be pinned back or down, so they don't give away your secret.
How Do You Maintain Hair Extensions? 
When you go from long hair to short hair, you'll want to ensure those extensions stay perfect. Be sure you always properly unclip them and brush them out before storing them. If you buy high-quality virgin hair or 100% Cuticle On Remy hair extensions, you'll want to wash them at least once a week if used frequently. Be sure to use gentle, damaging chemical-free hair products to extend their life.
Adding hair extensions to short hair is a super fun and flirty way to transform your hair. Browse our fan-girl favorite DIY hair extensions, and hit that add to cart now. You've got this!