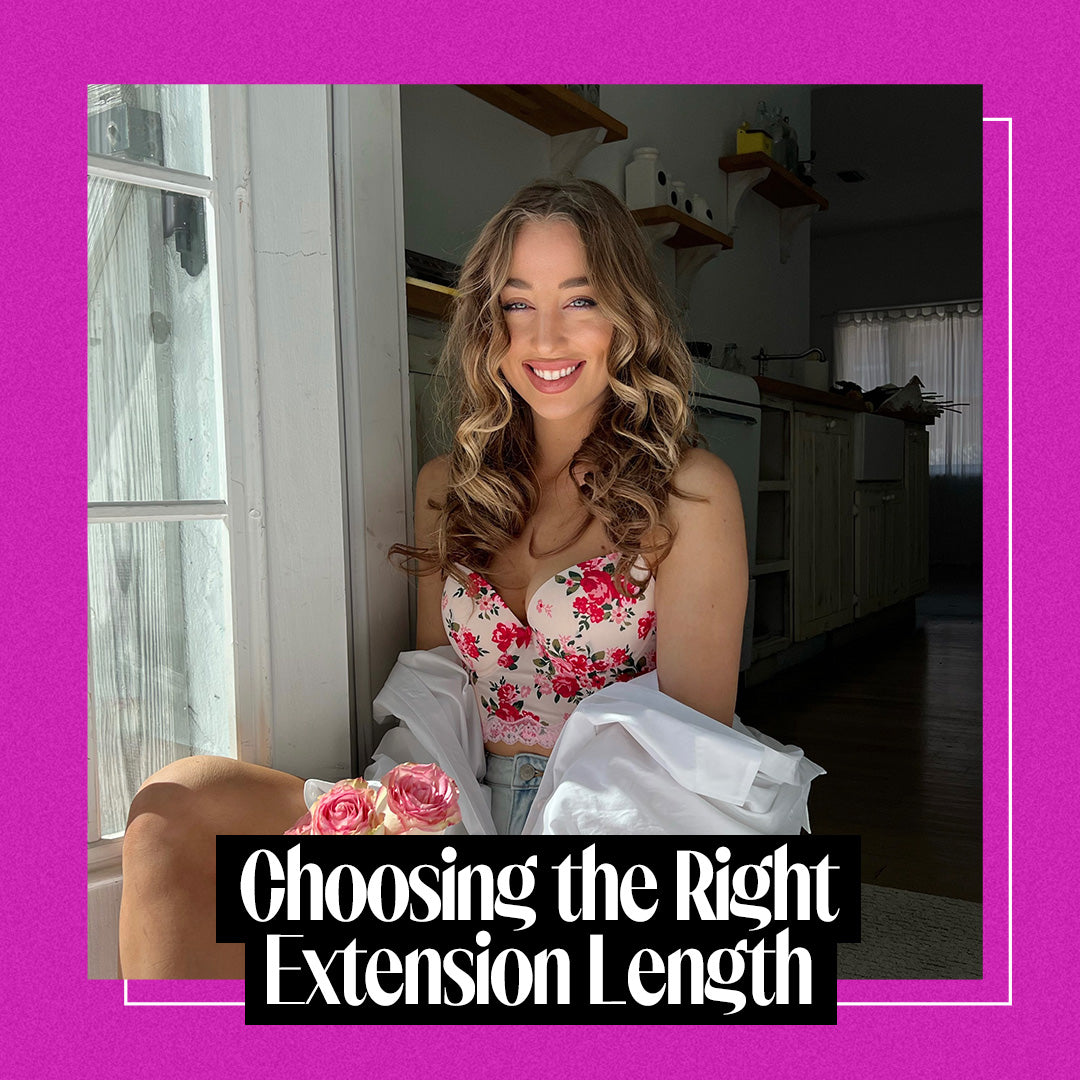 June 2nd 2022
Choosing the Right Hair Extensions Length for Your Locks
New to extensions and not sure where to start? We'll cover everything you need to know about picking the perfect
hair extension length
for a stunning glow-up!
New to extensions and not sure where to start? We'll cover everything you need to know about picking the perfect hair extensions length for a stunning glow-up! If you choose the wrong size, they may not blend evenly with your natural hair – and we don't want to give away your best secret (unless you want to tell the world, of course)! 
Follow our guide below to get natural-looking voluminous tresses with Wicked Roots, every time.
Cut Yourself Some Slack
If you're rockin' a pixie cut, extensions may not be your best option. We recommend having your natural hair length be at least 4 to 6 inches long. The reason for this is so you can properly conceal the extension's clip, tape, or band. It can look unnatural with super short hair and make it difficult to blend the extensions. (No Angelina Jolie #redcarpetfails here!)
How Long Are Your Locks?
Bust out your measuring tape to get the best idea of where your hair extensions will sit. Start by measuring from the top of your ear and down the length of your hair until you hit your desired length. This way, you can see how much longer the extensions will be compared to your natural length. 
Reaching New Heights
Your height will play a role in how your extensions look on you. If you're petite, it might be best to choose hair extensions lengths between 12" Tape It or 18" Tape It, Clip It, and Band It. If you're taller, longer sets such as 20" or 24" could work better. Once you measure your natural length in comparison, it'll help to know where they'll sit on your frame. 
Blend It Baddie
To blend your hair extensions, it's best to stay within 3 to 4 inches of your natural length. This depends on your personal preference. If you'd like to extend further, we recommend ordering an additional pack of hair extensions so you can simultaneously pump up the volume. The fullness of an extra set will provide a more natural look when you reach maximum lengths.
Choose Your Perfect
Hair Extensions Length
12" (Tape It)
Falls at collar bones
16" (Tape It, Clip It, Band It)
Falls at bra strap
20" (Tape It, Clip It, Band It)
Falls at mid/lower back
24" (Tape It)
Falls at lower back
Long Hair, Don't Care
Now that you've chosen your lengthy locks, it's time to show off your new strands! Tag us on social media with the hashtag #WickedRootsFam with your gorgeous looks.