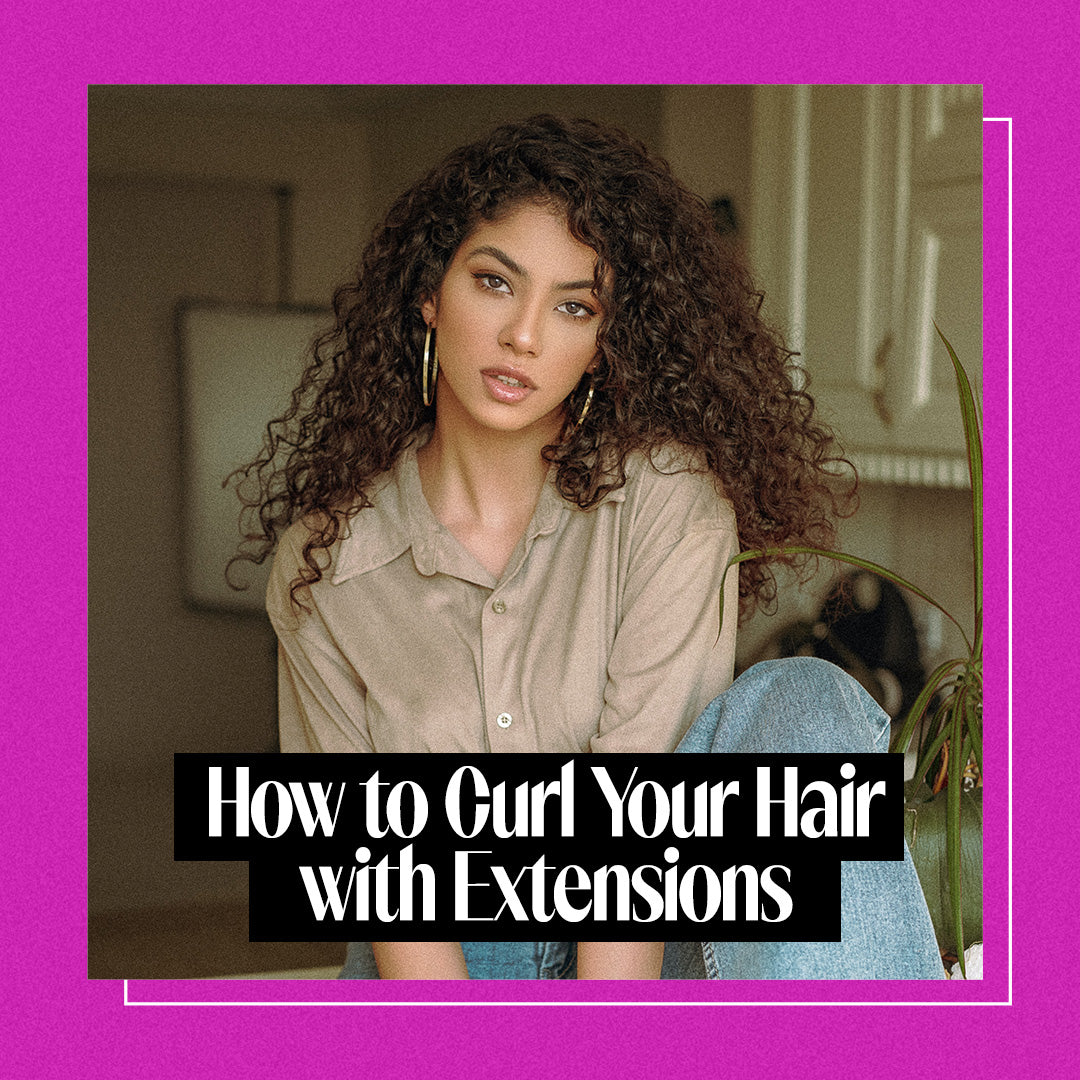 November 24th 2021
Different Types of Curls and How to Curl Your Hair with Extensions
All our curly girls know that no curls are exactly the same, so it's important to find
 the best extensions for your naturally curly hair. To help you pamper your luscious locks, we've decoded some of the different kinds of curls to help you figure out the best products and solutions for your one-of-a-kind curls. 
All our curly girls know that no curls are exactly the same, and no curly hair care solution is one-size-fits-all. Sad but true. To help you pamper your luscious locks, we've decoded some of the different kinds of curls to help you figure out the best products and solutions for your one-of-a-kind curls.
What Are the Different Types of Curls?
Type 2 Curls – Wavy
Type 2 curls are the least "voluminous" and are mostly "s" shaped waves that fall somewhere between straight and curly. Just because these curls aren't those tight Shirley Temple-style ringlets doesn't mean they don't need their own kind of TLC. Look for a volumizing product you can apply at the root to "lift" your hair and a light curl cream to hold your waves in place.
Type 3 Curls – Curly
Type 3 curls range from tight ringlets to loose corkscrew, and usually lack hydration because it can be tricky for the natural oils at the base of your scalp to wind their way down to your ends. Try using a deep conditioner to keep your hair soft and hydrated. A curl refreshing cream will quickly become your curls' best friend if you want to keep your hair springy and healthy.
Type 4 Curls – Kinky and Coily
These curls are typically a zigzag, tight spiral shape. Depending on the thickness of the hair, type 4 curls can make hair look shorter than it really is. Like Type 3 curls, these curls can be prone to dehydration, so a hydrating curl cream is a must. Type 4 curls are also prone to breakage, so moisturizing oils – like jojoba oil and a leave-in conditioner – can help keep your curls healthy and supple.
Curls Plus Extensions? 
Curly girls know that growing your hair out can be a real challenge, especially since the length can differ wildly between different types of curls. Keep reading to see how you can get lusciously long locks using hair extensions. 
The Real Deal
Let's cut to the chase: You have to get real human hair extensions. Synthetic hair can easily be damaged, and you'll need to curl and style your extensions to get the most natural look. Salon-quality, Remy human hair extensions like Clip It, Band It, and Tape It, will blend seamlessly with your natural locks if styled correctly.
DIY Curling Your Extensions
While you can technically perm your extensions it can be pretty costly (and permanent alteration can void the warranty). Don't worry, you can totally curl your extensions yourself. If you have super curly hair (type 3s and 4s), you can consult with a trusted stylist on the best ways to curl your extensions so they blend in with natural hair.
If you're going for a style that's a little more wavy than curly and you want to try curling your hair extensions yourself, here are a few steps to get a natural look:
1. Always, always, always use heat protectant when using a curling iron, curlers, or a curling wand on your hair extensions! You have to protect the extensions so they look beautiful as long as possible. And another thing: Make sure your extensions are clean and completely dry before you even attempt to curl them.
2. f you have clip-in extensions, it's easiest to take them out and curl them separately. Your natural hair and your extensions are probably slightly different textures and might take different amounts of time to curl, so you'll have a bit more control over how each of the curls looks like this. For sew-in or tape-in extensions that you can't remove, you'll have to curl them with your regular hair.
3. Turn down the heat! To protect your extensions, don't set your curling iron or wand to higher than 350 degrees. It goes without saying that you can't regrow extensions, so go easy on the heat to help extensions last longer.
4. You can style your hair extensions just like your normal hair. For tighter curls like cheer curls, use a curling iron or wand with a narrower barrel. For a no-heat option, try sponge rollers and finish with hairspray. For romantic, looser curls (think a Hollywood glam hairstyle), use a larger barrel to create a tight curl, then gently run your fingers through them before finishing with hairspray. For beachy, casual curls, curl your hair shaft but don't curl the ends, and finish with texturizing spray.
5. Remember, extensions aren't a one-size-fits-all solution, so it's important to find the best extensions for your naturally curly hair. When in doubt, ask your stylist. Your stylist can work with your hair's texture, color, desired length, type of hair crown, and more to make sure your extensions are a perfect match.
We hope you found these tips and suggestions helpful! Let us know in the comments which curly hair type you have!