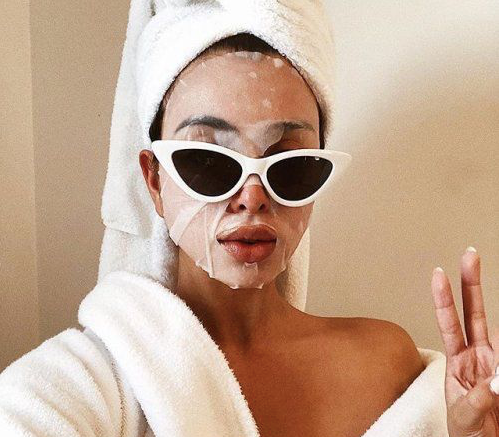 March 26th 2020
DIY Hair & Skin Masks For You To Try At Home This Week.
Read on for 3 hair & 3 skin masks that you can make with a few ingredients you already have in your kitchen.
One thing we've learned throughout the years is never to neglect our hair and skin! Whether you're going through a breakup, had a bad work week, or you're dealing with a worldwide emergency like the one we are in now, it's essential to stay informed BUT, you must also remain calm and focus on your wellness. We're always going to wish for brighter days, and when those days arrive, we want to make sure we look and feel good. 
So you didn't get a chance to stock up on all of your skincare & haircare favorites? Never fear! We're your new virtual bestie that's full of beauty hacks. Below we're going to share 3 hair & 3 skin masks that you can make with a few ingredients you already have in your kitchen. 
Deep Condition Your Hair With Olive Oil Mask
It could be as simple as just using Olive Oil to give your hair a little extra love and moisture. This is to be used mainly if your issue is dry hair, but it will also add a little extra shine. 
**Warm-up 1/2 cup olive oil (do not boil it), and then rub it into your hair. Cover your gorgeous locks with a plastic bag, then wrap everything in a towel. Let this home remedy do its thing for 45 minutes, then shampoo and thoroughly rinse.**
Coconut Oil, Sugar, and Essential Oil Mask
Hair Health starts at the scalp, and this is the ultimate mask for flakes in your hair. When your scalp starts drying out, the outcome is not pretty. This exfoliating treatment helps remove and reduce flakes, and it also doubles as a great facial scrub. #WINNING 
**Mix 2 tablespoons of raw, unrefined coconut oil, 4 teaspoons of raw sugar, 5 drops of peppermint oil, 2 drops of tea tree oil (essential oils recommended but optional.) In a small bowl, mix ingredients and use your fingers to apply the mixture directly to two-inch sections of clean, damp hair & scalp in the shower. Once evenly applied, gently massage for 1-3 minutes and then clip your hair up and let it sit for the duration of your shower. The sugar in this DIY scrub breaks down to glycolic acid, which dissolves dead skin cells. The coconut oil is rich in fatty acids and has anti-inflammatory benefits, the peppermint oil helps promote circulation to the scalp, and tea tree oil is anti-fungal, antimicrobial, and antibacterial.**
Egg White And Lemon Mask
Is your hair always greasy? While a product such a dry shampoo is a great option, we also recommend this Egg White And Lemon Mask. It's seriously AMAZING. Make sure to Stick with just the egg whites, which have protein enzymes that help remove excess oil. 
** Combine 1 egg white and juice from half a lemon. Smooth over your hair from roots to ends and leave on for 30 minutes to an hour — longer is better. Rinse with lukewarm water.**
NOW ON TO YOUR SKINCARE
Yogurt, Honey, & Turmeric Powder Mask
This mask is everything and more when it comes to improving uneven skin tone and texture. Yogurt is filled with lactic acid, which makes a visible difference to the skin by lifting away rough surface cells to uncover much newer, brighter ones. Honey makes your skin feel soft and elastic while turmeric is useful for combating pigmentation. This mask is a total home run! 
**Combine 1 tablespoon of natural, plain yogurt, 1 tablespoon of honey, and 1 tablespoon of turmeric powder. Leave this mask on your skin from 20-30 mins**
Banana, Orange Juice, & Honey Mask
Are you going for that dewy look? This combination of Banana, Orange, & Honey will give your skin such a healthy, natural-looking glow. The Banana will also give your skin a softer appearance. It's designed to be gentle enough on all skin types. 
**Mash one-half of a banana in a bowl and then mix in a tablespoon of orange juice and a tablespoon of honey. Apply the mask to your face (lumps are fine!) and keep the mixture on for 15 minutes. Rinse with lukewarm water and then moisturize.**
Banana, Turmeric, & Baking Soda Mask
If you have mild to moderate acne, this is a fab mask for you to try out. Bananas are full of vitamin A, which promotes skin-cell turnover and helps pores stay clean. Turmeric powder helps fight off acne-causing bacteria, and baking soda absorbs the excess oil in your skin.
**Mix 1 mashed banana, 1/2 teaspoon baking soda, and 1/2 teaspoon turmeric powder in a bowl. Apply the mask to your face for 20 minutes and then rinse off with cold water.**
We hope you'll try some of these masks out for your hair and skin! Remember, self-care is an essential part of your life. We want all of our Wicked Boss Babes out there to stay on the top of their wellness game no matter what life throws their way. 
What have you been doing this week for your hair and skin? Do you think you'll try one of these masks? Let us know what you've been up to in the comment box below.