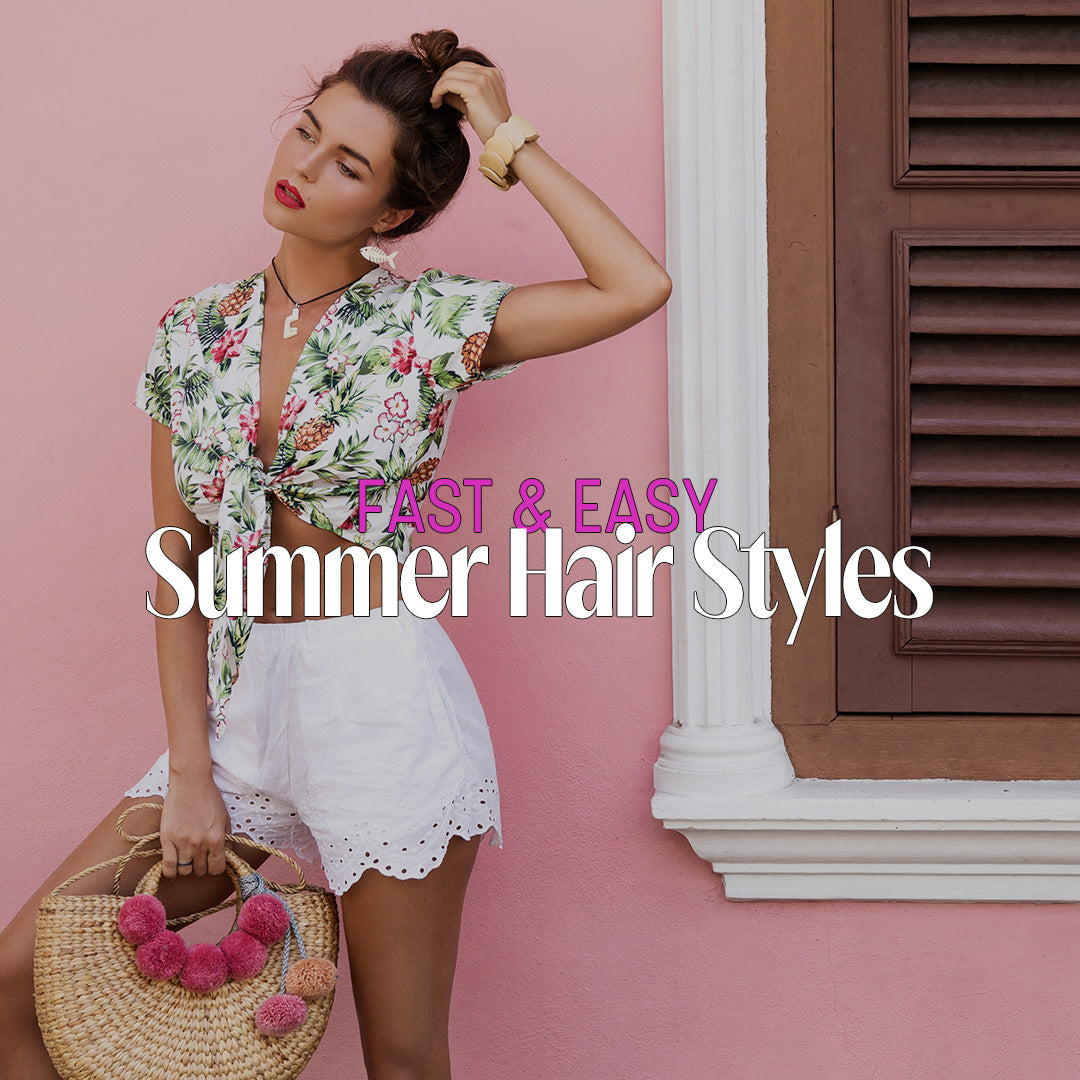 July 14th 2022
Fast and Easy Summer Hair Styles
It's getting hot out there! So sometimes you just need a fast and easy hairdo that still meets the hot girl summer standards. In this blog, we'll give you all the cute summer hairstyle ideas!
The summer sun is shining on your strands and you know what that means! Time to feel fab and fresh with cute easy hairstyles! From festivals to beach parties, cute simple hairstyles will be your go-to easy hairstyles all summer long!
Summer hairstyles are so much fun to play around with, and the different hairstyles can help you embrace the new season. And if you're rocking lengthy locks (thanks to our hair extensions, naturally!), the possibilities are endless. There are so many cute, easy summer hairstyles for long hair!  
We've got all your cute summer hairstyles right here. Looking for casual hairstyles that are low maintenance? Got 'em! Want hair ideas with a little extra flair? Keep reading – these super easy hairstyles are easy to pull off, look AMAZING with long tresses, and are perfect for any and all social events during the warm months ahead! 

Beachy Waves 
What kind of summer hairstyles list would this be if we didn't mention beachy waves?! They give off that carefree summer vibe, making them one of the ultimate cute easy hairstyles. 
Step 1: Get your curling iron. We recommend one that's about an inch in diameter. ALWAYS spray your hair with a heat protectant to avoid damaging your delicate strands. And if you're heat styling your hair extensions, don't exceed 350°F. (You could also try waves with heat-free styling!)
Step 2: Start curling your hair halfway down, avoiding the ends and curling away from your face. Curl each section for only about 10 seconds to keep the waves loose. They'll have a more natural just-left-the-beach look this way! 
Step 3: Run your fingers through your hair to break up the curls so you end up with looser waves. Finish with a layer of hairspray to set your style and keep your beachy waves intact. 
Half-Up Ponytail
The half-up ponytail is the best of both worlds: cool hairstyles and easy summer hair ideas. It's one of our favorite versatile, cute easy hairstyles because you can still keep those long locks flowing but get your hair off your face. The best part? You can play up this look by combining it with beachy waves or sleek straight strands.
Step 1: Brush out your hair and separate the top and bottom halves equally. (Need a good brush? Check out the BEST brushes for hair extensions.)
Step 2: Section the top half of your hair into a ponytail at the crown of your head and secure it with a hair tie.
Step 3: Use hair clips to pin your bangs or any loose hairs out of your face. Set the style with hairspray and done! You're ready for sizzling summer parties, baddie.
Top Knot Bun
When the temperatures rise, so does our hair. We can't wait to get it up and off our shoulders! A top knot bun is one of our go-to cool hairstyles for girls because it gets those strands up and lets you feel the breeze on your skin. Plus, top knot hair styles can keep your locks dry and protected from the elements if you're headed to the pool or the beach. Cute easy hairstyles that prevent damage? Love it!
Step 1: Brush your hair away from your forehead and pull your strands into a high ponytail near the top of your head. Secure it with a hair tie. 
Step 2: Divide your ponytail into two sections. Twist them together by wrapping the sections around each other. 
Step 3: Wrap your twisted hair around your hair tie clockwise and secure the top and bottom of the bun with bobby pins. Spray with hairspray for extra and get out there and enjoy those summer festivities! 

Rope Braid Ponytail
This is one of those hair styles that reminds us of innocent childhood summers when we didn't have a care in the world! Rope braid ponytails are cute easy hairstyles AND cool hairstyles – a winning combo, if you ask us. And this look keeps your hair in place all day long!
Step 1: Brush your hair to get rid of any tangles. Pull your hair into a high ponytail, secure it with a hair tie, and use hairspray to set it. 
Step 2: Separate your ponytail into two sections. Twist both sections in the same direction.
Step 3: Twist the two sections together in the opposite direction. Twist all the way down and secure with another hair tie. Add some hairspray to finish off your look before running out to enjoy your summer day.
Turn the Heat Up this Summer 
Elevate your cute easy hairstyles with Wicked Roots hair extensions. You can add extra volume and length to all of these hair ideas in minutes! Instead of worrying about your look, you can work on your tan with a drink in your hand and the hair of your dreams!
Which summer hairstyles will you rock? Tag #WickedRootsFam on social media so we can see the summer styles you create with our extensions.