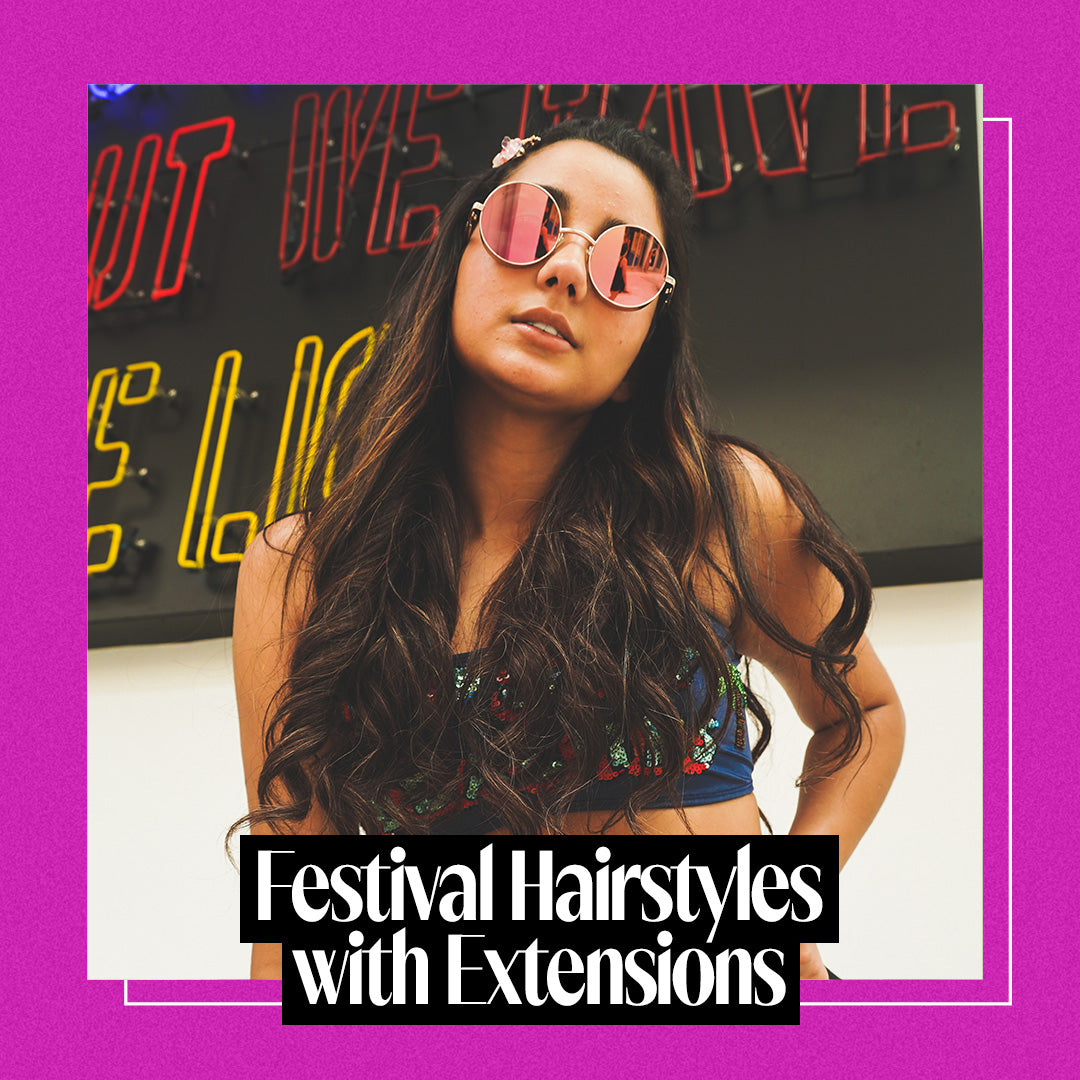 May 18th 2022
Fun Festival Hairstyle Ideas with Extensions
A stand-out hairstyle is an essential part of the festival experience. Whether you're looking for rad
rave hairstyles
or boho
festival hairstyles
, you can get creative with your tresses. We've got some super cute DIY ideas for you featuring our favorite
festival hairstyles 2022
with #WickedRoots hair extensions:
The anticipation is building as the summer music festival season is on its way! You've got your tickets, your time off work is approved, and everything is booked. Now you just need to choose the perfect festival hairstyles for you and your friends to vibe out with!  
What's the secret to having the best festival locks? Two words: hair extensions! They're a game-changer. By adding extra length and volume, you're making a statement and will have much more versatility for rocking different festival hairstyles. 
A stand-out hairstyle is an essential part of the festival experience. Whether you're looking for rad rave hairstyles or boho festival hairstyles, you can get creative with your tresses. We've got some super cute DIY ideas for you featuring our favorite festival hairstyles 2022 with #WickedRoots hair extensions:
Double Buns
Channel your inner Princess Leia with double the fun. These space buns are so 90s and totally in style for this festival season. Hair extensions allow for fuller buns when styling this look!
How To:
Brush all of your hair and then comb your hair extensions to get rid of any tangles. Then apply them to your natural hair.
Part your hair down the middle.
Pull your hair into 2 pigtails high on the top of your head using hair ties.
Twist 1 of your pigtails away from your face then coil it into a bun and secure it with a hair tie. Tuck the ends into the base of the bun.
Repeat the same process for the second bun.
Finish with hairspray and use bobby pins to keep your hair in place.
PRO TIP: Use sulfate-free styling products on your #WickedRoots hair extensions.
Textured Waves
Let your long locks flow and show off that length with loose waves! You can achieve this look with a curling iron or slept-in a braid overnight for heat-free waves in the AM. 
How To:
Apply a heat protectant spray to both your natural hair and extensions separately.
Curl your extensions before putting them into your natural hair. PRO TIP:

Do not exceed 350°F when applying heat to your extensions.

Create 1-2 inch sections on your extensions and curl each individual section about two inches down from the roots.
Curl your own hair by creating sections to ensure curls are distributed evenly throughout.
Apply the extensions to your head and use a wide-tooth comb to gently separate the curls.
Use a sea salt spray for texture and setting spray to keep your waves intact.
High Ponytail
Let's be real, it gets HOT at music festivals! Keep your hair out of your face and cool off with a head-turning high pony. The length and volume you get with hair extensions will have you channeling your inner Ariana Grande. 
How To:
Apply your hair extensions to your hair for voluminous length.
Pull all your hair into a high pony and secure it with a hair tie or scrunchie. PRO TIP:

Push up your hair at the crown to add some volume.

Spray hairspray over the top of your hair to clean up any flyaways.
Festival Braids
These festival braids with extensions are the ultimate in rave hairstyles that will stay intact while you're rocking out! Rave braids typically follow the Dutch style with two braids at the back of the hair, but you can try any braids that suit you best! Adding hair extensions helps to achieve thick, long, and voluminous braids.
Hair Accessories
Flower Crowns
What first comes to mind when you think of festival hairstyles? You're probably picturing flower crowns! Add a touch of hippy vibes to your long locks that work well with any hairstyle. 
Headbands
While you're dancing the day away, add a sporty headband to keep your hair off your face. Wear a chunky or knotted headband for extra style points.  
Floral Hair Clips
Looking to switch it up from the usual flower crown? Use floral hair clips in your festival hairstyles for pops of color to brighten up your tresses. 
Headscarves
We know these festivals are literal marathons of 3 to 4 days. At least one of the days, you might not feel like doing your hair! Throw on a chic headscarf and secure it with some bobby pins to keep it in place.
Which one of these festival hairstyles will you rock? Let us know in the comments below and tag us in your fun festival hairstyles 2022 looks on Instagram with #WickedRootsFam! 
Looking for more festival inspo? Check out our round-up of festival essentials, must-haves, and the top festivals you won't want to miss!