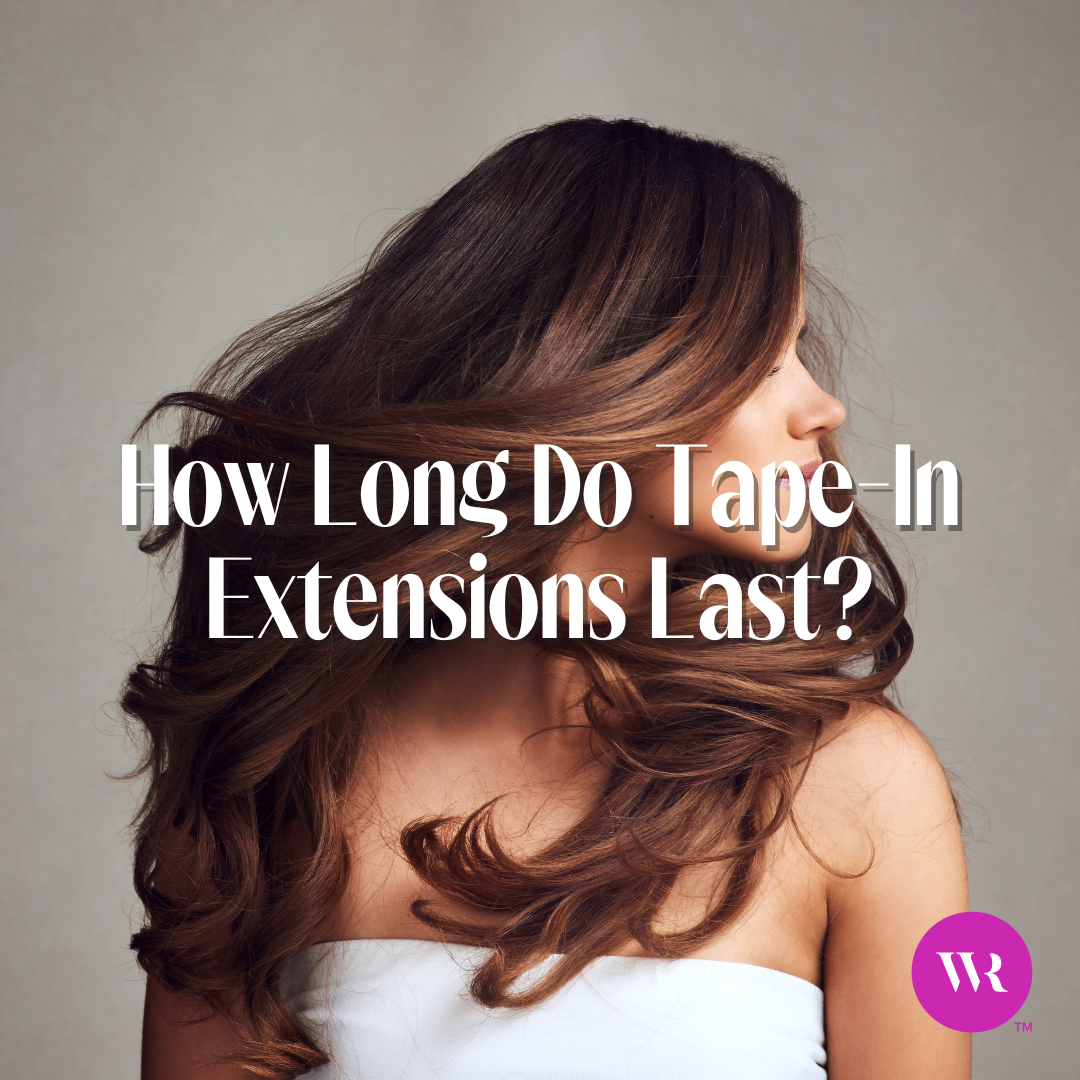 August 29th 2022
How Long Do Tape-In Extensions Last?
Have you been asking yourself, "how long do tape-in extensions last anyway?" Well, we've got you covered, baddie! Read this blog to find out more about those gorgeous tape-ins!
So you've decided to get tape-in hair extensions. Yay! Getting tape-in extensions is exciting and soon you'll have the hair of your dreams—courtesy of lightweight, comfortable extensions. But you might have a few questions, like what length to get for your hair extensions, how long do tape-in extensions last, and what can you expect when sitting down in the stylist's chair.
We bet you're SO ready to get your hair glow-up on! But first, there are a few things you need to know before your hair extensions salon appointment.
What Are Tape-In Hair Extensions?
Tape-in hair extensions are semi-permanent extensions that—you guessed it—are applied to your hair with tape. They're also less expensive than other permanent or semi-permanent options.
And they're super popular for a reason! Hairstylists love them because they're easy to apply and remove, and you'll love them because they don't require hours at the salon. (You should be in and out within an hour!). With tape-in extensions, you can wear your hair up without worrying about the tape showing, and they work on all kinds of hair textures and lengths. They're also lightweight, making them comfortable to wear and a perfect option for anyone with fine hair. 
You might wonder, "Are tape-in extensions safe?" Yes! You don't need to worry about them damaging your natural hair. Tape-in hair extensions don't require any special tools, chemicals, or heat for application or removal and won't cause lasting damage to your natural hair. The wefts lay flat against the scalp, so they're way less harsh on your strands than other hair extension installation methods. They're also safe to wear when exercising—no need to skip the gym with these in! 
How Are Tape-In Hair Extensions Put In?
Getting tape-in extensions installed is easy! Your stylist attaches your new extensions to the root of your hair with double-sided tape strips (or single-sided tape strips if you have baby-fine hair). Hair extension tape is long-lasting and durable, so trust us when we tell you it stays put once it's applied! 
How long does it take to remove hair extensions?  Good news, baddie, tape-in extensions come off in literally seconds with an adhesive remover. (Our Break Up Spray takes about 30 seconds!) Your hairstylist will also wash, condition, and dry your hair after removal to get rid of any leftover tape adhesive.
P.S. It's not exactly recommended to remove hair extensions yourself—you could accidentally damage your extensions and risk ripping out pieces of your natural hair. Ouch! 
How Long Do Tape-In Extensions Last?
What extensions last the longest from a single application? That honor goes to bonded hair extensions, which stay in place for 3 to 6 months. They're literally bonded into your hair and their longevity depends on how fast your hair grows.
Getting tape-in extensions is a semi-permanent option. You won't have to make such a serious commitment!
So how long can extensions stay in your hair, if we're talking semi-permanent? Tape-in hair extensions can last up to 8 weeks if they're applied by a professional stylist and you properly maintain your tape-ins. Even better? When you head back to the salon for your follow-up appointment, your stylist can reapply your tape-in hair extensions. We know you want to know: The number of times you can reuse your extensions depends on the quality. With Wicked Roots Tape It™ Hair Extensions, you can reuse them up to 3 times for a total wear time of 4 to 6 months. Reapplying your extensions any more than that could lead to frizz and breakage and result in a less-than-stellar look. Best to just buy new hair extension packs to avoid this! 
Stick With Quality Tape-In Extensions
Looking for high-quality tape-in extensions? Wicked Roots Tape It Hair Extensions are the best on the market. They're made with 100% Remy human hair, so they blend seamlessly with your natural locks. With 42 shades to choose from, you'll always find your perfect match so you can keep your hair looking flawlessly vibrant. Or you can mix and match colors to rock some dimension! You can even customize the length of your hair with 12", 16", 20", and 24" options. (Pro tip: Before you head to the salon, make sure you order about 4 to 6 packs for full head application!) 
Before you know it, you'll have hair so perfect EVERYONE will be asking how you did it! Let us know in the comments if you have any other questions about tape-in hair extensions!