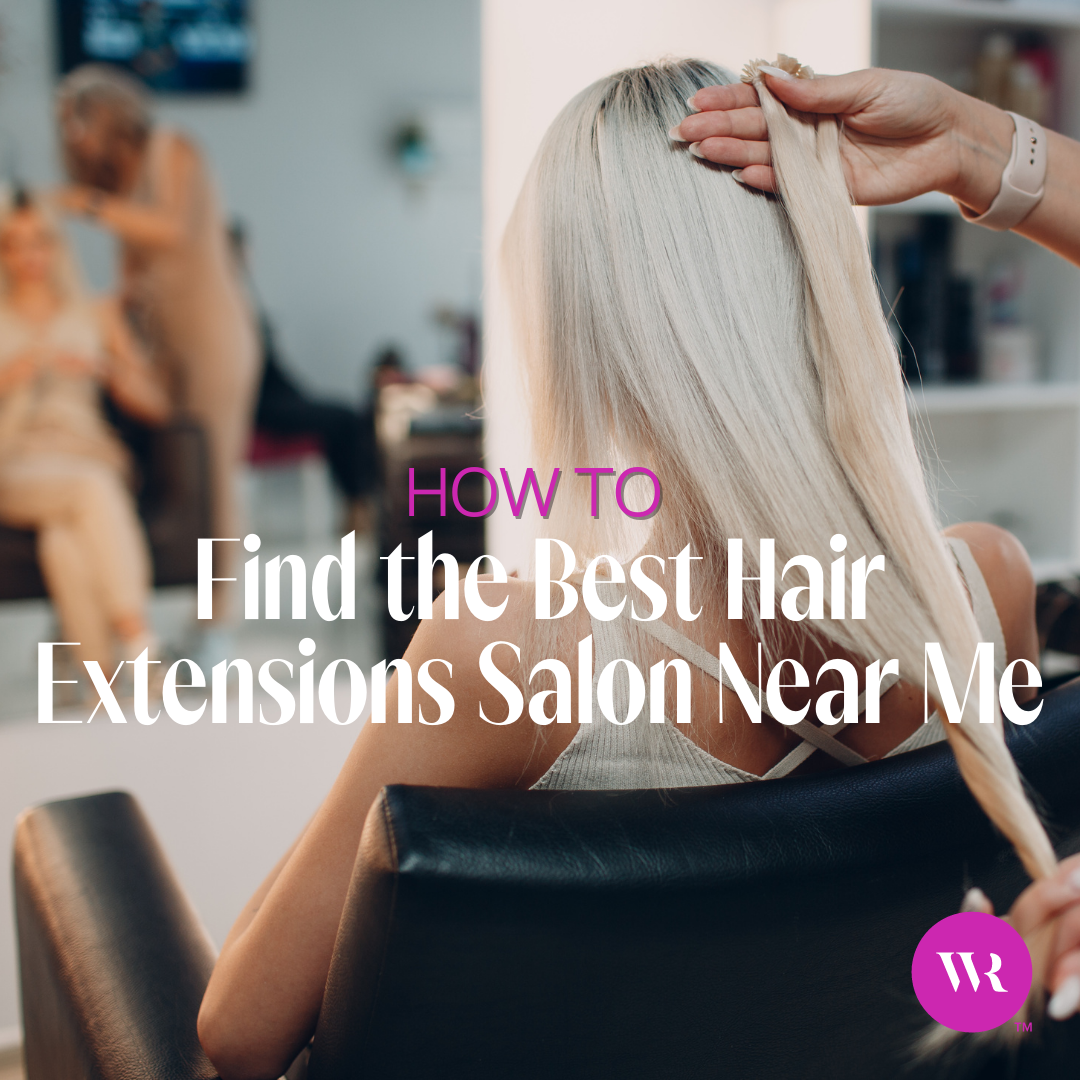 //wickedrootshair.com/cdn/shop/users/avatar_250x250_crop_center_f0ad1dc6-4182-4412-8f45-052bf7447aa9_200x200.png?v=1685998438
November 3rd 2022
How to Find the Best Hair Extensions Salon Near Me
If you want to figure out how to find the best hair salon then read on for more info on why it's important to find the best salon for hair extensions and tips on how to do it!
We understand the struggle of endlessly researching online and Googling "salons near me that do hair extensions." Depending on where you live, finding local hair salons that offer hair extension services may be feasible , but the key is searching for the "best place to get hair extensions near me." It's more than just picking a  salon and hoping for the best—find a salon with experienced stylists who know how to apply hair extensions properly.
If you want to figure out how to find the best hair salon, the first step is to search "who does hair extensions in my area?" and then choose a reputable salon and stylist. But how do you  know who's best, you ask? Read on for more info on why it's important to find the best salon for hair extensions and tips on how to do it! 
Choosing the Best
Local Hair Salon 
It's essential to do your research when looking for "who does hair extensions near me?" These salons must have experienced stylists to ensure your extensions are applied properly for lasting fabulous locks!
The key to getting that flawless blend means finding a salon with stylists who:
Have experience with different hair types, textures, and lengths

Know how to blend, cut, and style extensions as needed

Avoid damaging your natural hair with careful application

Recommend a

maintenance routine

at home to care for your extensions
Read reviews and check out the different salon websites. It's not as simple as searching "where can I get hair extensions done near me?" You'll need to dig a little deeper before making that appointment. Each stylist will vary in their experience and ability. Look for those who are certified or have experience with the type of hair extensions you want to get.
How to Find the Best Hair Salon
for Extensions
After looking for "salons near me that do hair extensions," you'll see quite a few results pop up. But how do you know which one to choose? The next step is finding a salon that's the right fit for you and the type of hair extensions you want applied. To get the best possible experience, a simple search for "who does hair extensions near me" isn't enough. 
Here's what to look out for when finding the right salon for your hair extension application:
Client Reviews
These days we read reviews on everything (ordering food, booking hotels, before watching a movie, you name it!), so naturally, we're going to read reviews for the salons and stylists that we'll be trusting with our precious tresses. Client satisfaction is a major indicator to give you valuable insight into what to expect from their salon. Narrow down results by looking at Google or Yelp reviews and ratings. It's important to note that sometimes people who have a bad experience make it a point to post a review vs. those who loved their hair—so keep that in mind when looking through reviews.
Before and After Photos
This is essential for you to know what you can expect from a salon and its stylists. Being able to actually see the end result will help you make your decision. The salon website might have these images, but you could also look up specific stylists or the salon on Instagram to see what they've posted on their socials. If you can't find any actual hair photos or see mainly stock images on the website, you might want to look elsewhere for local hair salons.
Salon Services Available
It's probably pretty obvious, but make sure to check the salon's website or give them a call to find out if they offer hair extension services. Ask as many questions beforehand to know what to expect, like their certifications and the types of hair extensions they specialize in. You can also find out the price of services and the methods used for hair extension application. Use this information to compare salons in your area based on your budget and what hair extension method you're using.
After Finding the Right Salon
Once you've narrowed down your search of "salons near me that do hair extensions," the final step is to get in touch with the salon to book a consultation with their hair extension stylist. This way, you can get an idea of what to expect with their process and if you feel comfortable with that salon and stylist to glam up your locks. During a consultation, you can bring photos of what you're going for and also the hair extensions you plan to use or let the professional stylist guide you!
Need extensions to bring to your salon appointment? Our Tape It extensions are a semi-permanent tape-in hair extension option with ultimate lightweight comfort. The average application uses about 4-6 packs, so make sure to have enough extensions for your stylist to cover your entire head! Choose from 42 different shades using our color match quiz to find your perfect match and ensure a seamless blend. Visit our website to see our entire Wicked Roots Hair collection of hair extensions and accessories!