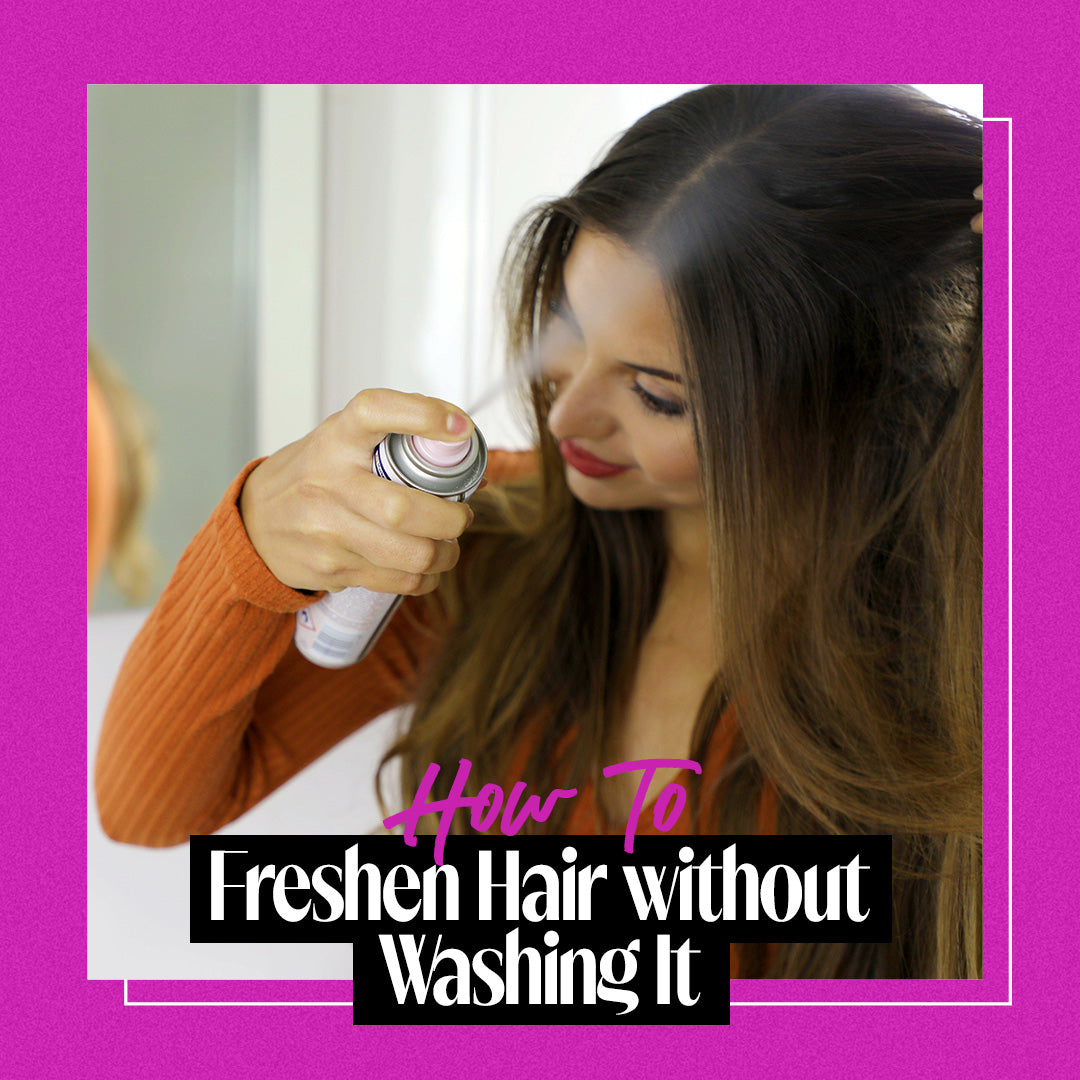 March 12th 2022
How to Freshen Your Hair Without Washing It
You're a busy boss babe. Us too. We get it. Having a few products on hand and tricks up your sleeve is essential to
refresh hair
when you don't have hours (just us?) for how to freshen you hair without having to wash it! 
If you schedule your week around when you have to wash your hair, welcome to the club! For us, maximizing the time between washes is crucial. No one wants to spend their free time shampooing, drying, and styling their hair when they could be enjoying Netflix instead, right?!
Keep reading to learn a few tricks on how to freshen your hair without washing so you can save time, energy, and effort. 
Freshen Up Hair Without Washing
You're a busy boss babe. Us too. We get it. Having a few products on hand and tricks up your sleeve is essential to refresh hair when you don't have hours (just us?) for a full shampoo, blowdry, and style. 
Tip #1 Dry Shampoo
If you're working out with short natural hair or rocking long extensions or box braids, having a good dry shampoo on hand is Girl 101. 
The secret to dry shampoo is to use it before your hair gets greasy. Apply dry shampoo to your hair right before you go to bed so it can soak up the oils your natural hair produces while you sleep. In the morning, brush the product out and go on your wicked, merry way.
To apply dry shampoo, vigorously shake the can. Then, spray or sprinkle a healthy amount on your roots, sectioning pieces of your hair as you go. Once you've finished applying the product, massage it into your scalp with your fingertips so it absorbs all the oil from your hair. 
Tip #2 Air-Drying Hair Balm
For our ladies with wavy or curly hair, this one's for you. Bonus: Air-drying hair balm works on damp and dry hair. 
To revitalize curls, add a bit of water to your hair. Start with a pea-size amount of product, work it through your damp hair with your fingers or a comb, and let it air dry. This product will define your curls and help your hair dry quicker naturally.
Or you can add this balm to dry hair for instant definition and cool, styled piecey-ness.

Tip #3 Hair Water
Yes, you read that right! Now, hair water can mean different things in different countries. In South Korea, hair water is used as a strengthening rinse while you're in the shower. But in the U.S., hair water is regular H2O with a light fragrance plus some bonus oils or silicones. 
To freshen up hair without washing, spray hair water above your head so the fine mist gently settles onto your hair. This allows for quick restyling without soaking the hair or adding a ton of product.
Hair water is versatile for all hair textures. If you have curly or wavy hair, it will refresh your curls while taming frizz.  Mist your hair before wrapping it in a bun or braiding it. Once it's dry, you'll be left with major curls and  everyone will be asking you for your secret. (We don't blame you if you don't tell!)
Hair water is also perfect if you want a smooth style without using a ton of products. Spray it on your dry hair and slick it back into a snatched ponytail. Done!
Styling Hacks to
Refresh Hair
Now that you know how to freshen hair without washing it using products, here are some styling tips to refresh hair and add body and bounce – without products. 

A dead giveaway that your hair needs shampooing is flat roots.

To combat this and go longer between, flip your part to the other side for instant

volume

. The next day, you can flip your hair back to the original side.

Embrace the slickness of your unwashed oily hair. The

natural oils in your hair

help keep flyaways at bay. Pull your hair back into a slick ponytail, a ballet bun at the nape of your neck, or into a half-up, half-down style.

An easy and stylish way to

freshen up hair without washing

is with accessories.

Hair clips

, bobby pins, scarves, and headbands look chic while helping disguise your greasy roots.
How to Freshen Up Box Braids
If you've ever tried washing your hair with a head full of braids, you know it's not an easy task!  But you really should wash your scalp and braids at least once a week to eliminate the dirt, oils, and sweat that makes hair look dull.
Fortunately, there's a way to get your hair and scalp clean between washes without getting it wet or worrying about your braids coming undone or slipping out. Here's how:
Step 1: Lift your braids and apply a little bit of dry shampoo to your scalp and roots. Work the product in gently with your fingertips.
Step 2: Soak a cotton ball in witch hazel and lift your braids again, lightly dabbing your scalp and roots.
Step 3: Get some jojoba, coconut, or olive oil. Squeeze two or three drops onto your palms and rub them together. Apply the oil to your scalp and the ends of your hair. This provides your hair with the moisture and sheen it needs.
Step 4: Spray your braids with a shine or oil mist.
Step 5: Be productive and enjoy the extra time you saved!
Boss Babe Vibes
Now that you know how to freshen hair without washing and have all the products, tips, and tricks you need, the only real question is: What are you going to do with all your extra time? We have an idea! Click on this link to sign up for the Wicked Roots Reward Program. Get rewarded for your loyalty today!