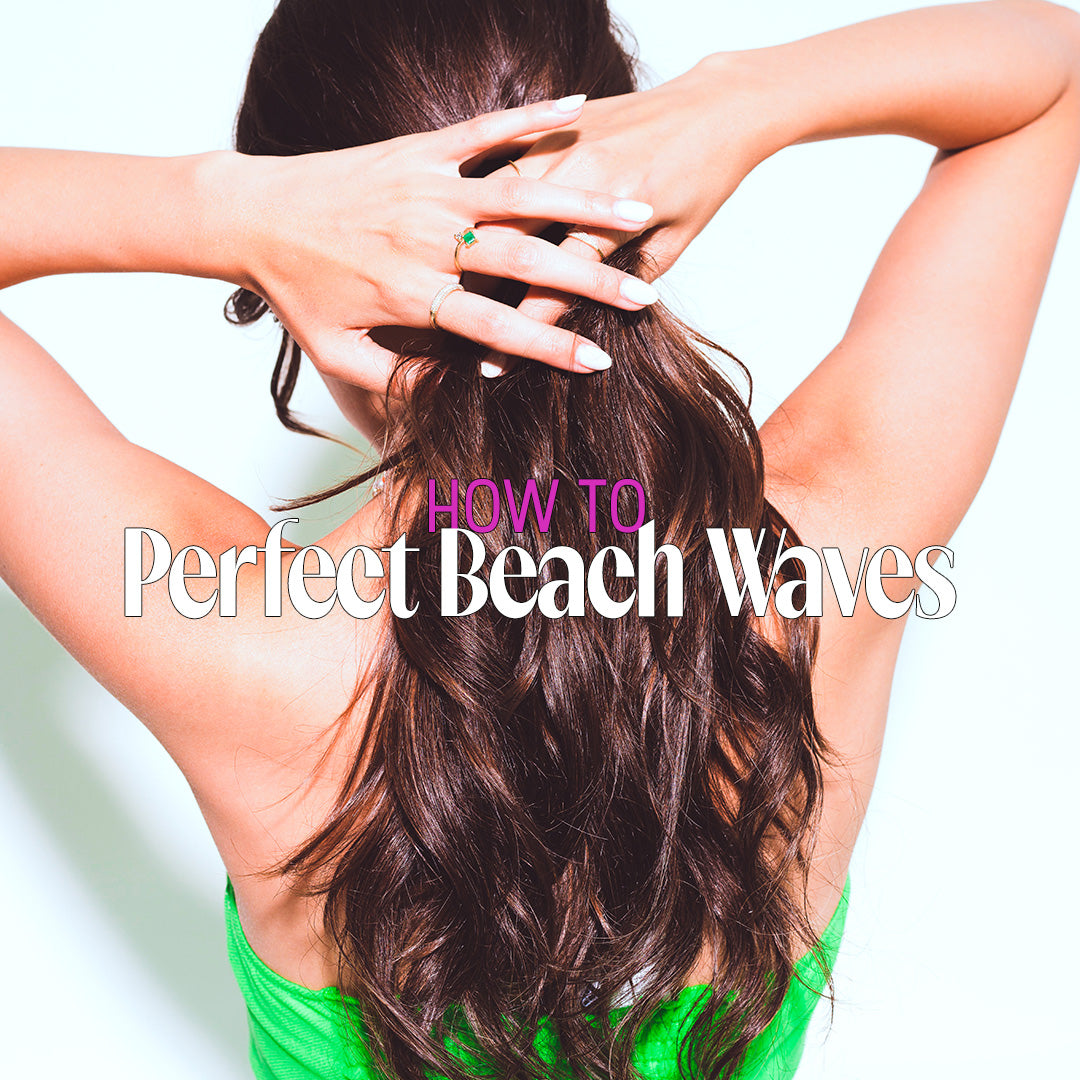 July 26th 2022
How To: Get the Perfect Beach Waves
Wondering
how to make beach waves
 that just hit different? We're your best hair besties, so let's perfect your technique for bangin'
beach wave curls
. Onward to the waves!
Feel that summer breeze in your hair, baddie! This time of year, we love embracing all-natural hair textures that look like you just stepped out of the ocean and air-dried your strands. Flirty waves that match your feel-good vibes totally set the mood for beach days and sunshine! That's why we can't get enough of care-free beach waves – they're super versatile and can easily transition from seaside soirees to bungalow BBQs.
Wondering how to make beach waves that just hit different? We're your best hair besties, so let's perfect your technique for bangin' beach wave curls. Onward to the waves! 
How to Get Beach Waves 
If you don't know how to do beach waves, you've come to the right place! We've got several techniques you can try so you can easily get the beach waves of your dreams.
And good news: These styling tips totally work for our Wicked Roots Hair Extensions, too! We use 100% Remy human hair, so our extensions can be styled with heated tools, just like your natural hair. (Just don't exceed 350°F when heat styling your extensions to avoid any damage!) 
Keep reading or your how-to beach waves guide!
Care-Free Curling Wand 
This is the tried-and-true method for beach wave curls that last all day! After spritzing your locks with a heat protectant, let your hair dry, and then begin curling your hair about 2 inches from your roots. Curl each section for 10 seconds max to create those loose curls, and leave your ends straight to make this style look more natural. Then, simply run your fingers through your hair and set with hairspray. Beach day ready!
Feelin' Fresh Flat Iron 
If you don't have a curling wand, a flat iron is an amazing stand-in! After applying your heat protectant, wrap your hair around the flat iron and clamp down at the base of the section. Angle the flat iron away from your face so the beach waves are naturally free-flowing. Repeat until you've made waves throughout your hair. Then, run your fingers through your tresses before adding a quick layer of hairspray. And done! You're ready for your beach BBQ! 
Overnight Braided Beauty
This technique is perfect if you want heat-free waves with as little effort as possible. (We hear you on that!) Braid slightly damp hair into whatever style you'd like. If you braid your hair into three large sections before bed, you'll wake up with relaxed waves in the morning. You'll get the best results if you leave the brain in overnight, but you could definitely do this during the day – just let your hair air dry in the braid. After you take out your braid, run your fingers through your hair and add some light hold with hairspray. Time to hit the surf with your beach waves!
Upgrade Your Beachy Look
Take your beach waves to the next level by adding some cute accessories and extra flair to your summer-ready hair. Now that you've got that "just took a dip in the ocean and toes in the sand hair," pump up your style with a bit of creativity. The world (of fabulous hair) is your oyster! 
Shady Beach Hat
Stay protected from the sun AND look super cute doing it! Your beach wave curls will look amazing flowing from underneath your quintessential beach accessory. We love a traditional oversized straw hat – it completes any summery outfit. Add a cute swimsuit cover-up and embrace that salty ocean breeze. 
Playful Headband
Headbands are making a comeback! Everywhere you look, you're bound to see a cute chunky headband. And they go great with all styles! But this accessory pairs especially well with beach waves because it keeps your hair in place and out of your face on breezy days by the shore. 
Fragrant Flowers 
Aloha, baddies! Adding a fresh flower behind your ear gives you instant Hawaiian beach vacay vibes. (If you find a super cute flower clip instead, we won't tell anyone it's not real!) Tropical flowers are the perfect complement to your beach waves. Tuck one behind your ear, and ask your bestie to capture your good side with a cute seaside photoshoot for the 'gram. Vacation mode activated!
Summer-Ready Beach Waves
It's official: You've got gorgeous hair. You know exactly how to get beach waves. And you're ready for your beach vacay! Want to add even more volume and length to your style? Wicked Roots hair extensions are your go-to summer sidekick if you want to glow up your locks. Show us your sizzling summer selfies – use the hashtag #WickedRootsFam when you post your next stunning photo on social!