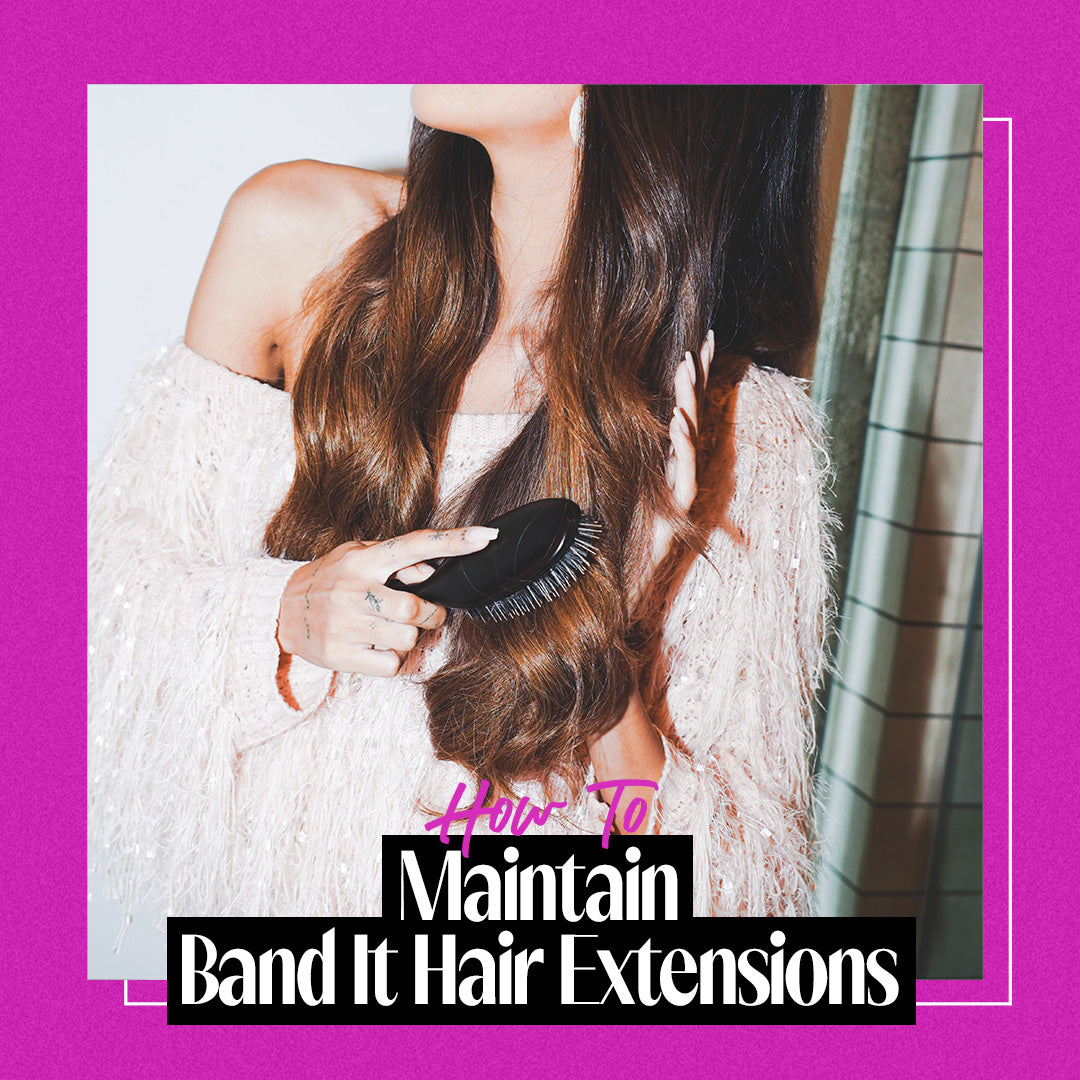 March 25th 2022
How To Maintain Band It
Want to learn how to maintain your band it hair extensions to keep them looking natural, healthy and hydrated?! Then keep reading to find out how!
Maintaining a proper care routine for your Band It will keep the extensions looking as natural, hydrated, and healthy as the day they arrive in that fabulous iridescent clutch. Without a proper care routine, your extensions may be more prone to frizz, breakage, matting, and a dull, dry appearance. 
Follow these essential steps to ensure your hair extensions last and look absolutely fab! 
Brush It Out
Make sure your hair extensions are completely dry before brushing to avoid breakage. Use brushes specifically for extensions, a wide-toothed comb, looped bristles, or a soft bristle brush.                                        PRO TIP:

 

Using the proper brush will avoid pulling, snagging, or damage to your wefts. 
When brushing, begin at the mid-shaft and brush downward. Gently hold the section of your hair that you are detangling to avoid pulling. 

Work in sections, separating strands with your fingers to work through the knots and make brushing easier.

 
Move along the hair extensions as you detangle from mid-shaft to ends. 
Wash + Condition
Always brush your dry extensions before washing. 

Use

cold water to help

seal in moisture and keep your hair extensions looking softer and shinier.

Gently shampoo starting at the end of the weft and work your way up.      PRO TIP

Be sure to use shampoo and conditioners that are sulfate-free to avoid damage.

Our

haircare bundle

covers all bases for you!

Rinse thoroughly to ensure all product is out before conditioning. 

Condition your extensions to lock in moisture, then rinse with cold water. 

PRO TIP:

It's essential to wash and condition each weft layer individually. 

Lay your extensions out or hang them to dry, ensuring they are completely dry before brushing or choose to blowdry and style them!
Store With Care
Our Band It hair extensions should always be removed before sleeping. (Good thing they go on and come off in seconds!)
After removal, brush out your extensions to keep strands in the same direction.
Store in the included reusable tote to ensure they stay protected until your next wear. 
And there you have it, baddies! Follow these easy steps to keep your new #hairgoals looking fresh and healthy. Looking for more hair care tips? This way for more content to slay your new tresses!