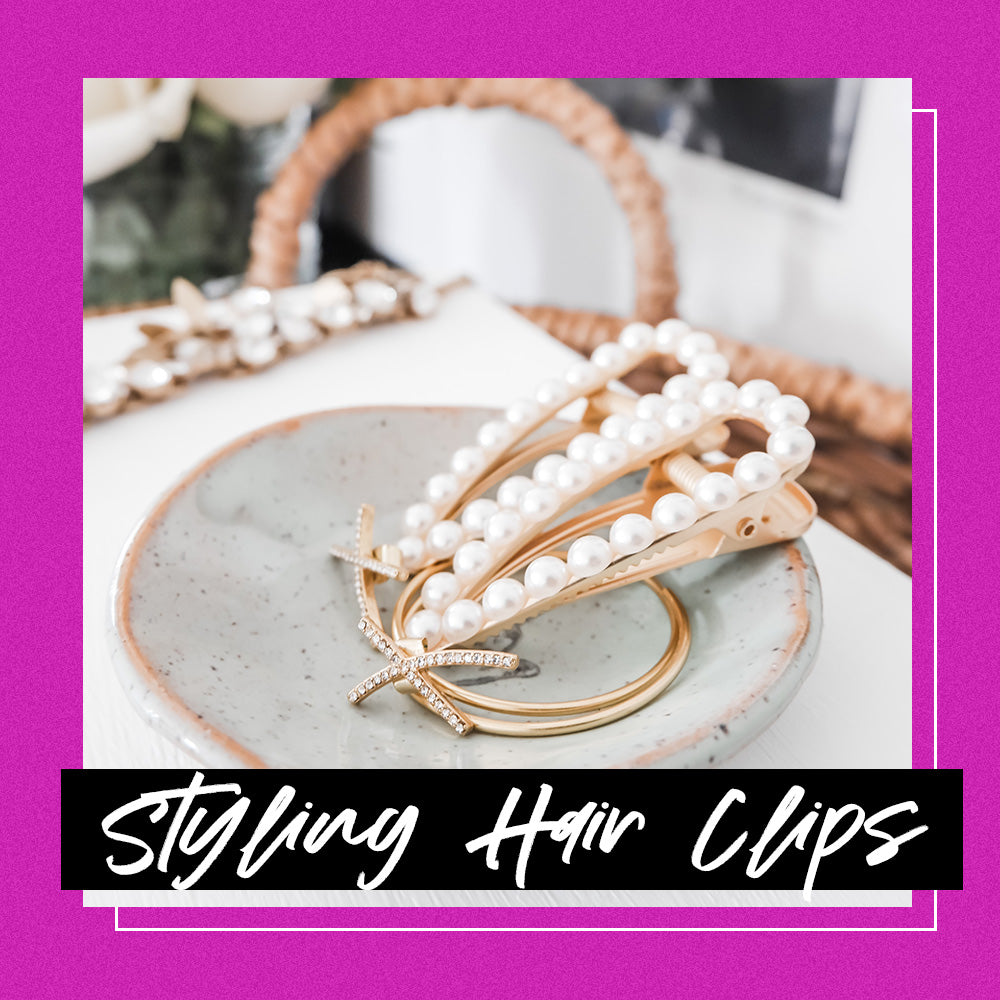 July 27th 2021
How To: Style Hair Clips for All Types of Hair
This 90's trend is having a major comeback moment, and we're here for it. We've always left a place in our heart for these fun, flirty, chic accessories that easily elevate any hairstyle.
Though the world of hair extensions is our game, we're always on top of what's trending. That's why we'd be remiss if we didn't highlight this hot hair trend that's making our 90's hearts flutter - HAIR CLIPS!
This 90's trend is having a major comeback moment, and we're here for it. We've always left a place in our heart for these fun, flirty, chic accessories that easily elevate any hairstyle.
One of the best parts about hair clips is everyone can rock them!
Whether you have thin hair, thick hair, curly hair, textured hair, straight hair, purple hair, black hair, or blonde hair - cute hair clips will be your go-to style hack this summer. 
So, without further ado, here are some ideas on how to wear hair clips.
How to Use Hair Clips
Here's the first thing to know about using hair clips – there's no wrong way to use them!
Hair clips are incredibly versatile and can be used to dress up or dress down an outfit. 
Need to give an outfit a bit more bling?? Throw on a glittery

hair clip!

Want to add an understated accessory? Add a matte hair clip!

Need a quick and easy style fresh out of the shower? Twist up that mane in a large hair clip!

Hiding greasy, unwashed hair? Any hair clip will do!
Some of our fave hair clip styles include matte claw clips, metal hair clips, colorful hair clips, large hair clips, and mini hair clips. There are so many different options for hairstyles with clips that you'll want a drawer full of them!
Big Hair Clips Vs. Small Hair Clips
Both big hair clips and small hair clips are sure to turn heads, but they each bring a different kind of vibe. 
When you need to sweep your hair up into an effortless, simple look, big hair clips will do the trick. Big hair clips are a low-maintenance way to make a head-turning fashion statement. Large claw clips are the perfect hair clips for thick hair. We love using them for a classic half-up, half-down look.
On the other hand, small hair clips should be your go-to when you have extra time to style your tresses and get creative. Is there anything that screams more pool-party fun than a few small hair clips mixed with some mini braids? Mini hair clips are also perfect for those with shorter hairstyles. No FOMO is necessary.
Both big and small hair clips are also great curly hair accessories and can add a pop of color to wild, curlier locks. 
Barrette Hair Clips
Let's just put it out there; barrette clips are truly having a moment. They're back in style, making us look better than ever.
Looking to use barrettes for thick hair? Try parting your hair in the middle and using two barrettes on each side to keep your envy-inducing locks pinned into place.
Hair barrettes are also an option to glam up those with finer, thinner hair. We suggest styling three different barrettes (perhaps one sparkly barrette, one muted barrette, and one boldly colored barrette) on one side of your part. Fill your accessory drawer with fun hair barrettes, so you can continuously switch it up.
Hair Clips for Braids
Braids are one of our favorite hairstyles with clips. (They also make cute hairstyles for teens!)
We absolutely love a gold hair clip with braids combo for summer. It's the perfect pulled-back beach look – practical and pretty.
If you're looking for new hair accessories for braids, hair clips are without a doubt your best option to make the mundane memorable. 
So, the next time you're stuck wondering how to style your hair for a big summer bonfire, reach into that accessory drawer and dust off all of your favorite types of hair clips. Your 90's self can rejoice in the nostalgia of the clip trend.