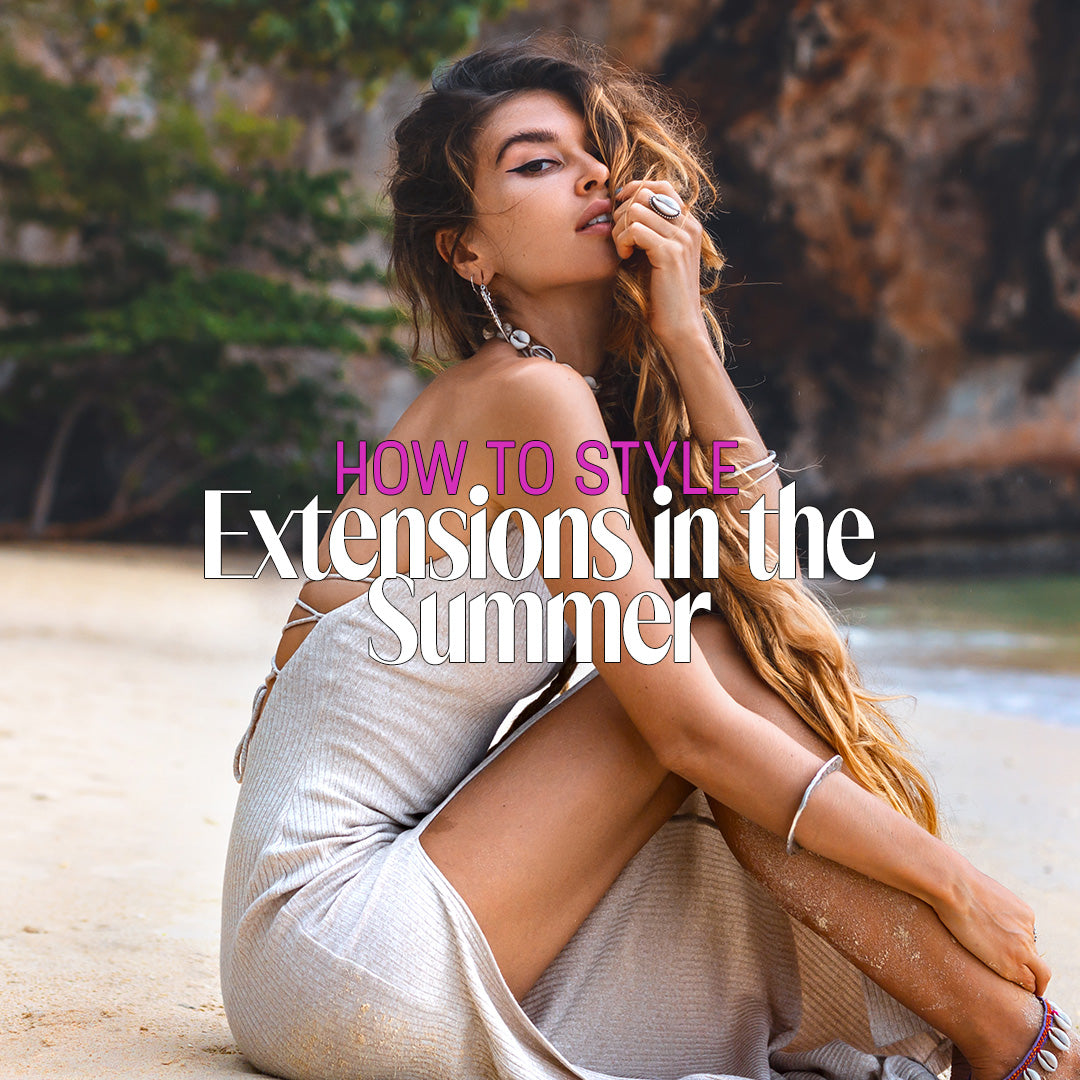 July 11th 2022
How to Style Your Hair Extensions in the Summer
Need some super trendy summer hairstyles for those wicked extensions? Don't worry we've got you!
The sun is shining, and summer plans are in full swing! Maybe that means you're headed to the beach for some carefree fun? (Take us with you!) No matter what you're up to, you probably want to show off your new hair extensions with some cute summer hairstyles. You're in luck – we've got your hot girl summer 2022 hair inspo right here! Get ready to rock a mix of chic and casual hairstyles and capture all those beachy vibes. 
Sizzling hairstyles in summer mode this way…
Set Sail Rope Braid Ponytail
This super trendy look is a fun nod to an old-school style that's perfect for keeping your hair in place if you happen to find yourself on a windy boat trip or a breezy beach day. Put your hair up in a high ponytail with an elastic. (No need to worry about putting hair up when you have extensions from Wicked Roots – they look just like your natural hair!) Then, section your hair into two pieces and twist each section to the right. Secure your hair with another elastic and add some hairspray to keep everything in place. Anchors away! 
Pool Party Top Knot Bun
When you think of hairstyles in summer, you probably want one that keeps you cool. This one's perfect for putting your strands up on a hot day! Even better? It helps you avoid getting any of that damaging chlorine water on your delicate tresses. Ready for the ultimate hairstyle hack? Just follow the same steps for the rope braid ponytail, but then take your twisted hair, wrap it around your hair tie, and secure it. Voila! Your hair will stay high and dry as you enjoy some poolside fun. 
Beach Bum Loose Waves 
We see you feeling brand new in your bikinis, beach-bound baddies! Now you just need to complete the look with some loose head-turning waves. This style is perfect for beach days – you know, when you just want to lay in the sand and catch some rays. Here's how to make it happen: After you shower, let your hair dry slightly, braid it, and air dry. You can leave your braid in for a few hours or overnight – when you take your braid out, you'll have beach-ready waves!
Mermaid Textured Waves
It's all in the name! This ocean-inspired hairstyle will have you channeling your inner mermaid in no time. It has a more lived-in and natural vibe than the loose wave style and looks AMAZING with super long styles. (Hello, lengthy hair extension locks!) For this style, you'll need a crimper with small barrels or a flat iron. Start by spritzing your hair with a heat protectant. If you're using a flat iron, start making bends in your hair a few inches from the top of your head. The bends should go in alternating directions, and remove the flat iron from your hair before starting in a new direction. Finish the look with a texturing spray to make your mermaid mane last all day!
Remember: Make sure you don't exceed 350°F when heat styling your hair extensions! 
Summer Haircare Tips for Extensions 
All right, you've got your super cute beach hairstyles ready. Now you just need to keep your hair extensions looking fab! The water and sun can be harsh on your hairstyles in summer. But don't worry! We've got some super easy tips to keep the summer bash going and your hair flowing.
Tip #1: Avoid getting chlorine on your hair extensions.
Your hair extensions need extra care if you're swimming in a pool. Wear your hair up with extensions in a ponytail or bun to avoid getting them wet. The chlorine can make your hair extensions matted, dry, and dull, and it can change the color, especially if you have lighter-tone extensions. 
Tip #2: Wear your hair in braids to avoid tangles. 
Look, we know the beach and the boat are fun, but the breeze can cause some serious tangles. When you have your hair extensions in, try braiding your hair before you head out to keep them knot-free. The less you have to brush tangles out of the extension hair you wear, the longer they'll last. 
Tip #3: Be careful not to get sunscreen on tape-in extensions. 
Any kind of lotion can damage the adhesive on tape-in extensions because it can cause the tape to slip or come loose. When slathering on the sunscreen (which we know you're doing, right?), take extra care when you're applying it near your hairline and wear your hair up out of your face. (Remember, you don't have to worry about how to tie your hair up with tape extensions with Wicked Roots because they blend in perfectly with your strands.) After you apply sunscreen, wash your hands thoroughly to avoid getting any residue on your strands. 
Upgrade Your
Hairstyles in Summer
with Wicked Roots
Now that your summer 2022 hairstyles are on lock, it's time to take it to the next level. With Wicked Roots hair extensions, you can style your tresses just like your natural hair because we use 100% Remy hair! Show us your cute summer hairstyles: Tag #WickedRootsFam on Instagram so we can see your favorite looks.