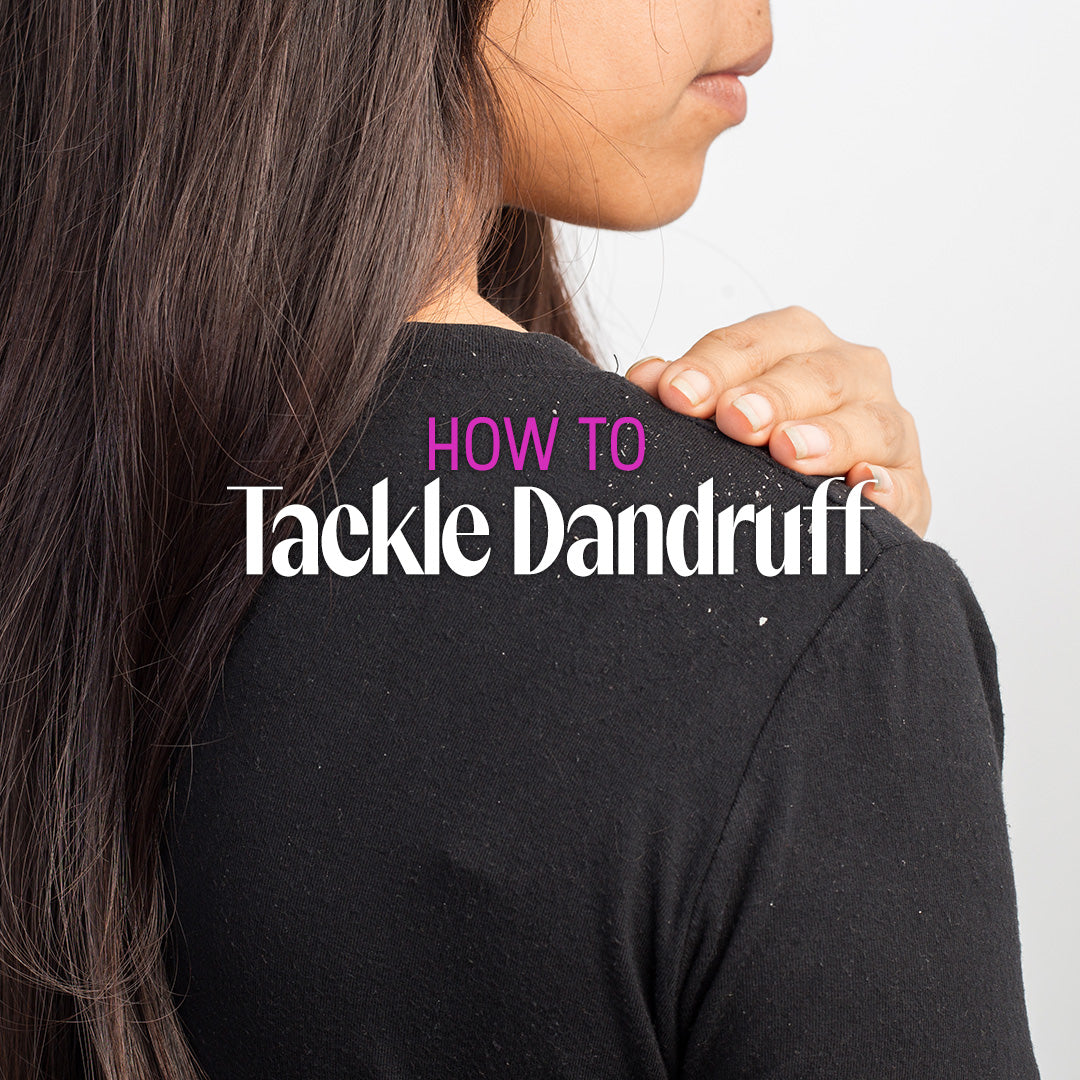 August 19th 2022
How to Tackle Dandruff
If it's not snowing and you see white flakes falling, it might be dandruff! Don't worry, it's pretty common. so common we've got a whole blog to cover why you might have dandruff and how you can treat it from home.
Got some little white flakes in your hair? If it's not snowing and you haven't just (very) voraciously eaten a powdered donut, it can only be one thing—dandruff! Don't worry: It's pretty common, no matter the season or your hair type, and nothing major to stress about. But what causes the dreaded dandruff, and how do you get some relief?! Luckily, you can easily resolve this pesky scalp issue with a dandruff home remedy!
But first, let's talk about why you might have dandruff and how you can treat it from home. 
What Causes Dandruff?
Dandruff is a form of seborrheic dermatitis, which is the medical term for excess shedding of the top layer of skin on your scalp, and it's what leads to those uncomfortable flakes and itchiness. 
You might think dandruff from dry scalp is the main culprit behind how dandruff forms, but nope! That's not always the case! Dandruff reasons might be various skin conditions like eczema or psoriasis, sensitivity to hair products, or, most commonly, a fungus called malassezia. This fungus is naturally found on most people's scalps, but dandruff happens when things get imbalanced or overgrown. Of course, an imbalance or overgrowth can be caused by a variety of factors, including stress, hormones, or age.
So how do you treat dandruff at home? Keep reading to learn how to get rid of that pesky dandruff for good! 
Dandruff Home Remedy
Solutions
Dandruff can range from mild to severe. If your case is on the lighter side, you can use a dandruff home remedy. Yay! If your dandruff is a little more severe, definitely visit your dermatologist to discuss other, more powerful solutions, like medical treatment. Now, let's get into our top home remedy tips for getting rid of dandruff! 
Tea Tree Oil Shampoo
For occasional dandruff, tea tree oil is an easy dandruff home remedy. Just add a few drops to your shampoo—and done! Tea tree oil has antimicrobial and anti-inflammatory properties that tackle dandruff head-on. (Pun totally intended!) Make sure you aren't allergic to tea tree oil before using it; some sensitive skin types might have an allergic reaction. 
Apple Cider Vinegar Rinse 
Just like tea tree oil, apple cider vinegar has antimicrobial and anti-inflammatory properties, which can help calm inflammation and lower the levels of yeast on your scalp. Combine a ½ cup of apple cider vinegar with 1½ cups of cool water. After shampooing, pour the mixture on your scalp and throughout your hair, being careful to avoid contact with your eyes. Then, rinse it out! 
Coconut Oil Scalp Massage
Coconut oil is a natural antimicrobial that can reduce inflammation and add moisture to your scalp. Scoop out about 3 to 5 teaspoons of warmed coconut oil and massage it into your scalp. Let it sit on your scalp for a few minutes so it fully penetrates the skin. Then, shampoo your hair like normal, making sure you rinse out all the excess oil. (Double wash if you need to!)
DIY Scalp Exfoliation Scrubs
There are all kinds of at-home scalp exfoliation recipes that can help alleviate dandruff. And the best part? They're super easy to make and use natural ingredients you probably already have at home! Try an invigorating salt scrub or a nourishing sugar scrub. (We have a few DIY scalp treatments we recommend!) These scrubs help remove excess dead skin from your scalp while sealing in moisture. So long, flakes!
How to Treat Itchy Scalp with Extensions
If you're dealing with an itchy scalp and you have hair extensions, you need to find the right balance between washes. And it's important to stock up on the best hair extension products to maintain healthy hair.  
For natural hair extensions, shampoo your hair every 2 to 3 days with a cleansing shampoo specially formulated for extensions. Really get in there so you fully remove any dirt, oil, or product buildup—that could lead to bacteria buildup and an itchy scalp! 
Follow up your shampoo with a hydrating conditioner or a leave-in conditioning spray as needed for extra moisture. This will help alleviate any dry scalp conditions that might lead to irritating itchiness and dandruff. 
Goodbye, Dandruff! Hello, Flake-Free Hair!
With these easy dandruff home remedy options, gone are the days of embarrassing white flakes in your hair or on your clothes. (Ahh, cue the wind blowing through your fresh, dandruff-free tresses!) Do you use any at-home remedies we didn't mention? Let us know in the comments what works best for you and if you've tried any of our tips!