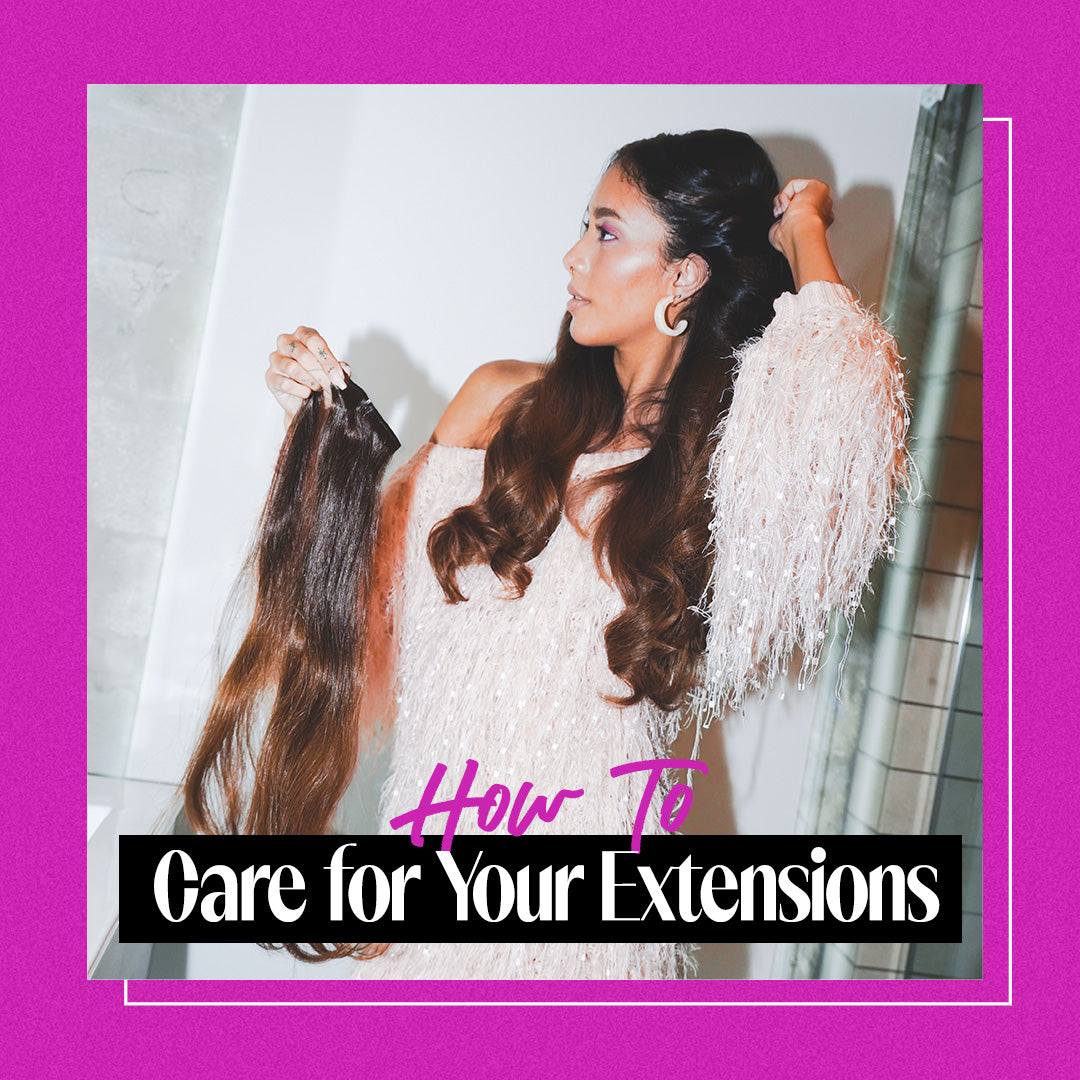 January 26th 2022
How to Take Care of Your Hair Extensions
Welcome to Hair 101! Whether you just snagged a set of DIY Clip It or Band It, or had your stylist BFF apply a new set of Tape It, you're going to want to take notes. Today, our lesson is all about taking care of hair extensions!
Welcome to Hair 101! Whether you just snagged a set of DIY Clip It or Band It, or had your stylist BFF apply a new set of Tape It, you're going to want to take notes. Today, our lesson is all about taking care of hair extensions!
Types of Hair Extensions and General Tips
Let's clear one thing up first: Caring for your hair extensions depends on the type of extensions you have. How you care for synthetic hair extensions is pretty different from how you care for clip-in hair extensions. 
For synthetic hair, look for a shampoo and conditioner specially formulated for synthetic extensions and try to keep the heat down when you bust out your hot tools. (Don't want to melt 'em! Or just stick with Remy human hair extensions because they're just way better.)
For clip-in and single-band extensions, always brush gently to protect the strands, store carefully so they don't get tangled, and air dry as much as you can. For tape-in hair extensions be sure to follow care instructions exactly to keep your hair beautiful and blended for as long as possible. Brush your extensions with a special hair extension brush and use argan oil on the ends to keep 'em moisturized. 
And, while we all love a good, hot shower, keep the water temperature down when sudsing up. Your extensions will thank you! See more tips below on how to take care of hair!
Keep It Clean
You keep your natural hair clean and tidy, right? You'll want to treat your extensions the same. "But," you might be wondering, "Can I wash my extensions?" The answer is yes, girl! As long as you keep a few things in mind, of course. Before washing your hair extensions, make sure you brush your hair gently upward to release any tangles. Wash your hair like normal – just be gentle and keep that conditioner away from the adhesive bands! After washing, rinse your hair well to prevent any product buildup. You can apply a conditioning mask once a week or our After Party leave-in conditioner from mid-hair shaft to the ends to keep your strands shiny and protected. And, although it might be tempting to just throw your hair up in a towel turban, try to gently towel dry instead. 
One last question we know you're asking: "Do I need a special brush for my hair extensions?" Again, yes! To comb out your extensions, brush gently upward with a wet brush to prevent breakage.
Style Up
One of the best things about having extensions? The flexibility to try all sorts of styles with your thick, luscious locks! Warning: With great hair comes great responsibility though, so there's a few precautions you'll want to take to prevent any damage. 
Before you begin styling, gently comb out any tangles, starting at the ends first. If you're using styling products, try to keep as much residue as possible away from the adhesive bands – this will help protect your extension's durability. 
One thing we'll always recommend – and one of the best ways to show your hair extensions you love them – is to use a heat protectant spray when you're styling your extensions with hot tools. And remember: Keep the heat at or below 350 degrees for human hair and no higher than 250 degrees for synthetic extensions! 
While You're Sleeping
Your hair wants to have sweet dreams, too! A tape-in extension's nightmare is matted extensions (the horror!) so, when you hit the hay, try to make sure your hair is fully dry and up in a soft ponytail, braid, or topknot. (We don't recommend sleeping with clip-in or band extensions.) Wet and loose hair is usually prone to messy tangles. 
Want to give your hair a bit of extra love? It'll sleep easy if you use a silk pillowcase. You'll wake up well rested and with soft, frizz-free hair. 
Endorphins Make You Happy, and So Should Your Hair
We all know exercise is great for the body and the mind, so don't let your hair extensions be an excuse for skipping a workout! Although your extensions require a bit of a lifestyle adjustment, there's no reason you can't break a sweat long as you know how to care for your hair extensions. 
If you're going for a swim in a pool, pre-treat your hair with a leave-in conditioner and a thermal protectant. Afterward, if the chlorine dried out your hair, apply a deep conditioner, paying special attention to the ends of your hair. If you have clip-in extensions, use a swim cap to protect your hair from all the pool chemicals. Using a metal-free elastic will prevent any pulling when your hair's in a ponytail.
If it's hot out, cover your head with a hat or a scarf to prevent your hair from drying out or melting bonds.
We hope you enjoyed these tips for taking care of your hair. You're now ready to take on the world in your new (and long-lasting!) look. Let us know in the comments what you think!