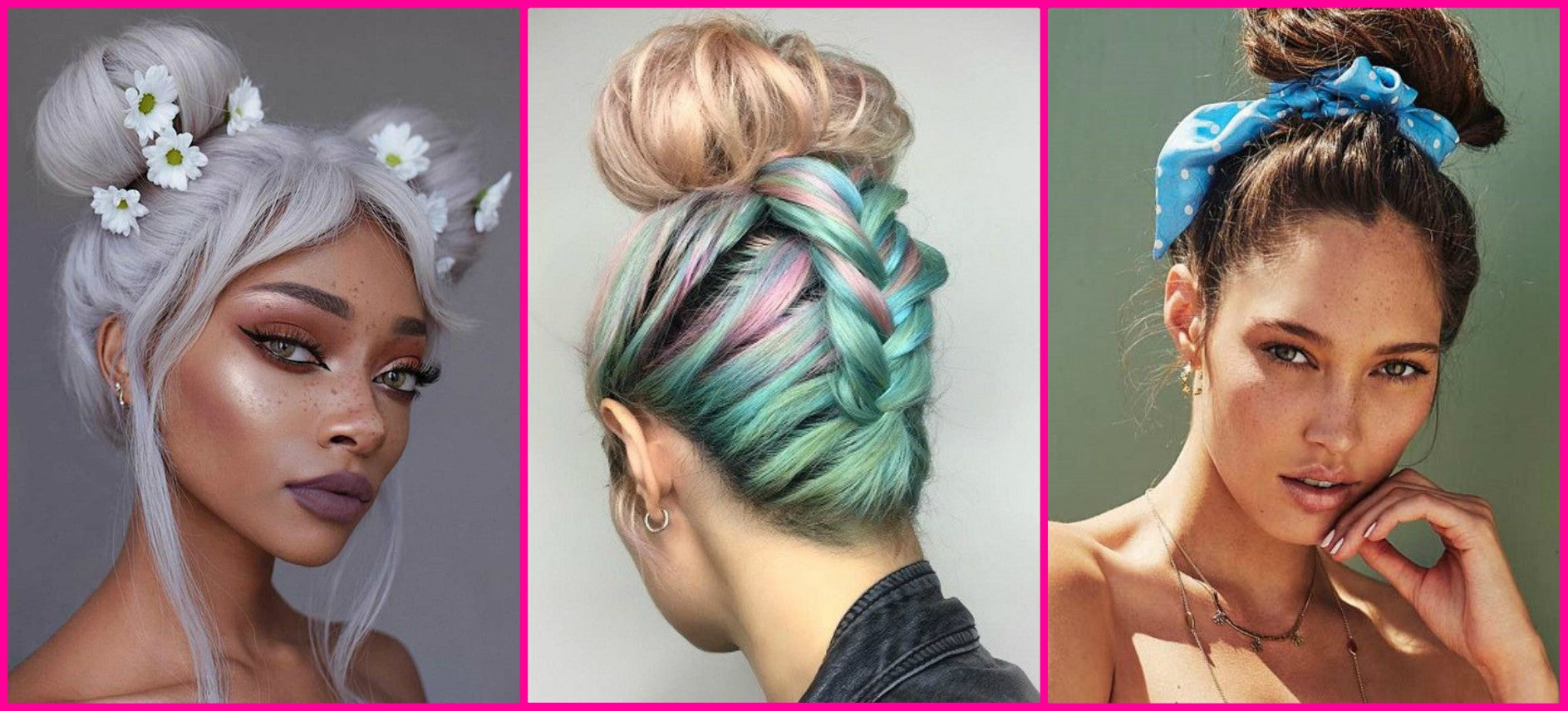 //wickedrootshair.com/cdn/shop/users/avatar_250x250_crop_center_f0ad1dc6-4182-4412-8f45-052bf7447aa9_200x200.png?v=1685998438
June 16th 2020
Level Up Your Messy Bun Hairstyle.
Have you been living in a topknot or messy bun hairstyle during the last few months? Girl, we get it. Quarantine has been tough for many of us and our friends in the hair community talk a lot about living in topknots or messy hair buns due to lack of inspiration or simply just to relax and take a break. That's absolutely fine. You deserve time to chill and reflect, no one should judge you over that. However, time has been flying by and we're always going to encourage you to get back on the saddle, focus on your self care, and flex those creative muscles.
Hair and makeup projects have become such a fun way for us to stay busy & learn new skills about something we love. Today, we're going to show you how you can take that messy hair bun or top knot you've been living in and turn it into total hair goals. The smallest change or accessory can elevate your hairstyle and make it lust-worthy. Remember, to practice and have fun with this! 
Back Section Braid. 
Make a statement and break breaks a braid on the back section of your hair. This braid will start at the nape of the neck and work its way up to the crown. 
Simply flip your hair, start your upside down braid, and form a messy bun on the top of your head. BOOM! Transformation complete. 
Space Buns
Why only have one bun, why not 2?! Space Buns are cute, trendy, and fun to rock. They are also so easy to style. 
Simply part your hair down the middle, tie each half of your hair into a pigtail using hair ties, and lastly loop those pigtails into messy buns that rests on top of your head. Let some strands loose in the front section of your hair for extra flare.  This hairstyle also works great as a half updo.
Tip: Add flowers, glitter, or any other accessories to make it extra fun. 
Get Creative With Hair Pins
We talked about some of our favorite hair accessories before, and we believe the right hair pin can make any style look glamorous. Create cute patterns with your hair pins to add some extra allure, we personally love the X shape. It's so easy to do and looks dreamy. 
Add Extra Volume
This style can be effortless and elegant. By adding some calculated volume to the front, back, and sides of your messy bun, it gives it a nice glam effect. This is the kind of hairstyle that when done right, you can  wear to a wedding or any nice outing. 
Simply style your hair into a loose ponytail by making sure you don't pull back too tight, then twist it into a messy bun. After that, gently pull strands you want to puff up from your scalp to create some volume. Spray will be your best friend during this hairstyle. Practice makes perfect but you will eventually end up with a voluminous, beautiful tousled look.  
Use A Scarf
A scarf on your topknot or messy hair bun can give it a cool, boho chic, unruly vibe. A total free spirited look. Play around with this style, it's perfection for Spring/Summer and will definitely level up your hairstyle. 
So many hairstyles to try, so little time. Which of these looks is your favorite? Have you tried any of these before?