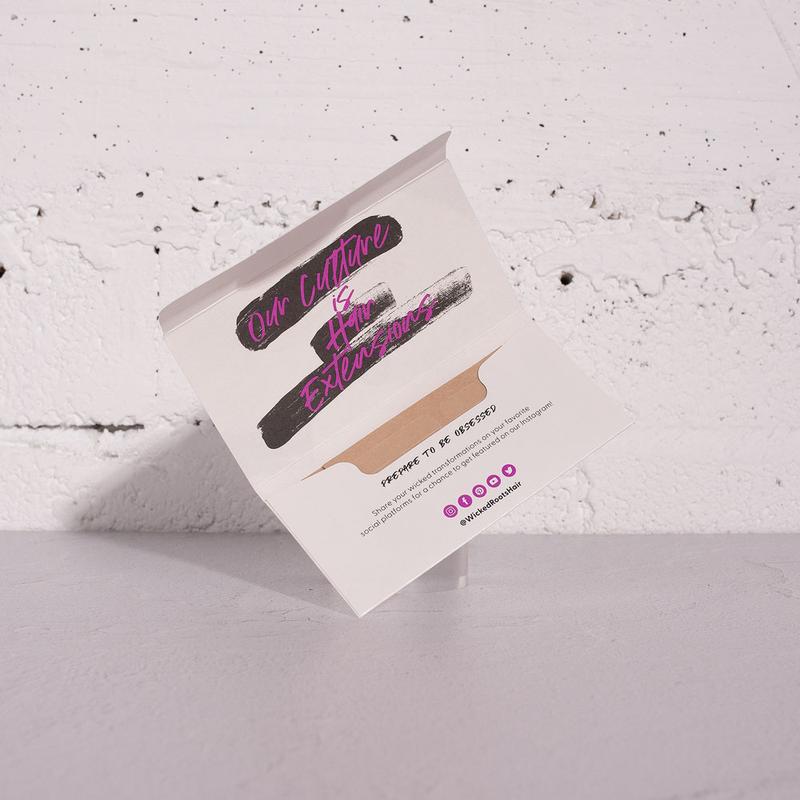 February 5th 2021
MVPs: MUST-HAVE HAIR EXTENSION ACCESSORIES.
So, you figured out you love hair extensions — Wicked Roots hair extensions to be exact. We mean, why wouldn't you love premium, salon quality hair extensions, made from 100% Remy Human Hair that add length + volume in minutes? This is where it's at babe. With that being said,  you can't forget about your must-have hair extension sidekicks. These items will kick up your hair extensions game to new levels, giving you a grade-A, bad-ass, hairstyle you'll love every day. 
GET TO KNOW YOUR HAIR EXTENSIONS MVPs
SWATCH RING 
Wicked Roots Swatch Ring is the perfect way to experience all 42 of our shades to snag the perfect hair extension match.
Our Swatch Ring features Natural, Ombré and Rooted shades to take the guesswork out of matching.
We *highly* recommend using a Swatch Ring or Individual Swatch It Samples as colors may appear differently on your computer, tablet and mobile devices. If you're a pro, this is a must have!
SWATCH IT
Want to find the perfect match? Wicked Roots offers individual swatch samples so you can spend some time matching your hair at home! Swatch It' are 10" long tape wefts made from synthetic hair. Mix and match 3 for only $11.99! Shipping's on the house (score). 
DETANGLING BRUSH
One of your fave places to get a blowout and has a dope detangling brush that will keep your extensions looking on point! The Drybar Lemon Drop Daily Detangler Brush has flexible bristles and can be used on wet and dry hair. 
BREAK UP SPRAY
This is one breakup you'll enjoy — for real. Break up with your tape tabs in just a few sprays. This alcohol-based removal spray quickly releases the tape strips leaving behind no residue and a fresh scent. 
Simply spray above the strips and let the alcohol-based solution seep into the adhesive. Wait 30 seconds. Remove the top strip, then the bottom. Voila!
SATIN SLEEP SCRUNCHIES
Keep those extension detangled at all times — even at night! KITSCH Sleep Scrunchies. The satin construction won't crimp or agitate your strands while you sleep, allowing you to wake up frizz free and ready to take on the day! Banish breakage and conquer creases with these chic day to night no-brainers. 
STAY SINGLE or STUCK ON YOU TAPE STRIPS
Team Tape, gather around - These Tape Strips are durable, yet gentle and won't cause any damage or discomfort. The adhesive is held together by a polyester film, stopping any unnecessary stretching.
They contain a naturally derived adhesive composed of ZERO animal byproducts, making them vegan, latex-free and hypoallergenic. 
Stuck On You - The Standard in Hair Extension Tape. These double-sided tape strips are perfect for Tape It Hair Extensions, securing the bottom and top extensions to your natural hair.
Staying Single - Our Single-Sided Tape option is for the babes with baby fine hair looking to add a little length and volume, without the extra weight. 
And there you have it. A tried-and-true list of hair extensions essentials that will never steer your wicked gorg locks the wrong way. Trust us, you'll be thankful you have them handy. Let us know if you have any questions. Drop it like it's haute below. 
Xo
Wicked Roots Hair 
DON'T FORGET: Follow us on instagram and tag us your photos @wickedroothair