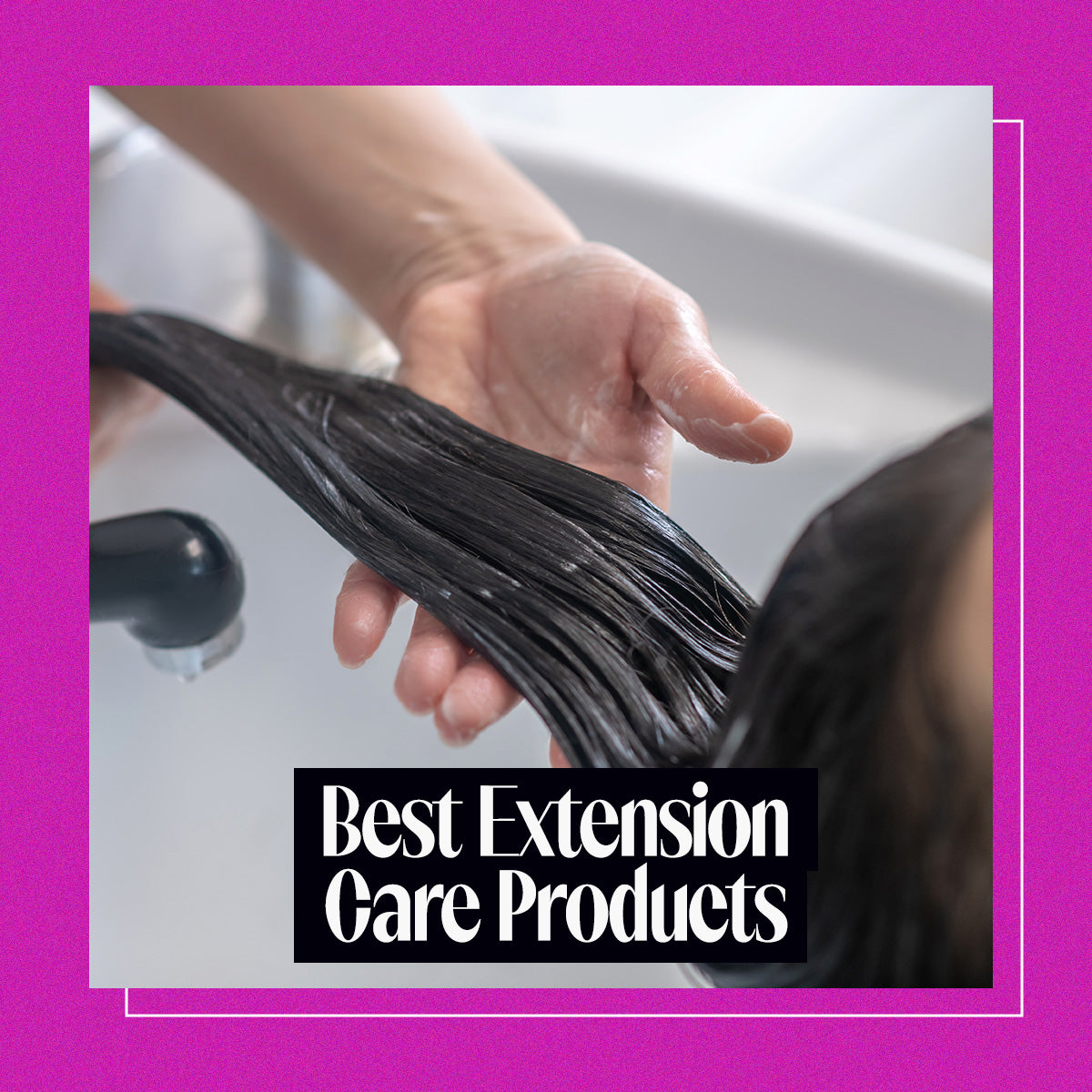 March 14th 2022
The Best Extension Care Products You Need
We're sure you purchased some exceptional
Remy hair extensions
from Wicked Roots (right?). Extensions can't produce their own protectant oil like regular hair can, which means your beautiful new extensions are more likely to get tangled and dry . Don't panic! You know you can always count on us to hook you up with the goods you need to  keep your hair looking strong and gorgeous . Presenting...our cult-favorite
best products for hair extensions.
Picture this: You have the absolute goddess hair of your dreams, thanks to some snazzy extensions. If you bought human hair extensions, you might be thinking caring for your extensions is just like your routine for your natural hair, right? Think again, friend! 
We're sure you purchased some exceptional Remy hair extensions from Wicked Roots (right?). Extensions can't produce their own protectant oil like regular hair can, which means your beautiful new extensions are more likely to get tangled and dry . Don't panic! You know you can always count on us to hook you up with the goods you need to  keep your hair looking strong and gorgeous . Presenting...our cult-favorite best products for hair extensions. 
Grab Your Lather Jacket
You might wash your hair every couple of days, but it's important not to wash extensions too often – whether yours are DIY (removable) or permanent. We recommend only washing your extensions every 25 to 30 wears – depending on how often you wear them – or when product buildup makes 'em look a little dirty. Then, when you're ready to suds up, reach for our Lather Jacket Cleansing Shampoo. Our shampoo cleanses and washes all the cruddy product buildup out of your precious locks. Here's how to get the most out of your Lather Jacket:
For our baddies with

Clip It

or

Band It

extensions, remove your extensions and carefully detangle the strands. Fill a bowl with 4 cups of warm water and add a few drops of Lather Jacket Cleansing Shampoo. Allow the extensions to soak in the solution for 10 minutes before rinsing with warm water.

For our girls rocking

semi-permanent extensions like Tape It,

apply shampoo to wet hair. Start massaging the shampoo into the ends of your hair and moving your way upward, working the shampoo between the wefts to create a nice lather. Once you're all sudsed up, rinse your hair with warm water. 
It's Okay to be High Maintenance
Your Lather Jacket might help your hair feel so fresh and so clean, but your extensions will no doubt be screaming for some hydration. High Maintenance Hydrating Conditioner enters the chat. Our super-rich moisturizing conditioner will keep your extensions soft and strong. 
To use with clip-in extensions, first, get those tresses squeaky clean with Lather Jacket Cleansing Shampoo. Rinse your hair and then massage a dime-size amount of conditioner into the extensions. Try to condition the ends and not the roots to avoid any product buildup. Let your extensions soak in the conditioner for at least an hour and then rinse it all out to be left with the silky soft extensions of your dreams.
For our gals with permanent extensions, apply a dollop of conditioner after washing with Lather Jacket Cleansing Shampoo. Try to focus on the ends and keep the product away from the base of your extensions to prevent buildup. Leave the conditioner on for a minute or two before gently rinsing with warm water. 
Tape-In Tresses
Good news if you're rocking tape-in extensions. Extensions Tape and our Break Up Spray Hair Extension Removing Solvent are the perfect addition to your hair care routine, whether you want to hold things together a little longer or part ways with your extensions.
Stuck On You.

Team Tape, meet your Holy Grail! These double-sided extension strips are gentle yet durable and crafted of hypoallergenic tape that's allergen-free and vegan. Think it couldn't possibly get any better? Think again: Our special tape is made from a comfortable polyester film and doesn't pull, so no nasty headaches for you. 

Staying Single.

Are you embracing the single life, at least with your hair? Our Staying Single single-sided tape is perfect for our ladies with fine hair who want fuller locks without getting weighed down or having their tresses pulled. Single-sided tape might also be ideal if you want to blend different colors because the look will appear softer and more natural. 

Break Up Spray.

Breaking up can be hard, but with our spray, it doesn't have to be! If you're ready for some space, our Hair Extension Removing Solvent can dissolve the adhesive from your tape-in extensions with just a few spritzes. Spray the product above your extensions, wait 30 seconds, remove the top and bottom strips, and enjoy the fresh scent and zero residue. No ex has ever been as fabulous !
Feeling Extra
Want to go the extra mile with your hair extension products? If your extensions are feeling extra dry, consider applying a deep conditioner to the ends to keep them looking soft and healthy. Also: Never (NEVER!) style your extensions without a heat protectant. Like we said, extensions can't produce their own protective oils, so this extra barrier will help preserve your extensions and help them last a long time.
We hope you've finally found the best products that'll keep your extensions looking healthy and fabulous. Comment below to share your experiences and your favorite products!