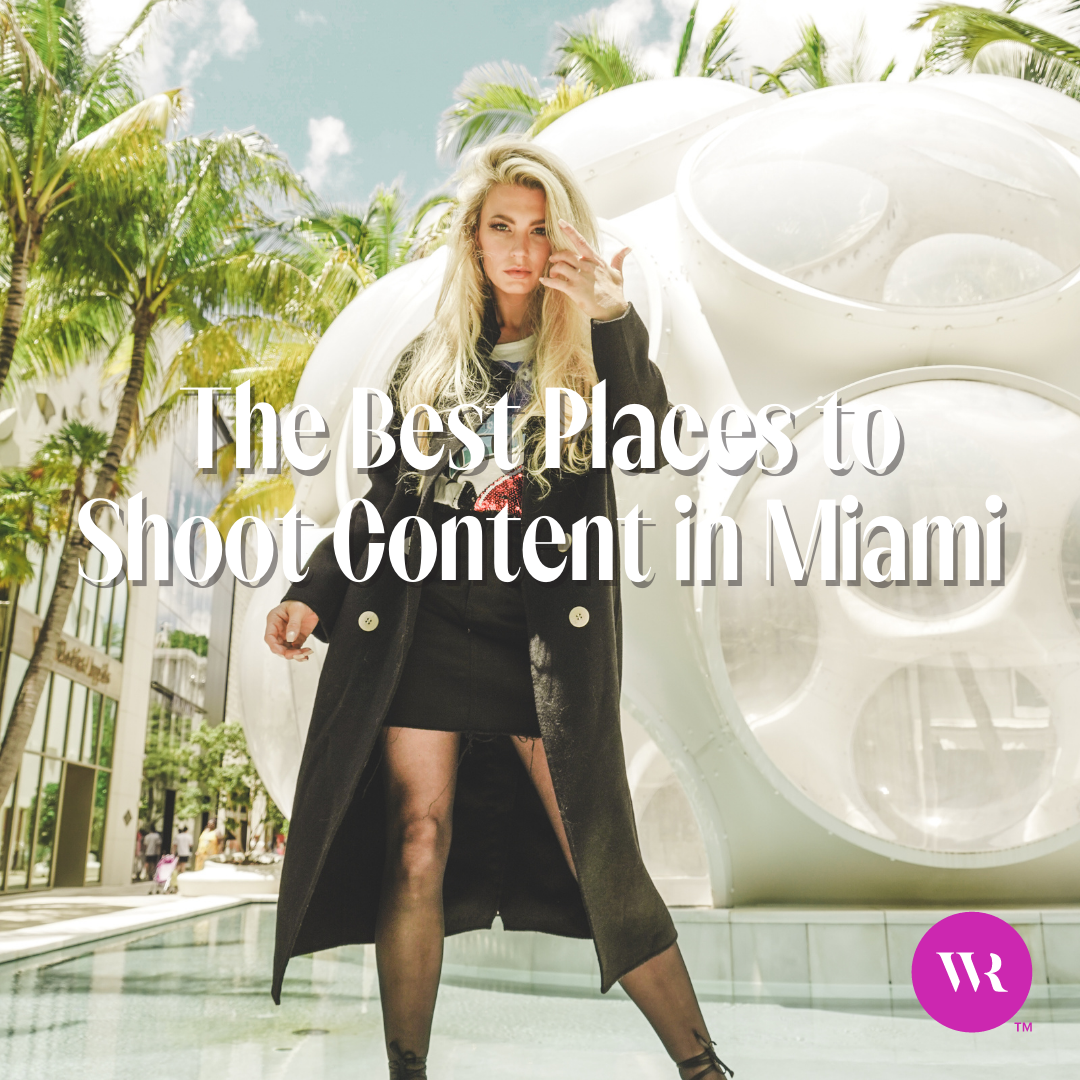 //wickedrootshair.com/cdn/shop/users/avatar_250x250_crop_center_f0ad1dc6-4182-4412-8f45-052bf7447aa9_200x200.png?v=1685998438
December 5th 2022
The Best Places to Shoot Content in Miami
Whether you're looking for beach vibes, iconic architecture, or bright pops of color,
 Miami
has the perfect photo shoot backdrop for you! Check out this blog for a list of the best places to shoot your content in Miami. 
Welcome to Miami (Bienvenido a Miami!) If you've just moved here or are on vacation, there are so many places to explore, foods to try, sun to soak up, and culture to embrace. As a content creator, you'll be spoilt for choice with unique photo spots in Miami. Take it from the locals as we've rounded up our favorite Miami photography spots that provide awesome backdrops to shoot content. 
Miami Photo Shoot Locations  
Whether you're looking for beach vibes, iconic architecture, or bright pops of color, these photo spots in Miami have it all! Each of these locations offers a mix of history, culture, and architecture that's quintessentially Miami.
Be sure to add these picks to your list of the best photo spots in Miami:
Art Deco Historic District 
This is first on our list for a reason. When it comes to Miami photo shoot locations, it doesn't get more iconic than this! Find these eye-catching designs located in Miami Beach between 5th Street and 23rd Street, along Ocean Drive, Collins Avenue, and Washington Avenue.
Spot Art Deco architecture with bright colors mixed with pastels, geometric lines, and curves. Famous hotels along Ocean Drive stand out with neon accents and stylish facades. The Clevelander is a trendy spot for party-by-the-pool photos with its streetside bar. 
A hidden gem built in the 1940s is Villa Casa Casuarina (aka The Versace Mansion) is a must-see! Mosaic tiles and gorgeous interiors make this a top choice for Miami photography spots that'll add some old-world elegance to your shoot. 
South Beach
Without a doubt, this is Miami's most famous beach, with the turquoise water of the Atlantic Ocean and sandy shore lined with Art Deco-inspired lifeguard stands (a prime location for photo spots in Miami!) South Beach is located on a barrier island connected to the mainland with a series of causeways. You can find the beachfront views from the southern tip of the island and up to 26th Street. 
As you walk along the beach, make sure to check out South Pointe Park at the southernmost point of South Beach. Here you'll find plenty of greenspace with sweeping views of the Miami Skyline across the channel and Biscayne Bay. Another spot to stop by is Lummus Park starting at 10th Street with beachfront exercise equipment and plenty of palm trees to get the perfect shot. 
Wynwood Art District
Colorful urban street art is constantly ebbing and flowing in Wynwood, one of the most popular Miami photo shoot locations. Find this area just north of Downtown Miami with painted walls of vibrant murals and eclectic scenes. There are funky shops and trendy restaurants all over this area with tons of photo-ops. 
Wander the streets and find something new around every corner, with hipster and eclectic vibes along the way. Check out the Wynwood Walls exhibit if you want to get to some extra special artwork. It's a bit of a touristy destination, but you can get some photos that'll be totally worth the entry fee. 
Vizcaya Museum and Garden
When we're talking best photo spots in Miami, Vizcaya is an absolute dream for magical garden scenes and European-influenced architecture. Located in the heart of Miami's tropical hardwood hammock lies the Renaissance-inspired estate. Expect a mix of European elegance through an American lens, with the estate's interior full of furnishings, artwork, and antiques imported straight from Italy and France.
The mansion is just the start as you exit the back of the building to gorgeous views of Biscayne Bay and 10 acres of French-inspired gardens. Explore the expansive gardens full of lush mazes and classical statues with a Euro-aesthetic meets tropical Miami setting. Plan to spend at least 2 to 4 hours at Vizcaya to get the most out of your day here (there is an entry fee as well!)
Design District
If you're looking for elevated style, chic fashion, and global brand names, as far as Miami photo shoot locations go, the Design District checks all those boxes! Just north of Wynwood, the Design District boasts some of the most elite designers in the world with elaborate window displays of haute couture fashion. Explore the art scene here with parking garages and architecture that double as public art.
One of the main focal points is The Fly's Eye Dome, which sits in the heart of the Design District. Konstantin Grcic's Netscape is another photo-op spot with a web of hanging hammock-like steel chairs. There's always new art in the district to explore, with murals popping up, art installations all around the area, and quirky architecture. 
Which one of these stunning
photo spots in Miami
will you be visiting first? Let us know in the comments!