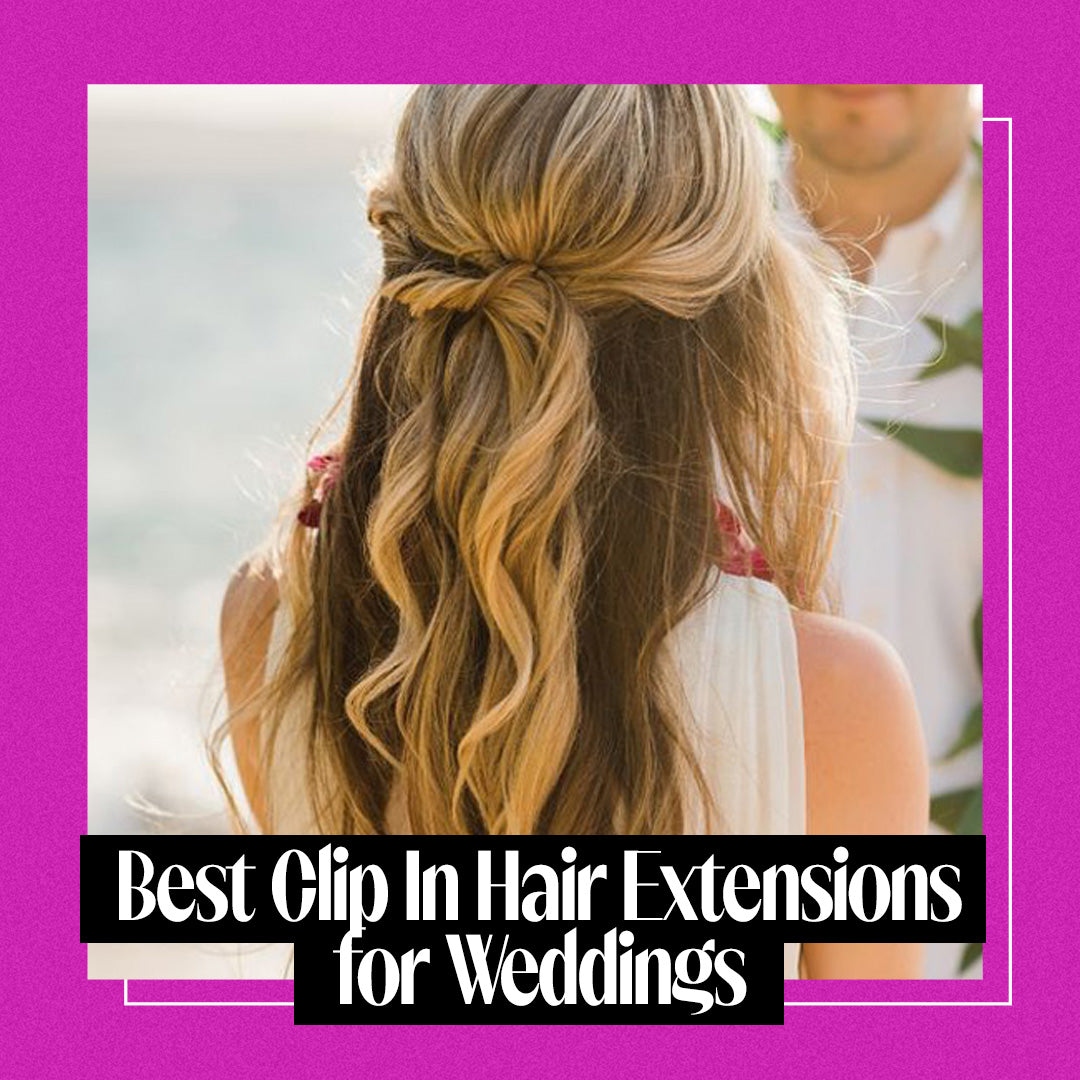 May 20th 2022
The Best Tape-In and Clip-In Hair Extensions for Weddings and Bridal Events
Whether you opt for tape-in or
clip-in extensions for weddings
, we've got you covered. We'll break down everything you need to know about
bridal hair extensions
and how to find the perfect look for your big day.
Congratulations are in order! Yes, congratulations to YOU! Your wedding day is one of the most special events in your life, and we're SO excited for your big day. And it's kind of our mission to make you look and feel your best, so of course, we've got all the inspiration your need for how to wear hair extensions for wedding and bridal events (think bach bashes, showers, and the big day). 
Whether you opt for tape-in or clip-in extensions for weddings, we've got you covered. We'll break down everything you need to know about bridal hair extensions and how to find the perfect look for your big day.
How to Find the Perfect
Hair Extensions For Weddings
and Bridal Events
Let's be real: You're probably overwhelmed right now. An engagement party, a bridal shower, a rehearsal dinner, the actual wedding, the plans, the families, the vendors...it's a lot. And the last thing on your mind is probably brainstorming different looks for all said events. 
While we can't be your wedding planner, we can certainly be your stylist. Our mission is to make finding the perfect hairstyles a little bit easier for you!
And before you start stressing over those long flowy wedding hairstyles on Pinterest, we'll let you in on a little secret: Most of the wedding hairstyles you see on Pinterest or in magazines are made possible by hair extensions. All the wedding looks you're envisioning are achievable when you use bridal hair extensions to bring them to life.
When it comes to finding the perfect hair extensions for your wedding, it's important to know the pros and cons of the two most common kinds of hair extensions for weddings: tape-in hair extensions and clip-in extensions.
Tape-It Tape-In Extensions: The Longest-Lasting
Bridal Hair Extensions
Why are tape-it extensions one of our fave bridal hair extensions options? 
Well, there are plenty of reasons we think they're a no-brainer, but since you're busy planning a wedding, we'll just tell you about a few of the main benefits of tape-in extensions: 
They're semi-permanent and can last between 4 and 6 months when properly maintained. Since you have a lot of different events on your calendar, tape-in extensions are the perfect, low-maintenance option to keep your long, beautiful hair looking consistently fabulous at every event! 

Beyond just ins length and volume, tape-in extension colors can be mixed to add beautiful dimension without hair dye! Whether you're planning on wearing your hair in an updo,

fishtail braid

, or down and flowing, no one will be able to take their eyes off the bride! 

Wicked Roots'

Tape It extensions

are made from ethically sourced, 100% real Remy human hair. Each 1.5" wide weft is thin, discreet, and comfortable. Wefts are threadless and sealed at the root for a natural, and seamless look. Trust us – once you use these extensions, you'll really feel strongly about having them and holding them forever! 
While tape-ins are semi-permanent, low maintenance, and installed professionally, there's another incredibly popular type of hair extensions for weddings that's more versatile and DIY. 
Bridal Hair with Clip-In Extensions
: Versatility at Its Finest
If you want to switch up your looks and hair lengths throughout your wedding weekend – perhaps short and chic for the rehearsal dinner, but long, voluminous, and flowing for the big day – we suggest using our Clip It clip-in extensions set. These extensions are convenient and easy to apply (with or without any prior hair extension experience). 
Here's just a few of our fave things about Wicked Roots clip-ins:
Achieving head-turning

bridal hair with clip-in extensions

is oh so easy. They're easily applied and removed, so you can rock different looks for all your wedding events. 

The set comes with 7 pieces per pack, so you get a lightweight yet naturally layered look. 

The silicone clips have a matte coating for a discreet, secure, and non-damaging hold that goes on in minutes and comes off in seconds.
Hairstyle Ideas for Your Big Day! 
No matter what kind of look you have in mind – wearing your hair in braids or curls, with a pearl accessory or a flower crown – we know one thing for sure: You're going to absolutely stun on your wedding day. 
If you haven't found your big day look and need some hair inspiration, check out some of the absolute best wedding hairstyles with bridal hair extensions. Oh, and don't forget about all the chic looks you'll be able to rock at your bachelorette bash and on your romantic honeymoon!
Get Ready For Your Big Day with Wicked Roots 
Every day, but especially your wedding day, should be all about you (and we're here for it!). 
When you shop hair extensions for weddings, you should only shop Wicked Roots. Our extensions are all thoughtfully sourced, 100% salon-quality Remy human hair. (Just wait until you get your hands on them!)
Ready to find your perfect match? Simply take our quiz or pick your color matching tool to get started. We can't wait to be by your side (or should we say scalp) as you walk down that aisle!