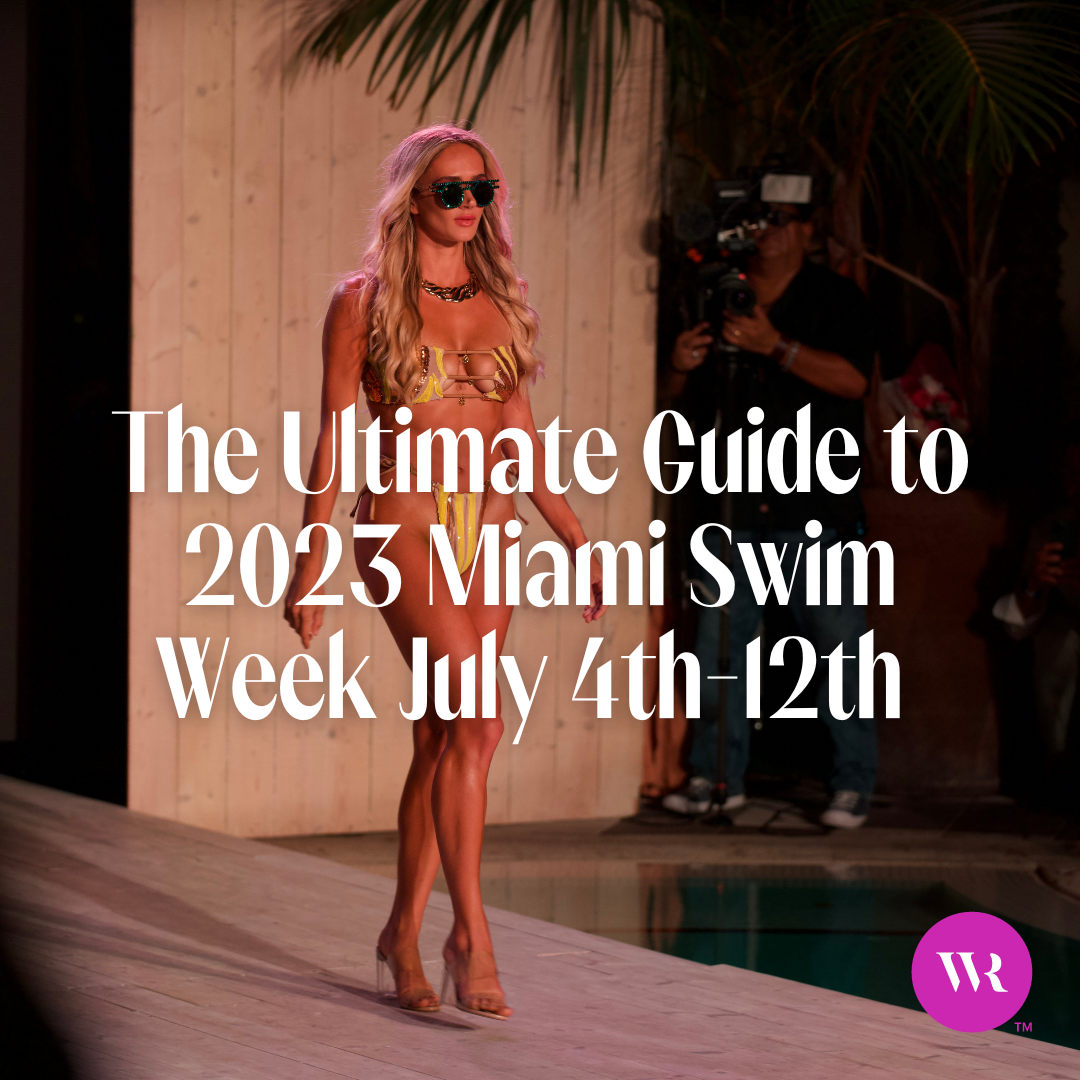 June 28th 2023
The Ultimate Guide to 2023 Miami Swim Week July 4th-12th
Are you planning to come to 
Miami Swim Week 2023
? Get the inside scoop on where to stay, dine, and party for the 
Swim Week
 festivities. Grab your beach bag, and let's head down to the shore!
The sun is shining, the beach is calling your name, and swimsuit season is officially here (let's be honest, it's ALWAYS swimsuit season in Miami!) If you don't have plans for the 4th of July this year, kick off your celebrations at Miami Swim Week 2023.  
This year, Miami Swim Week is taking place from Tuesday, July 4th, until Wednesday, July 12th, in Miami Beach, FL, held across multiple venues. Miami Swim Week is open to the public (some of the events are private and require certain reservations or credentials), fashion models, and industry professionals to enjoy fun-filled events all week long.  
Are you planning to come to Miami Swim Week 2023? Get the inside scoop on where to stay, dine, and party for the Swim Week festivities. Grab your beach bag, and let's head down to the shore! 
Everything You Need to Know About
Swim Week Miami
Whether you're a local, have never been to Miami before, or are a seasoned vacation visitor, there's always something new to discover here! We've rounded up some of the best spots to add to your Miami Swim Week 2023 itinerary. Make your trip one to remember to experience everything the area has to offer when you visit for Miami Swim Week. 
Add these places to your list when you start planning your Swim Week Miami trip: 
Where To Stay for
Swim Week
Find a comfortable place to rest your head with a balance of relaxation and fun added to the mix. Miami Beach is full of hotels, but these picks stand out from the rest—not exorbitantly expensive, with a uniquely Miami feel.  
Here you'll find the perfect combo of luxury and lifestyle with a mix of Japanese architecture and the quintessential Miami vibes. This hotel is right on the beach, with a pool, spa, and dining options.   
Another beachside property, take in the sights with a touch of modern architecture and trendy style. Hit the pool or the beach as you recharge at this South Beach oasis.    
Enjoy a hotel that feels like an adult summer camp, complete with a 24/7 hot tub, cold plunge pool, and swimming pool. There's a full-service spa, cozy cabana-style rooms, and a tropical garden feel with a waterside onsite restaurant.  
Where To Dine for
Swim Week
You'll surely work up an appetite while checking out everything Miami Swim Week has to offer! While there are endless places to grab a bite in the area, these picks are Miami Beach staples that are truly the definition of local iconic eats. 
Located within the newly revamped Miami club, world-renowned chef Thomas Keller has earned this place a Michelin star with his contemporary continental cuisine. Their Lobster Thermador, Maryland Jumbo Lump Crab Cakes, and Beef Wellington are stand-out dishes here.   
What's a trip to Miami Beach without some authentic Cuban food? Enjoy live music along with Cuban dishes like the Cuban Sandwich and Ropa Vieja to satisfy your cravings. Their mojito bar stocks over 120 varieties of rum, so be sure to get a taste of classic Cuban cocktails.   
This restaurant was established 110 years ago—it's safe to say this is a Miami institution for the best stone crabs. If crabs aren't your thing, there are other seafood dishes, delicious streaks, and their famous fried chicken and delicious sides. 
Where To Party for
Swim Week
After checking out the Miami Swim Week catwalk shows, next up is finding a place to let loose and see exactly why Miami never stops the party! Turn up day or night at these famous Miami party spots.   
This is a luxe hotel that knows how to party! You can't go wrong with this Miami hotspot, from the legendary Liv nightclub to the poolside parties along Ocean Drive.  
Visit Ocean Drive's iconic nightlife spot for live performances and salsa dancing shows all day and into the night. Mango's has been showcasing Latin music and dancers for more than 20 years, so get into the tropical party vibes with a mojito in hand! 
A club on the beach? This goes hand in hand with Swim Week Miami! You can dance in the sand from 2 PM to 2 AM, but just make sure you follow their upscale beach chic dress code to get in.   
Get Ready for
Miami Swim Week 2023
As you start making plans for your Swim Week Miami trip, don't forget to add Wicked Roots Hair™ extensions to your packing list! You'll need your hair to live up to the hype while you get glammed up for fashion runway shows, fancy dinners, and Miami-style parties. Our hair extensions are made of 100% Remy human hair, so they'll blend flawlessly with your natural hair for added length and volume.  
If you're rocking our extensions at Miami Swim Week 2023, make sure to tag us on Instagram (@wickedrootshair) so we can see your hair glow-ups!