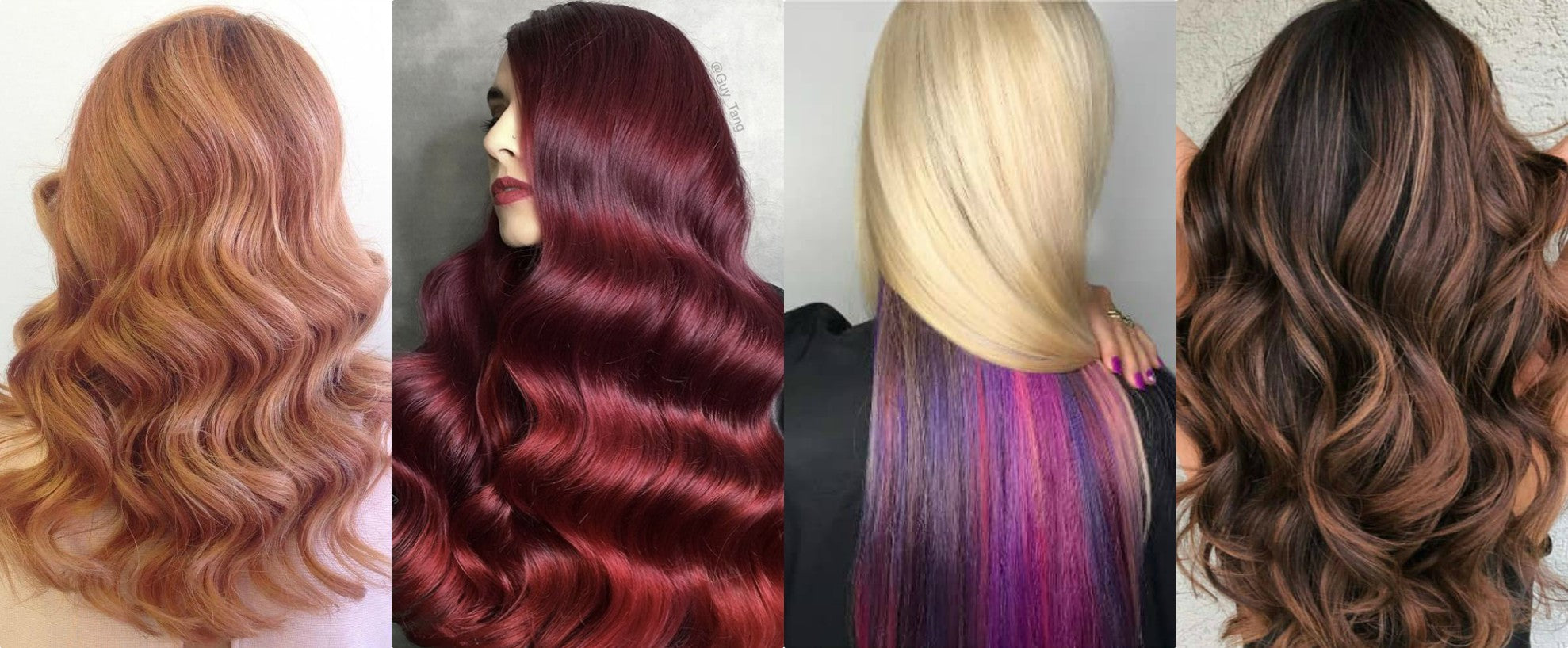 May 19th 2020
Top 7 Hair Color Trends To Try Your Next Salon Visit.
Remember when we were talking about missing our hairstylist? Yeah, It's been a crummy ride but, a girl can dream right? And we're dreaming all about hair color trends! When we're ready to get back into the world, we are totally looking forward to a makeover. Can't you see it? Fresh hair color, tank tops & shorts, sipping on an iced latte, wind blowing through our radiant locks, taking a stroll through the park, *Drool*. With that being said, we want to know what's hot and share it with you of course! 
Variety is key and we want you to have options. Below find a nice array of hair color trends that will be on fire this Spring/Summer 2020. We're sure you'll fall in love with at least 1 if not all! Decisions, decisions… 
Twilighting 
No, Rob Pattinson isn't going to do your hair and this has nothing to do with Vampires. Twilighting is a technique designed for brown hair with warm undertones. It's a mix of baby highlights (super-fine, subtle highlights using foil) and ombre highlights (highlights directly painted on your hair). This look is not only gorgeous but convenient because it's a  low-maintenance way to add dimension, movement, and shine to your mane. 
Strawberry Blonde
Strawberry Blonde Hair is the love child of red and blonde hair. It will totally break necks and get tons of compliments. There are many shades of Strawberry Blonde, you just have to find the right one for you. We're sure your hairstylist will be happy to help. 
Lilac Hair
If you're looking for something fun and bold, Lilac hair will be totally in this year. This color is EVERYTHING. It's even classy in a modern kind of way. 
Color Dipped Ends
If you want to take a walk on the wild side but you aren't ready to dive in, you could dip in. Color Dipped Ends are perfect for something a little outgoing and extra. 
Two Toned Underneath
Two Toned hair was popular in the 90's and early 2000's and we're glad it's back. It's a cool and fresh look that keeps your color underneath a little hidden, but looks amazing when you curl or braid it. It's the best kind of peek-a-boo hair.  We loved seeing this look recently on Dua Lipa. 
Cabernet Red 
Our favorite wine? Maybe. But it's also such a sexy hair color. Get ready to see some deep reds this Spring, Summer, and they will probably work their way into Fall too. 
Rooted Blonde
Rooted Blonde is typically blonde hair with darker roots that makes it look like you've already been growing your hair out. It's an edgy look we like and it's low maintenance. Dark roots are no longer your worst nightmare, honey. Now they make you look fabulous. 
These are some of our top picks when it comes to hair color trends for the rest of this year? What do you think? Did we leave anything out? A nice jet black always looks good too.
Let us know if you're planning to try any of these colors out in the comment box below.