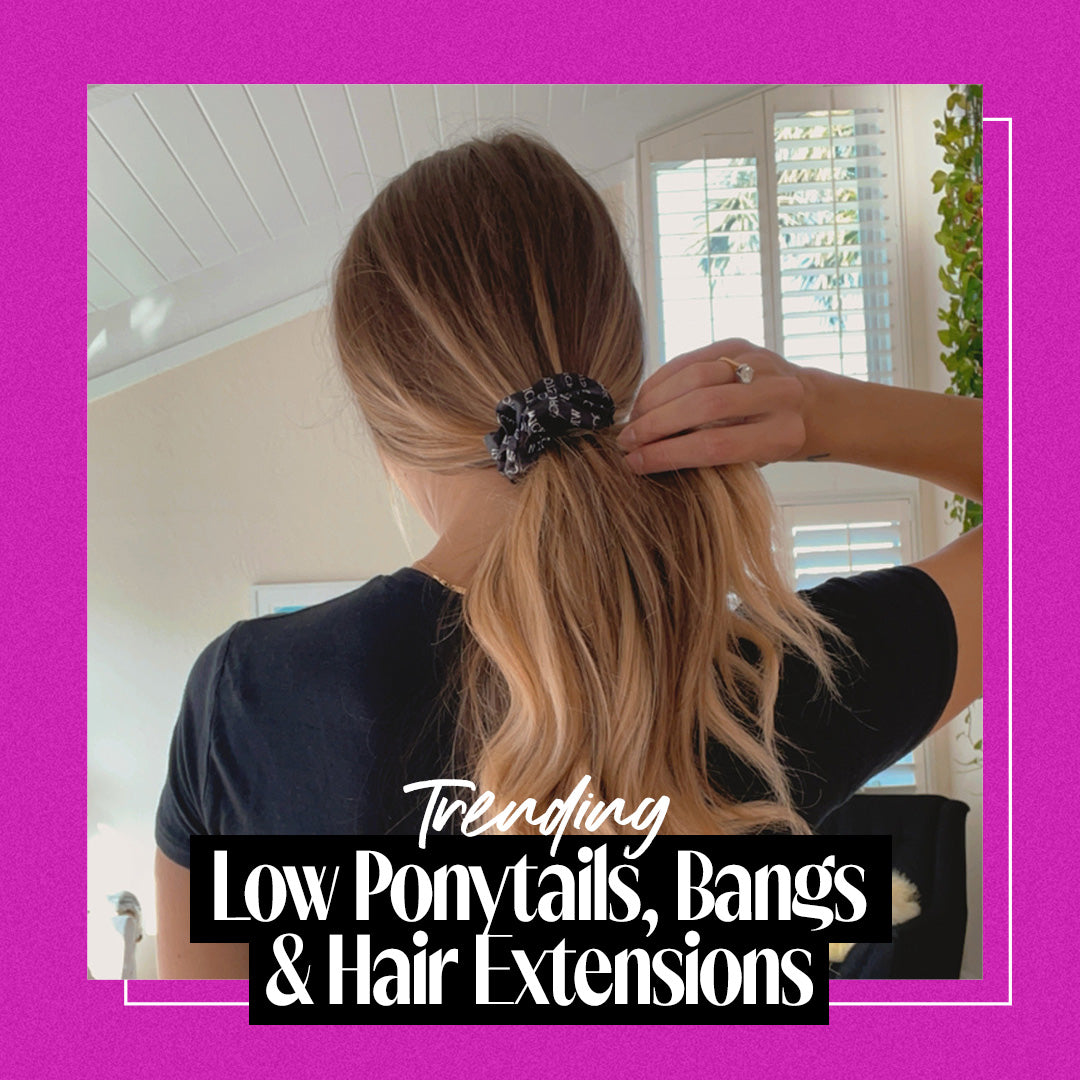 April 29th 2022
Trending Hairstyles: Low Ponytails, Bangs, and Extensions
Different outfits, occasions, and events call for different hairstyles. Just like that pair of bright red Louboutin heels make you feel like you can take on the world (and you totally can!), your hairstyle can guide your personality for the day. Are you feeling demure or more like a baddie? Wearing a
low ponytail
, bangs, and hair extensions can play up that vibe.
If the eyes are the window to your soul, we're pretty sure that means the hair is the mirror to your personality. When it comes to your look, your hair is the crowning glory, the pièce de résistance.
Different outfits, occasions, and events call for different hairstyles. Just like that pair of bright red Louboutin heels make you feel like you can take on the world (and you totally can!), your hairstyle can guide your personality for the day. Are you feeling demure or more like a baddie? Wearing a low ponytail, bangs, and hair extensions can play up that vibe.
Low Ponytail Styles
A low ponytail may not be the first hairstyle you think of. Wearing your hair in a low pony can seem simple – if not boring. But really? A low ponytail is as versatile as your imagination. The beauty of a low pony is that it can be as sleek or as wild as you want. 
Tips for Rocking a
Low Pony
It doesn't matter which low ponytail styles you try; there are a few universal tips to ensure your next low pony looks as fabulous and flawless as you:
Ponytails need a smooth base, so deal with any flyaways before you pull your hair back.

To pull off the perfect

low, long ponytail,

gather your hair with one hand and secure it with the other. This prevents your ponytail from lifting up. 

If you want to curl your hair, do so after pulling your ponytail back.
Putting your elastics and holders on display is typically a no-no. Separate a few sections and crisscross them to hide the elastic. Doing this will also give the top portion of your hairstyle a little lift.

Tousle the crown every time you create your

low ponytail.

A little

volume goes a long way

!
Now that you've got a few tips and tricks up your sleeve, let's look at different ways you can style a low pony!
Sleek Shiny Pony with a Center Part
Your posh outfit deserves equally luxurious hair, don't you think? This classic low pony style isn't about volume or texture – it's about amazing shine and a sleek body. Use products specifically for shine, brush your hair back, and hide that pesky elastic. 
Low Pony
with a French Twist
A French twist can be stuffy, but not this version! Once you have the French twist in place, simply leave out some of the longer back strands.
Low Ponytail with Braids
Pick your favorite braid, let it fall through your crown, and finish the style off with a low pony. 
Low Pony
for Lobs
Let's settle this: Just because your hair is on the shorter side doesn't mean you can't pull off some of these styles. They aren't just for long hair! Braid your hair on the side, pull some pieces out around your face, or add volume at the crown. Finish off your look with a low ponytail. Easy peasy!
Accessories for Low Ponies
Beauty is in the details, friend. Styling a low ponytail with a headband, ribbon, scarf, or hair clips can take your look to a new level.
Go Out with a BANG!
Adding bangs or fringe to your hair is a quick and easy way to change things up. Have your stylist cut bangs for you at your next appointment.
Tips for Styling Bangs
Got a cowlick? You're not the only one. It can make styling bangs tricky, but here's how to control or soften that cowlick or frizzy pieces we all seem to have around the hairline:
Start by blow-drying your bangs until they're halfway dry.

Focus the blow-dryer at the roots while pointing the airflow forward onto your face.

Use a brush or comb to pull the hair side-to-side until the roots are dry. 
For day two (or three!), spray your favorite dry shampoo at the roots to soak up any oils and refresh your hair's fullness.
Popular Bang Styles
Before we give you the rundown, remember this: Always take face shape and hair length into consideration when deciding which fringe style is right for you. Here are a few styles you can pick from:
Curtain Bangs:

A great option if you're looking for minimal upkeep and effortless cool-girl vibes. This bang looks great on a wide range of face shapes.

Classic Fringe:

This look works great on oval and longer faces. Since they fall straight forward, classic fringe requires a little more styling and frequent trims.

Long, Face-Framing Fringe:

Long fringe is feminine and easy to style and maintain. This style is super cute if you tend to wear your back pulled back a lot.

Side-Swept Bangs:

Side-swept, brow-grazing bangs are the perfect accessory to high cheekbones. Try a

low ponytail with bangs

when you want to look a little elegant – and a little mysterious.
Trendy and Timeless Hair Extensions
Whether you want to try a twist, a top knot, a high bun, braids, or a high or low ponytail, hair extensions are the safest, easiest, and fastest way to add length and volume. 
With Wicked Roots hair extensions you can DIY your new favorite look (hey Clip It and Band It), or get a professional stylist to level up those locks with Tape It. Whichever way your head or heart takes you, the number of new hairstyles you can achieve will be endless. We see some gorgeous ponytails and bangs in your future! (And you better snap a pic and tag us at #wickedrootsfam so we can show you the LOVE.)