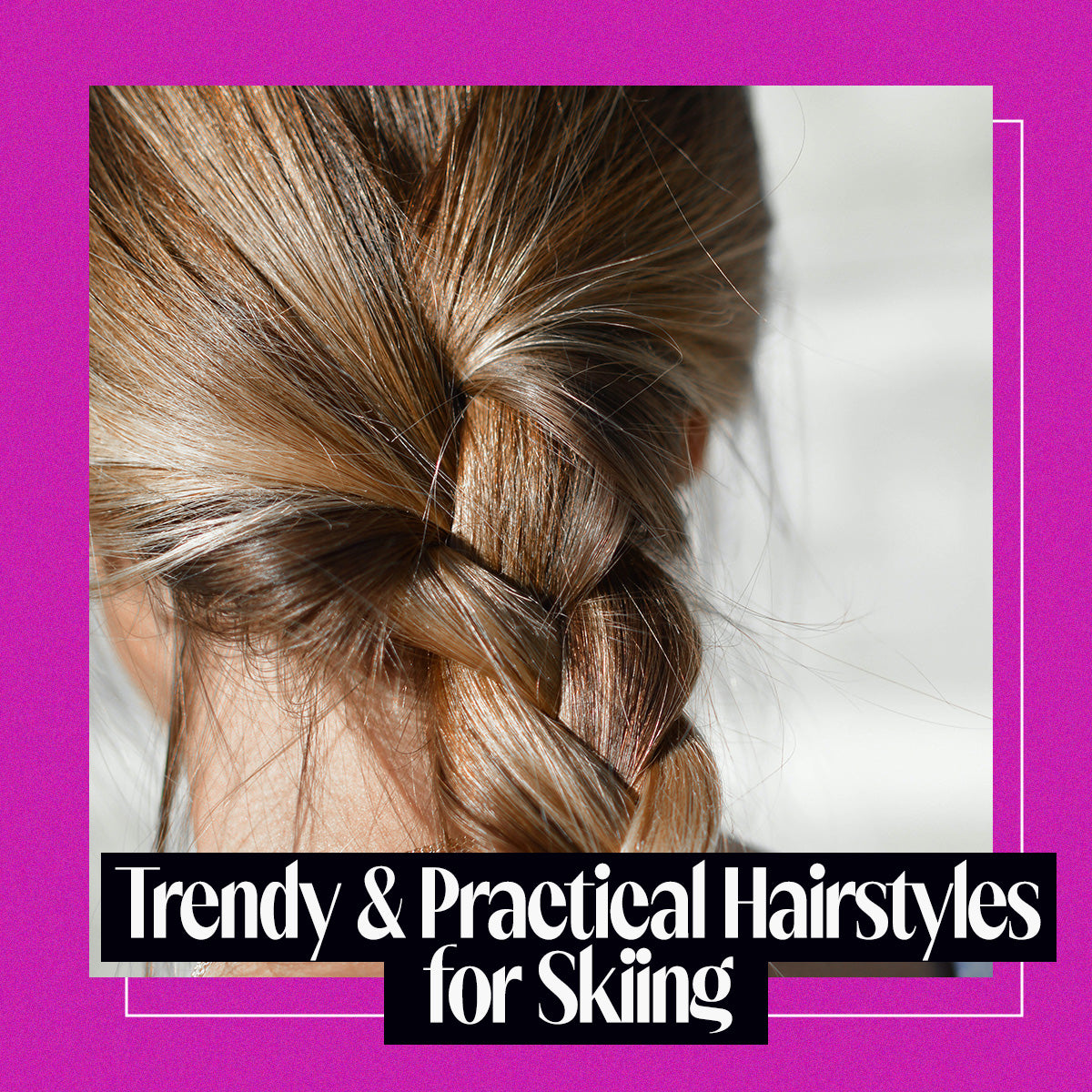 December 23rd 2021
Trendy and Practical Hairstyles for Skiing
Whether you like to gracefully glide down the slopes on skis or you're a first-class snowboarder, h
ere are some cute 

skiing hairstyles

 that will take you effortlessly and stylishly from the slopes to sipping champagne.
Skiing is so glamorous, isn't it? Beautiful snowy mountains, chic shops and cute ski towns, après ski festivities after an active day. Here are some cute skiing hairstyles (perfect for snowboarding, too!) that will take you effortlessly and stylishly from the slopes to sipping champagne.
Boxer Braids
Whether you like to gracefully glide down the slopes on skis or you're a first-class snowboarder, boxer braids (also known as reverse French braids or Dutch braids) are the perfect spunky and cool hairstyle for your winter sport. Start by scrunching a bit of a texture mousse into your hair. Part your hair into two sections and clip one section of hair to the side so it doesn't get in the way. Divide the first section into three parts and cross the two outside strands under the middle strand. After you've done a couple, start braiding in hair from the outside and continue adding hair into the braid. Secure your braid with an elastic and repeat on the other side. When you're done, use a spritz of hairspray to hold the style. These are the perfect surprise hiding under your ski helmet!
Bubble Braids
Want to hit those black diamonds early and beat the crowd? When you'd rather spend your time on the slope than primping in the lodge, bubble braids are a fun and super chic ski hairstyle. Prep your hair by scrunching in a styling cream to help tame any frizzy hairs. Gather your hair into an elastic – you can do a ponytail at the base of your neck or two low pigtails (pro tip: skip any topknots for ski and snowboarding hairstyles because you need your helmet to fit properly!). Add another elastic a few inches down from the first one and continue down the base of the ponytail. When you're done, use your fingers to gently tug at each section with your fingers until they become uniformly sized "bubbles." \Finish by securing your style with a final hair tie and a quick spritz of hairspray. Now go carve up those slopes!
Messy Bun
Okay, we know we said no topknots, but a classic messy bun is the perfect low-maintenance hairstyle for the slopes, shopping, and an après ski dinner! It's also a super cute hairstyle for snowboarding – it'll keep your hair out of your face while you effortlessly land that ollie. Start by securing your hair in a ponytail at the base of your neck. Wrap the ponytail around itself and then secure your bun with a few bobby pins. Don't worry about a few stray hairs – those help you get that "perfectly undone" look. When your bun is done, loop another elastic around it for a little extra hold. Finish by spritzing with a bit of hairspray, and head out on your alpine adventure!
Braid to Low Ponytail
This chic style is practical enough for keeping your hair out of your face off-piste and cute enough to go dancing downtown afterward. Start by French braiding along the side of your head, stopping about two-thirds of the way down. Secure your hair with an elastic at the base of your neck and finish with a bit of hairspray. To elevate your look, take a small strand of hair from your elastic and wrap it around to go from day to night instantly!
Post-Run Rendezvous: How to Save Your Sweaty Hair
Looking at these styles and thinking, "Sure, these may look cute before my hair's stuffed into a helmet all day. What about when I take it off?"" Hear us out! Here are a few tips to help your hair transition from slopes to après ski and look fresh as a powder snow fall.
1. If your goggles messed up your boxer braids, undo your braids and rock chic waves for your night on the town. Spritz on a touch of sea salt spray and run your fingers through your hair to make the waves look as natural as possible.
2. Try using dry shampoo – the ultimate cheat to reduce greasiness after a sweaty day on the slopes when you're in-between washes.
3. While topknots might not be practical on the slopes, a bun can hide oily roots in the evening. And bonus points because greasy hair actually holds the style longer!
4. When in doubt, accessorize. If you need to get ready quickly, slide on a cute headband for happy hour at the lodge. 
We hope you're inspired to hit the slopes in style! Comment below if you enjoyed these tips or if you have another winter sport hairstyle!