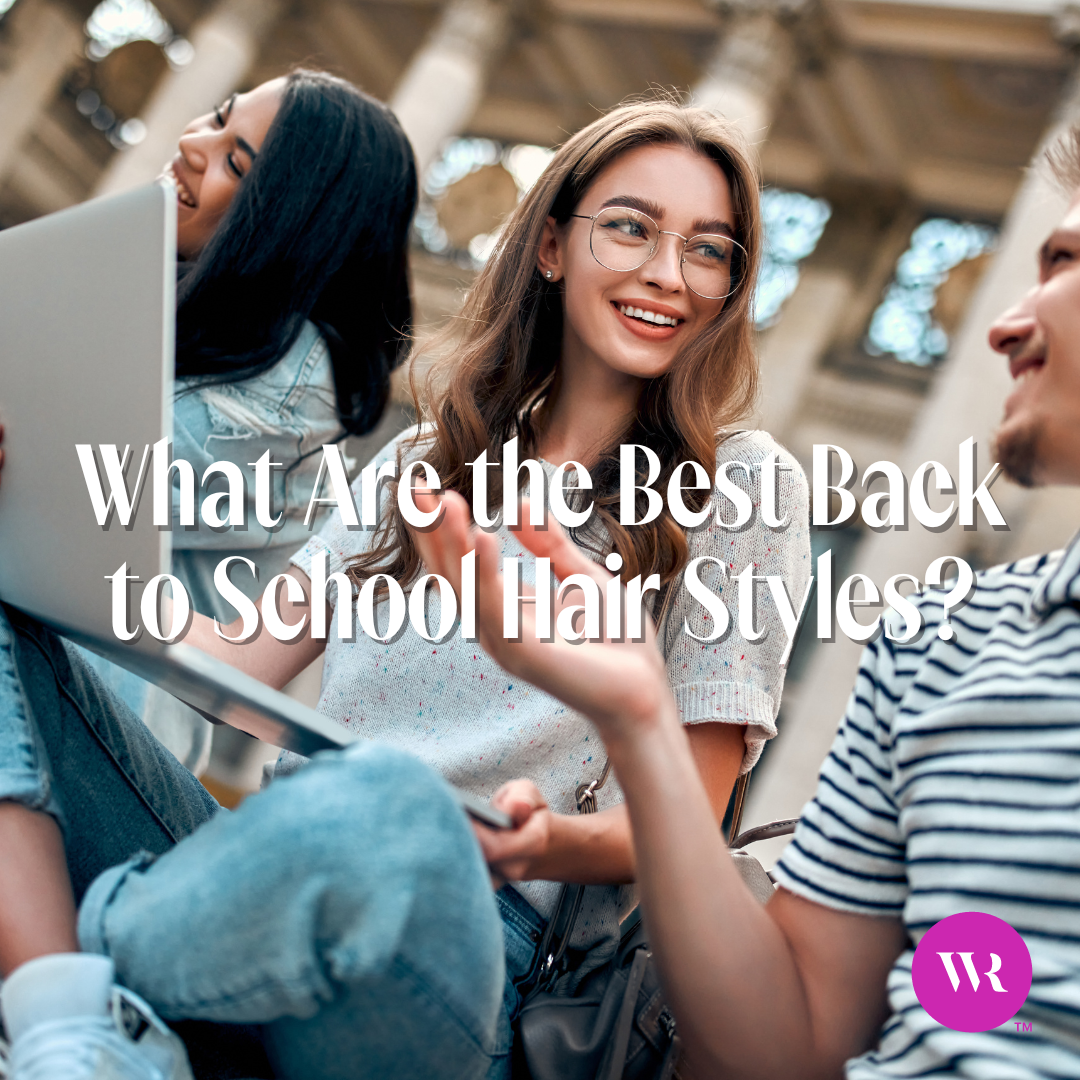 August 10th 2022
What Are the Best Back to School Hair Styles?
Start the year off right with these
easy back to school hairstyles!
How the heck is it time to head back to class already?! We hope all you baddies had an epic summer. But now...school's back in session! And you'll want to look and feel your best with cute hairstyles for school, whether you're in high school or college.
Start the year off right with these easy back to school hairstyles! They work for everyone! We've even got beginner easy hairstyles for school—for anyone who doesn't have time for complicated styles.
Back to School Hairstyles 
Class is in session, baddies. Easy Hairstyles for School 101, that is. Better study these styles if you want to pass the hair test every morning. We know you'll ace this!
High Honors Ponytail
Wearing your hair in a high ponytail is one of the quickest hairstyles for school, perfect for those mornings when you just don't have time to fuss with your hair. A ponytail is sleek and sophisticated and will totally keep your hair out of your face so you can pay attention. (Unless you want to get distracted by that cutie sitting next to you...) 
To rock this style, brush your hair up and secure it at the crown with a scrunchie or a hair tie. Use some hair gel or hair spray to smooth out any flyaways or frizz. Now grab your bookbag, and you're out the door! 
Study Break Side Braid 
Maybe you'd rather keep it simple and low-key with easy hairstyles for school, like a loose side braid. This look is casual but totally looks like you tried (even if you stayed up a bit too late "studying"). Sure, a loose side braid is soft and feminine, but it goes with any outfit—jeans and a cute top or even your hoodie and sweatpants combo. (No judgment here!) 
Get this look by brushing all your hair to one side. Divide your hair into three even sections and start braiding. Secure your hair with an elastic hair tie and use hairspray to set the style. Pull a few loose, face-framing strands out either side, and you're good to go.
Forever Summer Beachy Waves
Not ready to let go of those summer vibes just yet? We feel you! Try these perfect loose waves––they'll remind you of the good ol' days when you were sitting on the beach. (Just try not to zone out for too long during lectures!) You'll practically feel the sea breeze in your hair, and you'll know your hair looks fresh from summer vacation. 
Grab your trusty curling iron, and let's get to work! Spritz your hair with a heat protectant, then let it dry. Start to curl your hair about 2 inches from your roots. Then, curl each section for roughly 10 seconds to get those loose curls. Leave your ends straight for a more natural look. Run your fingers through your hair to separate the curls and finish dreamy summer waves with a light spritz of hairspray.
Half Up Top Knot of The Class
We love wear-and-go hairstyles for school that keep your hair in one place and still look super stylish. This hairstyle combines two of our favorite looks: the top knot and half up half down. It's the best of both worlds and you can rock this style day or night, in class or out to dinner with friends (or a date!).  
Start with a texturizing spray to add a bit of movement to your hair. Pull a quarter of the hair at the top of your head into a ponytail and secure it with an elastic hair tie. Divide your ponytail into two sections and twist them around each other. Finish off your top knot by wrapping your twisted hair sections into a bun. Brush out the rest of your hair, and add a bit of hairspray to finish things off. This look is worth high marks in our book!
Upgrade Your Hairstyles for School with Wicked Roots Hair
Keep your carefree hair mood going as you ease back into the new semester with flirty and fun easy hairstyles for school. Want to take your back to school hairstyles up a notch? You can add hair extensions to all of these hairstyles for school! Wicked Roots Hair extensions can help you nail your voluminous, lengthy hair goals.
Make sure you tag us with #WickedRootsFam on Instagram so we can see you rocking all your fab back to school hairstyles.