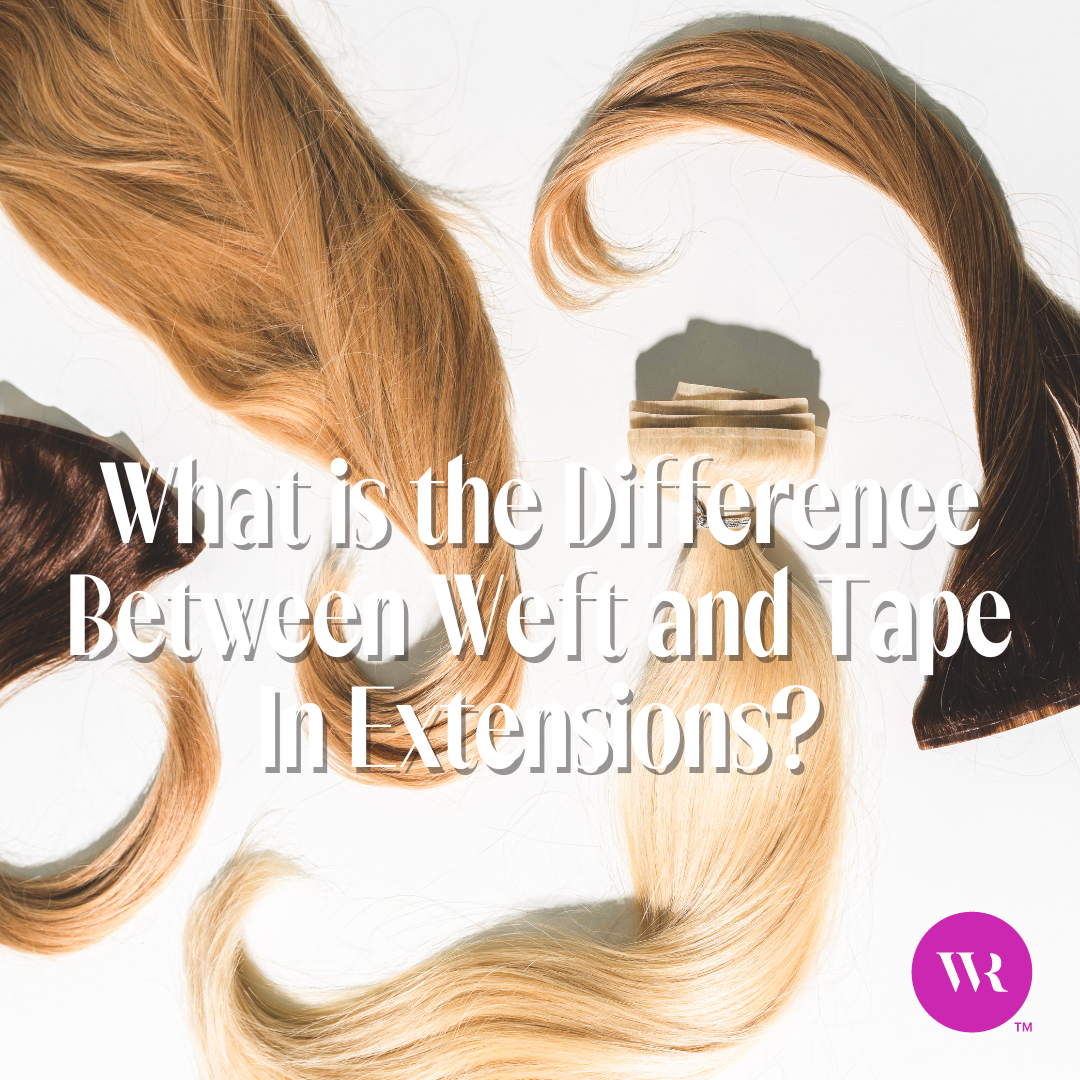 //wickedrootshair.com/cdn/shop/users/avatar_250x250_crop_center_f0ad1dc6-4182-4412-8f45-052bf7447aa9_200x200.png?v=1685998438
September 29th 2022
What's the Difference Between Weft and Tape-In Extensions?
Hey gorgeous hair baddies, looking for a semi-permanent hair extension option? You came to the right place. We'll cover the major differences between weft hair extensions and

 
tape-in extensions.
There are lots of hair extensions methods to choose from! And you're probably wondering which option will glow up your tresses the best. A DIY method, like a clip-in or halo style (like our Clip It or Band It!) or a semi-permanent option, like tape-in extensions (like our Tape It) or weft hair extensions. They all have their benefits and features; it just depends on your lifestyle, your natural hair, and the look you're going for. 
For gorgeous hair baddies looking for a semi-permanent hair extension option, we'll cover the major differences between weft hair extensions and tape-in extensions.
What Are Weft Extensions?
There are two different types of weft hair extensions: hand-tied wefts and machine-tied wefts. Hand-tied wefts are woven by hand, which creates a very thin weft that works well with those with fine hair. Because they're hand tied, the weft cannot be cut or it will unravel! Machine-tied wefts are fed through a machine and weaved tightly into the seam. These wefts are typically denser than hand-tied wefts with more grams per inch and suit those with medium to thick hair best. Feel free to cut and customize machine-tied wefts as you please, as they won't unravel!
Here's what you need to know about weft extensions:
A professional stylist should apply weft hair extensions for proper application.

The application of

hand-tied wefts

or machine-made wefts varies such as the sew-in, braided, or beaded row methods.

The number of rows and wefts used for

weft extensions

depends on hair density, length, and volume.

Expect to spend a few hours at the salon. Applying

weft extensions

takes about 45 minutes per row (most people opt for at least two rows.)

You'll need to book an appointment with your stylist about every six to  eight weeks so they can adjust your

weft extensions (

how long you can go between appointments depends on how fast your hair grows!)

Your extensions can last anywhere from six to twelve months if they're high-quality wefts made of real human hair. 
What Are Tape-In Extensions?
Tape-in extensions are applied to your hair using our double-sided extension tape that gets attached to the hair extension wefts.  A professional hairstylist should  apply your tape-in extensions so you avoid any possible damage to your natural strands. (Bonus: Working with a stylist basically guarantees the best tape-in hair extensions application for a blended and natural look!)
Here's the lowdown on all things tape-in extensions:
Tape-in extensions

are thin and use flexible tape wefts to blend seamlessly with your natural hair. (Good news: You can wear your hair up without worrying about your attachment points showing!)

These extensions are one of the most comfortable and lightweight hair extension methods. So long, heaviness and bulk! This also makes them a great option for fine hair. 

If you get them professionally applied and removed,

tape-in extensions

won't damage your natural hair. 

No need to spend half of your day off at the salon!

Tape-in extensions

only take about an hour to apply for a full head.

Not sure

how to remove tape-in extensions

? It's just as easy as application! We promise! Your stylist will use an adhesive removing spray (like our

Break Up Spray

) on your tape wefts to dissolve the  adhesive and gently remove your extensions. 

You can reuse/reapply your

tape-in extensions

for several wears—if you have high-quality hair extensions that use 100% Remy human hair. (Psst. All of our

hair extensions

at Wicked Roots Hair use Remy!) You should re-apply ever 4-6 weeks as the extensions will move away from your head as your hair grows.

How long do tape-in extensions last

? Up to 6-8 months! (Yes!) Remember: Your wear time depends on the

quality of the hair extensions

, how fast your hair grows, and

proper maintenance

.

) 
Weft Extensions vs. Tape-in Extensions
When you're ready to transform your locks and get lengthy, voluminous perfection, you can decide which hair extensions will work best for your personal hair goals. Here at Wicked Roots Hair, we love machine-tied wefts or tape-in extensions (like our super lightweight Tape It extensions.) 
Both options will give you gorgeous and glam hair, depending on your unique hair needs and preferences. Explore our collection of hair extensions for a flawless application every time and unmatched hair quality!