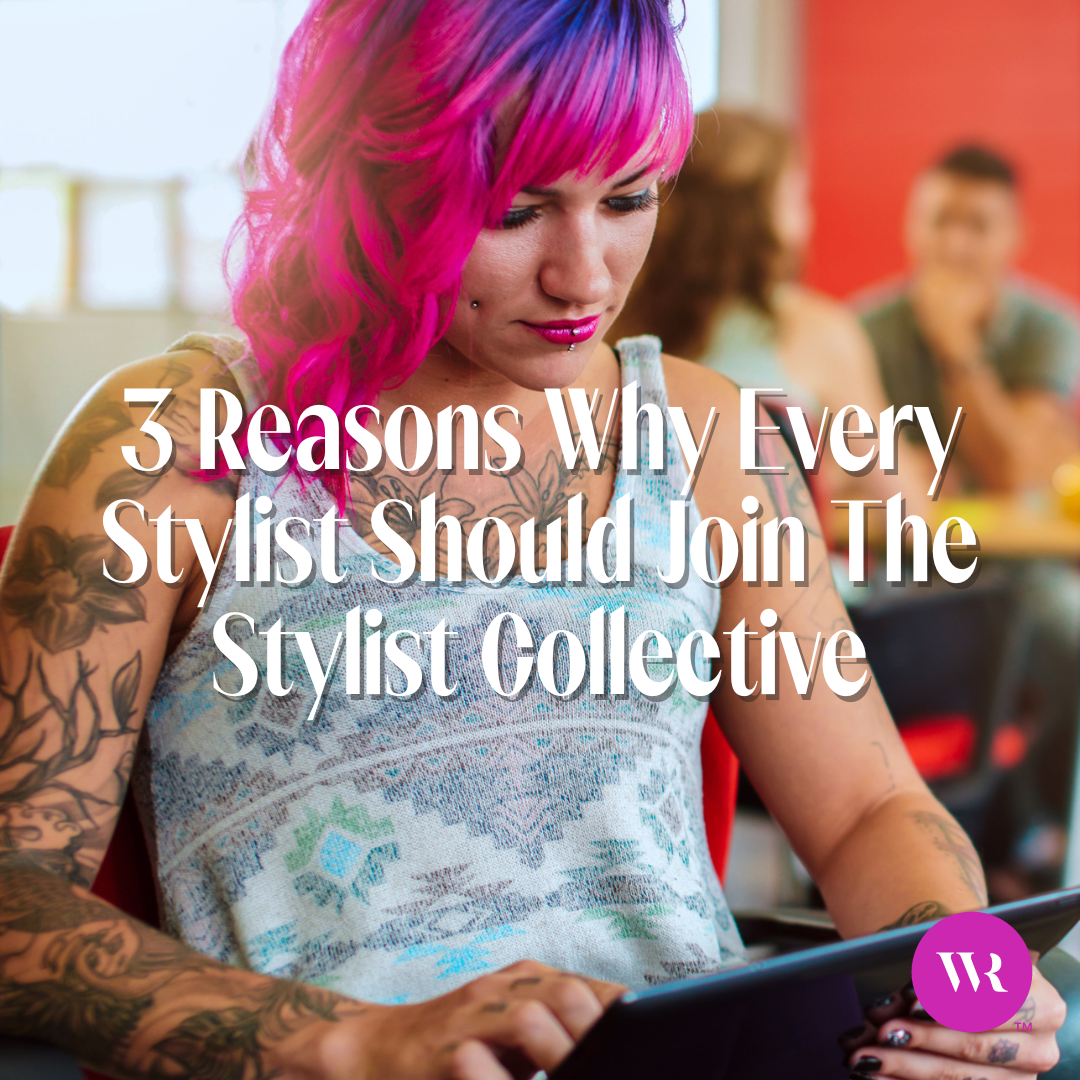 //wickedrootshair.com/cdn/shop/users/avatar_250x250_crop_center_f0ad1dc6-4182-4412-8f45-052bf7447aa9_200x200.png?v=1685998438
August 24th 2022
3 Reasons Every Stylist Should Join the Stylist Collective
Are you a baddie stylist who loves
hair styling with extensions
? Well you're in for wicked treat! Read on how you can join the  
Stylist Collective
,
 

a community at

 

Wicked Roots Hair

 

that celebrates the talented hairstylists who work hair magic from behind their salon chairs. 
Are you a baddie stylist who loves hair styling with extensions? ICYMI, we've launched the Stylist Collective, a program that offers hair stylist discounts and other perks for you AND your clients. We wanted to create a community at Wicked Roots Hair that celebrates the talented hairstylists who work hair magic from behind their salon chairs. 
Here are three reasons hair extension stylists will LOVE the Stylist Collective.
Unbeatable Program Perks
There's NO fee to join. That means no membership costs or hidden fees. Ever.
You'll get a 25% SITEWIDE discount on everything. Yes, ALL of our products! And there's no limit to how many times you can use your unique code.
When your clients purchase Wicked Roots products using your unique commission code, you earn a 10% commission and your clients get 15% off their purchases. Sounds like a win-win for everyone!
And, unlike some other programs, there's never any uncomfortable pressure to sell our products. You get a discount and commission no matter how many hair extensions you sell. It's all about treating you and your clients to the highest quality of hair extensions!
Untouchable Extensions Quality
Wicked Roots Hair offers an unmatched quality of hair extensions. We've been in the hair industry for years, and we know the difference between 100% Remy human hair and other lower quality hair companies claim is Remy (eye roll). We believe in using the highest quality of hair extensions possible – and that's always what you'll find with our Band It, Clip It, and Tape It hair extensions. 
What makes Wicked Roots extensions so special? We keep the hair cuticle intact and facing the same direction to reduce matting and tangling. We work closely with our factory to ensure they use our proprietary process to color our hair. (And no other factories can replicate it!) To take our unique approach a step further, we use a multi-tonal blend for subtle highlights and lowlights, giving our high-quality hair extensions the most natural hair extension color match blend and dimension possible.
Our semi-permanent Tape It extensions are ideal for hair extension stylists and their clients. Their ultra-thin, 1.5-inch-wide discreet matte wefts lay flat. You only need four to six packs to cover a full head of hair. And your clients will love the lightweight feeling that comes when you're using the quality of hair extensions we offer!
Unmatched Color Choices
The quality of hair extensions is really only the first part. (But an essential one!) An accurate hair extension color match is key so your clients can blend their hair extensions with their natural color perfectly! We created a super convenient color matching quiz that helps you find the three closest matches to any natural color. 
And hair extension stylists can use our Swatch Ring to help clients land on their hair extension color match. At Wicked Roots Hair, we have 42 different shades, from platinum blonde and dirty blonde to jet black and chocolate. You'll find a color that suits everyone—including your clients with silver or red hair! We even offer ombré variations with dark roots for those rocking two-toned styles. You want versatility with gorgeous tones and dimensional shades? We've got it. 
Only the Best Quality of Hair Extensions with Wicked Roots
Hair extension stylists have the unique opportunity to completely transform their client's hair! So, what's the secret to a glam hair extension #glowup? By now you probably know it's all about the quality of hair extensions! Our Wicked Roots Hair extensions only use 100% Remy human hair so your clients walk out of the salon with soft and shiny locks that blend seamlessly with their natural hair.
With an emphasis on the quality of hair extensions and the perfect hair extension color match, hair styling with extensions is easy and fun with Wicked Roots Hair. As a hair extension stylist, enjoy hair stylist discounts and perks for your clients by joining the Stylist Collective!
Ready to be part of the Wicked Stylist fam? Join other talented hairstylists and start your application process. Contact us at info@wickedrootshair.com if you need help or have questions. Can't wait to hear from you!