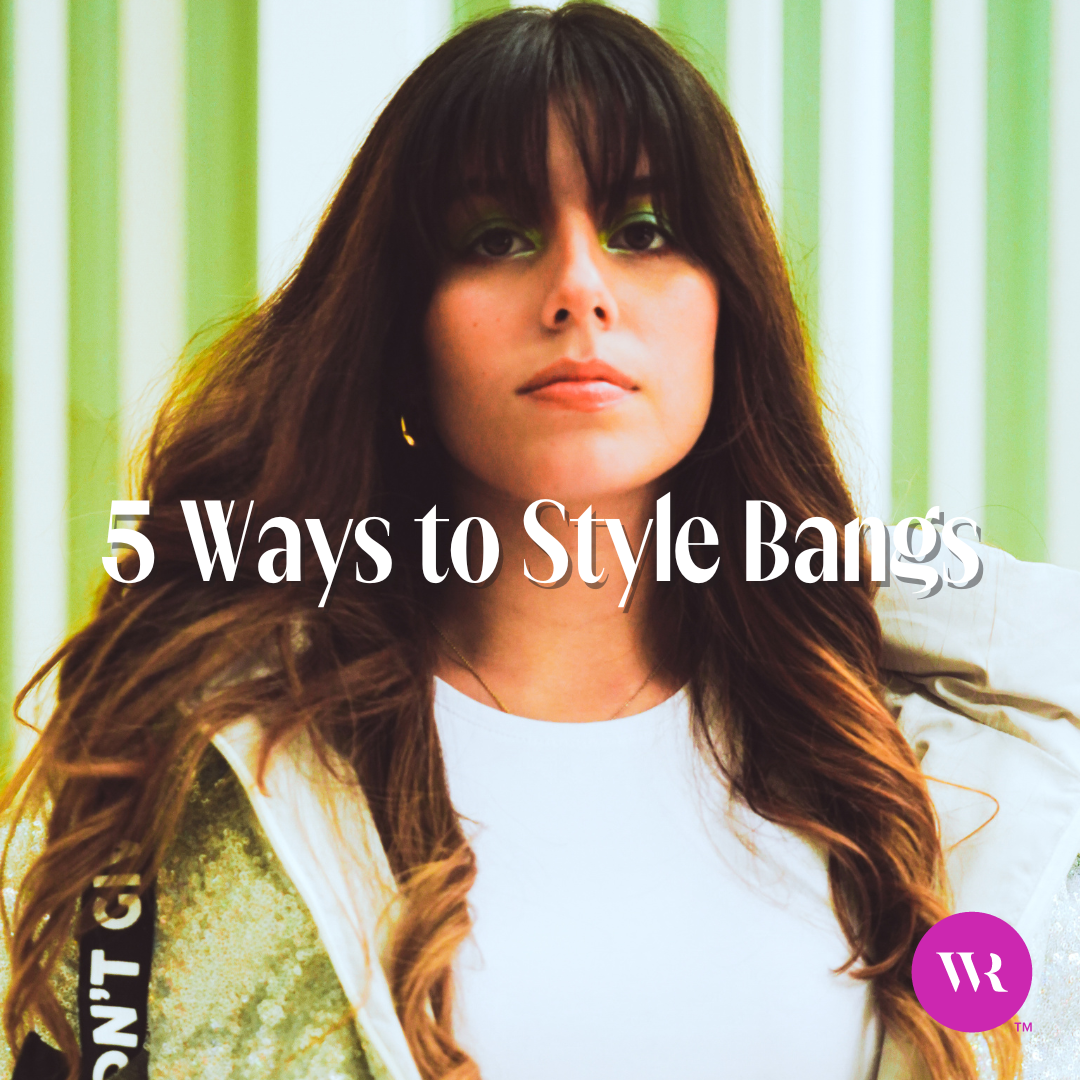 September 15th 2022
5 Ways to Style Bangs
It's time to show off your trendy
haircuts with bangs.
 

Keep reading for tips on

 
how to style bangs, no matter what

 
hair types or texture you're working with. 
A lot of us rocked bangs when we were younger, but haircuts with bangs? As adults? Yes! They're totally in and super cute! There are tons of different styles of bangs, and you can experiment with hairstyles for women with bangs to find a look that suits you. Whatever bangs style you choose, we can help you style them! 
It's time to show off your trendy haircuts with bangs. Keep reading for tips on how to style bangs, no matter what hair types or texture you're working with. 
How to Style Bangs
Bangs are so much fun to style! Your look immediately gets a bit more youthful when you're rocking haircuts with bangs. Adding cute bangs completes any hairstyle and gives your style a unique flair. Ready to transform those locks? Grab your brush and styling tools!  
Long Bangs
Long bangs are great if you want a sleek and classic style. Long, straight hair with bangs is the ultimate everyday look and can effortlessly take you from a night out to brunch with the crew. And no matter where you're headed or what you're wearing (dressed up, dressed down, anything goes!), this bangs style is the perfect complement.
Here's how to style your long bangs:
Gently blow dry your bangs and brush them with a small flat brush.

Blow dry from the right first and then the left to make sure there isn't too much bend in your bangs.  

Quickly run a straightener over your bangs to complete the look. 

Add a spritz of hairspray to set your smooth, straight finish. 
Pro Tip: Use our Clip It extensions to add lightweight volume and extra elegance to this look. 
Side Bangs
Side bangs were all the rage in the early 2000s, and they're making a comeback! This bangs style is a great option for anyone with fine hair, and these cute bangs frame your face and suit any face shape.
Here's how to style your short bangs:
Create a side part in your hair and brush your bangs to either the left or right. 

Blow dry your bangs. Hold the hair dryer about an arm's length away to make sure your hair stays in place.

Use a round brush to add volume and finish with texturizing spray. (Especially important when styling bangs for fine hair!)
Pro Tip: Spray a leave-in conditioner on your strands before styling to keep frizz at bay. 
Curtain Bangs 
This bangs style is SO hot right now and totally enhances bangs for fine hair. If you're growing your bangs out or haven't trimmed them in a while, curtain bangs can hide any imperfections. With a middle part, this bangs style gives you a softer look.
Here's how to style your curtain bangs:
Create a middle part, making sure to continue down through your bangs. 

Use a round brush to blow dry your bangs away from your face. Pull the hair on the right side toward the right, the left toward the left.

Twist your brush through a few pieces of face-framing bangs to create a feathered style. 
Pro Tip: Want to take this look up a notch? Our Tape It extensions can add some much-needed volume to fine hair.
Straight Bangs
This blunt, straight-across fringe is flattering for anyone styling bangs for thick hair. This bangs style is super bold and makes a statement! Word of caution: Straight bangs require more upkeep than other styles. You'll have to trim them often, so they aren't in your face or uneven.
Here's how to style straight bangs:
Comb your wet bangs forward and blow dry them with the hair dryer pointing down.

Blow dry your bangs to one side and then to the other, so they rest in the middle of your forehead. 

Finish this

bangs style

with a dry shampoo to absorb oil so they don't look piece-y.
Pro Tip: Our sectioning comb will keep your strands knot-free when styling!
Wavy Bangs
Naturally curly or wavy bangs give off a playful vibe that's edgy and unique. Depending on your curls, this style can vary in texture, length, and thickness, so it's very versatile. With the right cut and technique, this bangs style can help you embrace your curls!
Here's how to style wavy bangs:
Using your favorite styling product, twist your bangs and then let your hair air dry.

Separate and shake out your curls. Play with different levels of bounce and stretch. 

Blow dry your bangs on the lowest setting, running your fingers through to get that natural wavy texture. 
Pro Tip: Our Band it extensions have a natural wave that will add extra length to your locks. 
Bangs Styled
the Wicked Way
Look at you, baddie! You know how to style bangs like a pro! Now, it's time to elevate your look by adding volume and length with Wicked Roots extensions! The possibilities for enhancing your style are endless.
Which bangs style are you rocking? Let us know in the comments below!