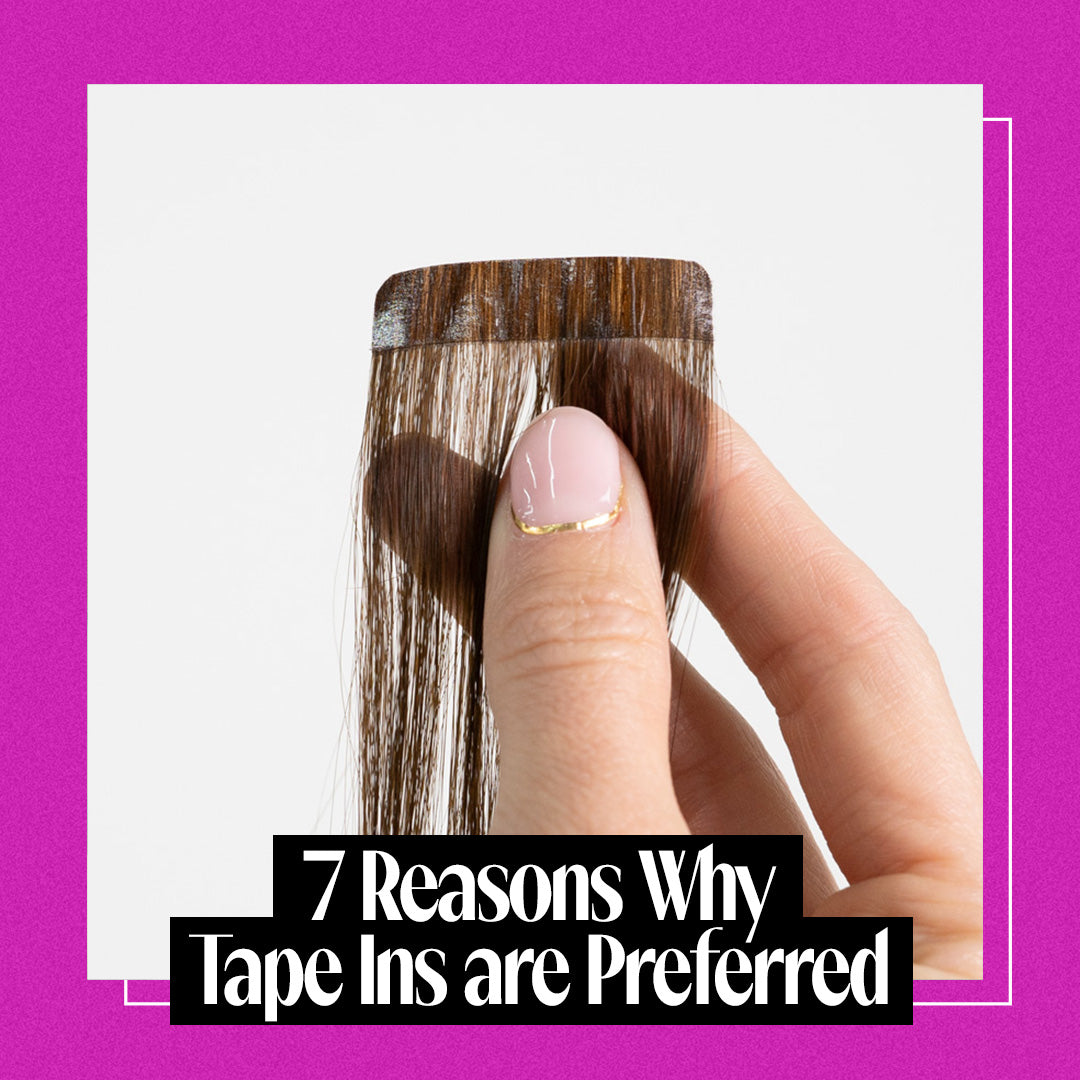 May 4th 2022
7 Reasons Why Tape-In Extensions Are Preferred
In this blog, we're going to give you the scoop on why
tape-in extensions
are a great place to start your hair extension journey!
When you try the right hair extensions, it's love at first strand – there's no going back! All that added volume and length is a total game-changer and completely elevates your everyday look.
But...if you haven't fallen in love with your extensions (or even tried them yet!), you probably have questions like:
What kind of hair extensions should you go with?

Should you go with a clip-in, band/halo, or tape-in? (Check out our

Clip It

,

Band It

,

and

Tape It

options!)

How long do extensions last

?

How long do tape-in extensions last

?

How much are tape-in extensions

?

Do tape-in extensions damage

your hair?
Hey, we've got you! The first thing you need to know is that there are all kinds of hair extension types to choose from. Your best option is the one that fits best with lifestyle and those #hairgoals (volume, dimension, length, or all the above). 
And today, we want to give you the scoop on why tape-in extensions are a great place to start your hair extension journey.
Let's get to answering those questions – and the benefits of rocking tape-in extensions over other methods.
Why We Love Tape-In Extensions 
Yes, we're definitely tape-in stans! Why? Well, it gives you the ultimate hair glow-up with the least amount of daily styling effort. Your hairstylist can easily use tape-in extensions to tape up long hair strands with minimal damage to your natural hair. And the appointment only takes about an hour compared to other professional extension appointments that can last four.
Let's count the ways (seven to be exact!) we're falling for tape-in extensions over and over again.
1.) Comfortable and Lightweight
If you're looking for comfort, you can't go wrong with tape-in extensions. Other hair extension types might feel heavy or bulky, but tape-ins are so lightweight when they're installed properly. You might even forget you're wearing them! 
2.) Low Maintenance
You don't have to worry about epic DIY sessions or bother with daily styling and application because tape-ins are installed by a professional stylist. One and done! If you want all that gorgeous length without much effort, tape-in extensions are your go-to.
3.) Invisible and Flexible
Tape-in hair extensions are designed to be undetectable. They use flexible tape wefts that blend seamlessly with your natural hair, giving you the freedom to style your hair any way you want. Wanna throw your hair into a messy bun? Craving a high pony? Tape-ins will help you get these looks without any issues (a huge plus for active lifestyles!).
4.) Non-Damaging
"Are tape-in extensions bad for your hair?" you ask nervously. Nope! With tape-in extensions, damage to your natural hair is non-existent, especially when they're applied and maintained properly. 
5.) Easy Application
Your stylist can easily apply and remove tape-in extensions. They use medical-grade, double-sided extensions tape to stick securely into your hair, so you can rest easy knowing the installation process won't eat up an entire day! Go ahead and book that salon appointment!
6.) Reusable Option
You can absolutely retape your tape-in hair extensions, but the quality of your extensions affects how many times you can reuse them. If you stick with high-quality strands (like our Remy hair Tape It), you can apply (and re-apply) multiple times. Low-quality tape-ins might not make it past the first wear! Definitely keep that in mind when choosing your extensions. 
7.) More Affordable
How much are tape-in extensions? The average cost of tape-in hair extensions ranges from $150 to $800 depending on the length, color, quality, and quantity of the extensions, excluding application service. That's for an entire head, by the way. Of course, the cost depends on the length, color, quality, and quantity of the extensions you choose. But they take less than an hour to apply, so they're the least expensive semi-permanent hair extension method if you're comparing the cost of the extensions and the application.
How Long Do Tape-In Extensions Last
?
So, how long do extensions last? Remember, it's all about the quality of the hair extensions! If you invest in a high-quality option like our Tape It extensions and you have them properly and professionally installed, you can expect a hold time of up to 8 weeks. Our extensions can be reapplied up to three times – as long as you get them installed correctly and take good care of them. That means you book an appointment with a professional stylist who uses a good quality hair extensions removal solvent, and fresh single-sided or double-sided tape strips for each application.
Stick with Wicked Roots Tape-In Hair Extensions
In this post, we answered some of your big questions like: How long do tape-in extensions last, and are tape-in extensions bad for your hair? We also talked about the benefits of choosing tape-ins over other extension options. So, it's time to take the plunge, right?! 
At Wicked Roots, we've got all your tape-in hair extensions needs covered – with 42 shades and four lengths (12", 16", 20", and 24") to choose from. Our Tape It extensions will be your best new hair accessory!