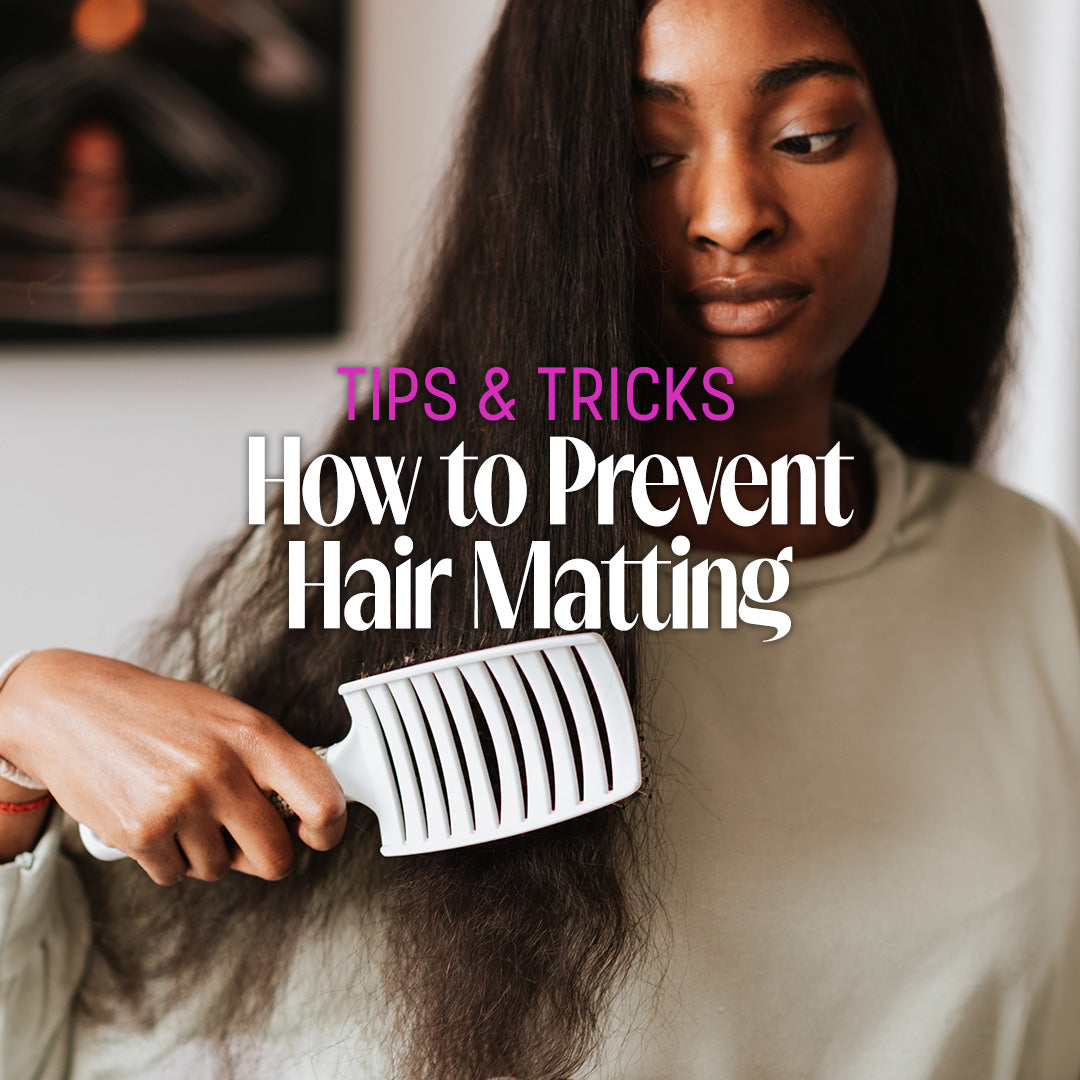 August 15th 2022
Hair Matting Prevention Tips and Tricks for Your Extensions
Let's start by addressing the obvious here: Matted hair extensions are NOT cute. If your look is starting to seem like a rat's nest, your hair extensions need an emergency intervention – STAT! But figuring out how to detangle matted hair without cutting it takes a lot of patience. Before you freak out and reach for the scissors, DON'T. We're here for you, bestie! 
We know how frustrating it is when you have matted hair extensions. The best thing you can do is prevent matted hair before it even becomes a problem. The second best thing? Read this post to learn why your hair gets matted, plus some matted hair home remedies and tips for salvaging your strands – sans scissors. 
What Causes
Matted Hair?
Dealing with matted hair extensions? The struggle is real. Matted hair happens when knots and tangles get twisted around other strands, forming clumps that are difficult to remove with a brush or comb alone. 
So, what causes your strands to go from fab hair to matted hair? Here are some of the most common causes of matted hair and matted hair extensions:
Dehydrated locks with brittle and frizzy strands

Less manageability due to loss of natural oils

Lack of a consistent hair extension maintenance routine

Having non-Remy hair extensions with damaged cuticles
The bottom line is you should invest in high-quality hair extensions and practice a consistent haircare routine if you want to avoid overly matted hair.
How to Prevent
Matted Hair Extensions
Hair extensions get matted when you don't stick to your maintenance routine. And, yes, using the right haircare products when washing, conditioning, and brushing your hair will help you avoid matted hair.
Here are some of our favorite quick tips for preventing your strands from meeting a matted hair demise:
Always use a

hairbrush suitable for hair extensions

. Regular hairbrushes can be way too harsh on your strands. (Our

sectioning comb

will do the trick!)

Use a gentle

cleansing shampoo

and

hydrating conditioner

specifically formulated for your delicate strands.

Never sleep with wet hair! Enough said, right? And if you're wondering

how to keep your hair from getting matted while sleeping

, we suggest braiding it or removing your hair extensions and safely storing them before bed.

Avoid teasing or backcombing your hair. This should be obvious, but it's the easiest path to permanently

matted hair

.

Wash your hair extensions with cold water

to avoid damage – you might end up with tangle-prone locks. 
We get it. You try to do the right things for your hair extensions, but here's the truth: If you don't invest in high-quality hair extensions, they're probably going to get matted more often. Remy human hair extensions (like our Wicked Roots hair extensions) are made with cuticles intact, which means the cuticles are all facing the same direction and haven't been stripped away. Non-Remy human hair or synthetic hair is easily damaged just with regular brushing and styling and is much more likely to tangle. Not to mention that some brands that claim to have Remy hair, actually dont. Make sure to choose accordingly.
Detangling
Matted Hair Extensions
The longer you leave your matted hair extensions tangled, the harder it will be to fix. And the more damage your hair will suffer. In case you need a friendly reminder, step away from the scissors! Try to detangle them first – cutting out matted hair or throwing away your extensions should be a last resort. 
Now let's get your hair extensions back to their former unmatted hair glory, shall we? Here's how:
Wet your hair slightly. Don't get your extensions completely soaked because this could lead to some breakage when you're combing your hair. 

Apply

matted hair home remedies,

 like olive oil, argan oil, or coconut oil. Adding a little bit of moisture to the

matted hair extensions

will make them easier to detangle. 

You can try using a deep conditioner or a spray

detangler for matted hair, too, if you're fresh out of oil.

Let the product soak into your hair. Anywhere from a half hour to an hour should do, depending on how bad your

matted hair

is.

Use a wide-tooth comb to gently work through the knots and

matted hair

. No tugging or pulling!
If these steps don't work and your matted hair extensions are too far gone, you'll have to replace them. We know, we know! But trying to cut out pieces of matted hair will just look uneven and will be hard to blend. Once you get new hair extensions, keep your locks looking fresh by taking good care of your extensions and detangling your hair before it gets to extreme knot city.
Say Goodbye to
Matted Hair 
Looking for hair extensions to replace your current matted hair extensions? Our Wicked Roots hair extensions are made with 100% Remy human hair that's high-quality and less prone to tangles. They also come with a cute iridescent tote so you can easily store your extensions and keep them knot-free. Now, get out there and enjoy your voluminous, tangle-free tresses!