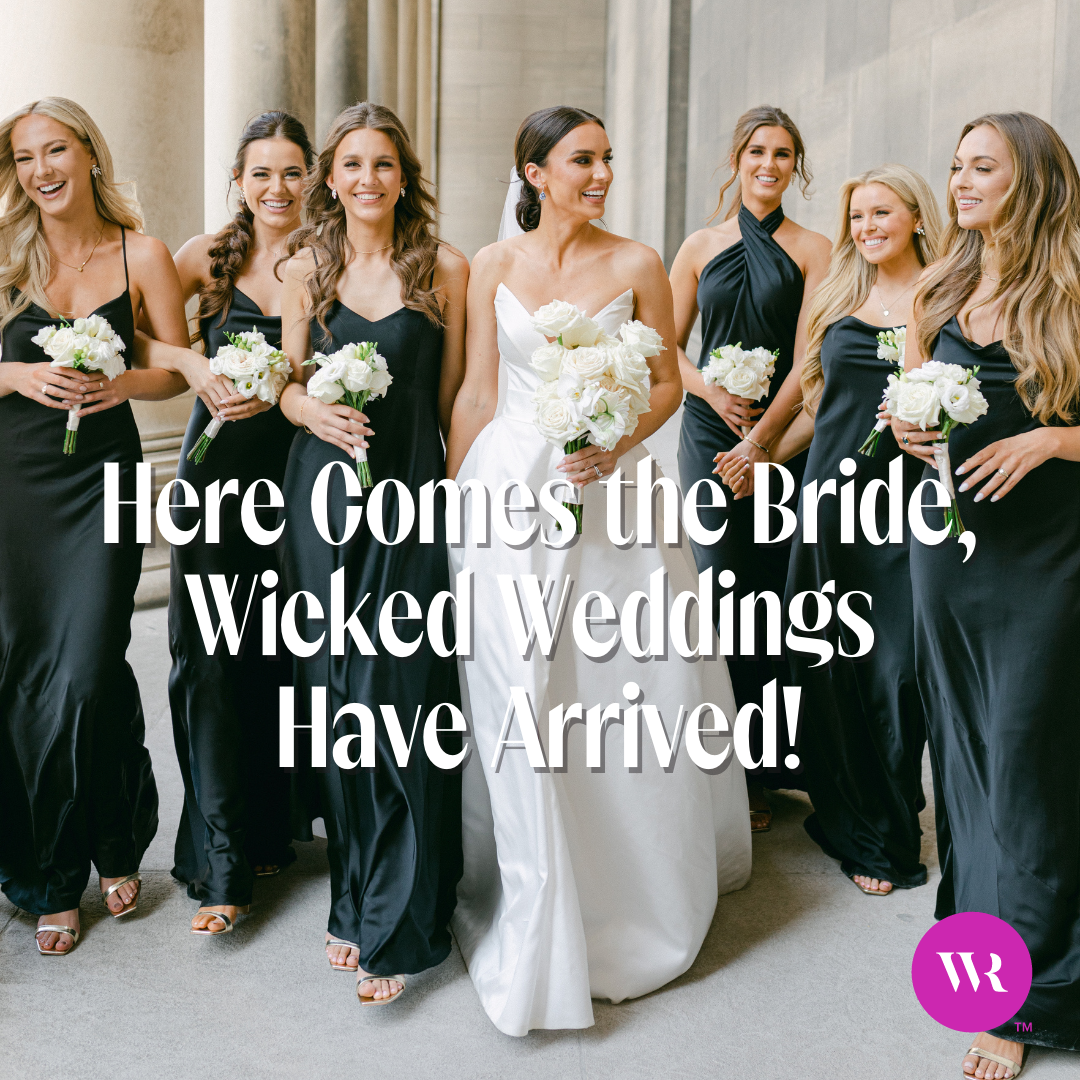 //wickedrootshair.com/cdn/shop/users/avatar_250x250_crop_center_f0ad1dc6-4182-4412-8f45-052bf7447aa9_200x200.png?v=1685998438
November 5th 2022
Here Comes the Bride, Wicked Weddings™ Have Arrived!
Whether you're looking for

 
wedding up dos with hair extensions
 or want to keep your long tresses down,

 Wicked Weddings has you covered!
We know how stressful it can be to pull off your dream wedding. You want to look picture perfect and for everything to go smoothly. Well, you can cross one thing off your massive to-do list: stunning bridal hair with extensions for your big day!
Whether you're looking for wedding up dos with hair extensions or want to keep your long tresses down, wedding hairstyles with hair extensions will help you make a statement as you walk down the aisle. Have flawless hair on your wedding day with lengthy locks and gorgeous volume. 
To spark some ideas for your wedding hair, we'll cover a few of our favorite bridal hair styles using extensions, but first, we've got your first wedding gift ahead.
Introducing: Wicked Weddings™
We wanted a way to create a community to give brides head-turning hair on their wedding day. Now the wait is over with our exclusive program to save money and have elegant wedding hairstyles with hair extensions.
Say "I do" to our extensions with a 20% rebate on Wicked Roots Hair Extensions® for you and all your bridesmaids. After your wedding, we'll publish a recap with photos of your wedding day hair on our Wicked Roots blog to show off your stunning strands!
Here's how to apply:  Just fill out our Wicked Weddings application.
If accepted, we will send you an agreement and a questionnaire. From there you submit your photos and videos of yourself and your bridesmaids wearing our hair extensions.
Wicked Wedding Vendors are also in on the rewards! They'll receive a unique commission code that gives referrals a 15% discount on all Wicked Roots Hair purchases and a commission of 5% of the referral sale to the vendor. Vendors can use this application. 
Enjoy forever fabulous hair for an unforgettable celebration of (hair) love! 
Hairstyles with Extensions for Weddings 
Now that you've got your Wicked Roots Hair extensions, the possibilities are endless when choosing your wedding hairstyles with hair extensions from your bridal shower and bachelorette party to your wedding day. The best part about bridal hair with extensions is having the versatility to pull off any style and play with multiple looks throughout your wedding celebrations!
Here are some of our favorite trending hairstyles with extensions for weddings:
Chic Chignon
This style is simple and elegant, which is why it's a classic look loved by brides! A chignon is perfect for hairstyles for bridesmaids with medium length hair and those who wear hair extensions for your wedding. Its versatility makes it our top choice for the bride or bridal party. Elevate this look with some accessories into the chignon with sparkly clips or small flowers. 
Braided Updo
For a soft and romantic style, add braids to your hairstyles with extensions for weddings (this looks gorgeous with a chignon!) Play around with different types of updos and braid combos. You can go with a French, Dutch, or fishtail braid and easily complement any updo to achieve your unique vision and creativity.  
Half-Up Half-Down
If you can't decide on wearing your hair up or down for your wedding, get the best of both! Ideal for wedding hairstyles with hair extensions, show off your long locks while still pulling some hair back to highlight your face. You can rock curls or straight hair enhanced by the volume and length of bridal hair with extensions. 
Loose Boho Braid
For those more low-key locations and laidback boho brides, this look is for you! This flowing braid looks undone yet perfectly put together. Pair with a flower crown for ultimate hippie vibes as one of the more relaxed wedding hairstyles with hair extensions.
Cascading Curls
A twist on traditional bouncy curls, these waves are ultra-long and glamorous. This youthful bridal hair with extensions look is a show-stopper with the help of added length from hair extensions. Incorporate some bling with cute clips or floral inserts to really take the style up a notch. 
The Best
Bridal Hair with Extensions
We hope you've found some ultimate hair-spiration for your bridal hair with extensions! At Wicked Roots Hair, we're confident that our passion for quality products will have you falling in love with your hair. Don't forget to submit your application to save on your hair extensions with our Wicked Weddings program. Live happily hair after with elegant hairstyles with extensions for wedding festivities for you and your bridal party!
Doing your own hair for your wedding? Check out some easy DIY wedding hairstyles with hair extensions ideas!