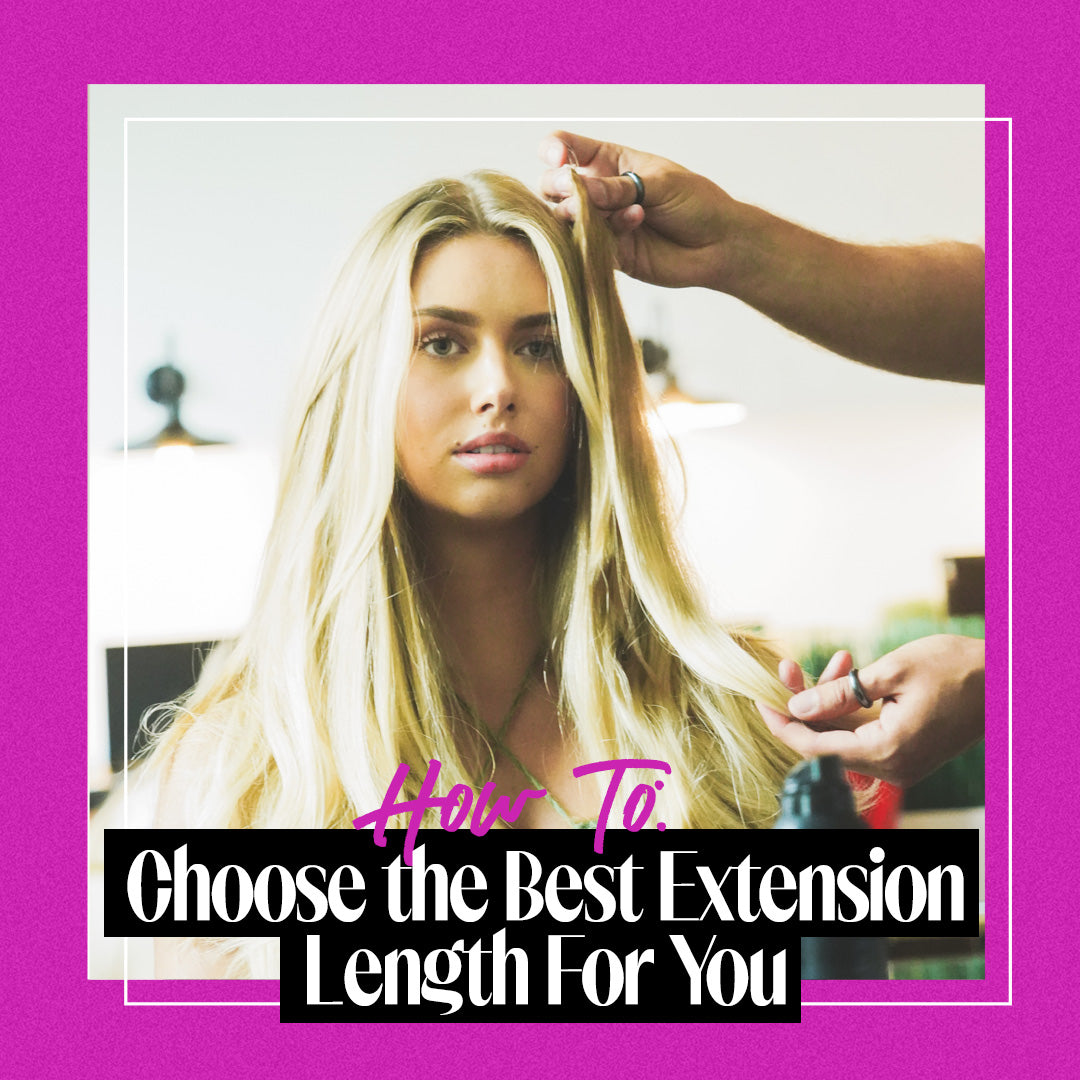 September 8th 2021
How to: Choose the Best Extension Length for Your Hair
Long hair, now let's compare. How do you decide the best extension length for your hair? With so many lengths to choose from, that initial decision may feel slightly overwhelming. We're here to untangle that confusion for you.
Long hair, now let's compare. How do you decide the best extension length for your hair? With so many lengths to choose from, that initial decision may feel slightly overwhelming. We're here to untangle that confusion for you.
Here's your guide to choosing the perfect length so your hair's long, strong, and got it going 'on.
What's the Best Hair Length for Extensions?
If you visit a salon, you may find hair extensions ranging anywhere from 10 to 28 inches in length. Before making your pick, there are two things you must balance: the desired length of hair and the actual length of your torso. If you're shopping extensions on your own, we recommend taking a tape measure from the top of your ear down to your desired length to determine how many inches you need. Check yourself out in the mirror as you measure. If you're wondering, "How long is 22-inch hair?" the tape measure trick will give you the answer. Otherwise, it may be difficult to envision the final look. Here's another extensions tip: as long as you choose real human hair extensions (aka Remy Hair), your stylist can always trim the extensions to your desired length. If you are unsure, it may be worth it to go a little longer, like a 20-inch hair length. Any excess hair can be trimmed and angled to fit your final desired look. Keep reading to get insider tips on some of the most popular hair extensions sizes.
Popular Lengths: 16 vs. 18-Inch Hair Extensions
As you read about these different lengths, remember that extensions will look different on everyone. Before investing in extensions, it is important to research the quality of hair and the diversity of color matches available.
On a person of average height, 16-inch hair extensions will probably look the most natural. These medium-length hair extensions are one of the most popular lengths for extension newbies. They give you more volume and glam without being over-the-top. The 18-inch hair extensions will be slightly longer, and usually reach mid-back if you're average height. If you are indecisive between 16 vs. 18-inch hair extensions, the current length of your hair can help provide clarity. Many experts recommend staying within four inches of your natural length to eliminate a glaring difference between the ends of your own hair and the ends of the extensions. If you do opt for more length, you may also need to add more volume to continue the fullness of your hair. Without that volume, long extensions may start to look stringy.
Popular Lengths: 18 vs. 20-Inch Hair Extensions
So, what does an inch of hair look like, and how drastic is a two-inch difference? As mentioned above, different lengths will have a distinct look based on whoever is wearing them. Though two inches may sound like nothing, it can make quite a difference on someone who is shorter. Always resort back to the tape measure trick when in doubt. If you're stuck between lengths, think about how you want to wear them. Shorter extensions are lower maintenance as they are much easier to blend. Long extensions, especially 20-inch long hair extensions and beyond, require more effort (like heat styling) to give off a seamless look. If you look up 20-inch hair extensions before and after photos, you'll almost always see the after in a curled style as it more naturally hides where your hair ends and the extensions begin. Many professional stylists will also have a 28-inch hair chart or a bundle length chart that you can reference against your hair before swiping that card.
What Type of Extensions Are Best for Me?
Like many accessories, the type of extensions you choose is truly a personal preference. If you are looking for a fun hairpiece to change things up from time to time or when you have an event, clip-in extensions are the best option. They are a DIY solution and can be worn as often or infrequently as you like. Though the initial price tag may seem higher, clip-in extensions are actually less costly than permanent or semi-permanent solutions. With tape-ins, for example, you have to buy the extensions and pay for the professional install. 
Permanent or semi-permanent extensions, however, can last for months. They are ideal for those who want fuller, longer hair all the time. There are many ways to apply these extension types to your hair (learn all about the different hair extensions here). If you're committed to longer, fuller hair for the long run, your stylist can recommend which application method would be best for your hair. 
How to Take Care of Your Extensions
The golden rule applies here. Treat your hair extensions the way you would want your own hair to be treated. Proper maintenance and gentle care will extend the life of your new favorite accessory. Here are a few care tips:
 

If your extensions get tangled - gently use a fine-toothed comb and start detangling from the ends.

 

If you use hair products - try to avoid applying them on the roots of the extensions, as the oils can interfere with the bonding material.

 

If you have permanent extensions - start a sulfate-free shampoo routine, as it won't strip oils or dry out your extensions.

 

If you love to style your hair - try to use heat sparingly on the extensions.
Are you ready to make a purchase? Browse our shop and find your perfect match. Let us know which length and style you're choosing in the comments below!