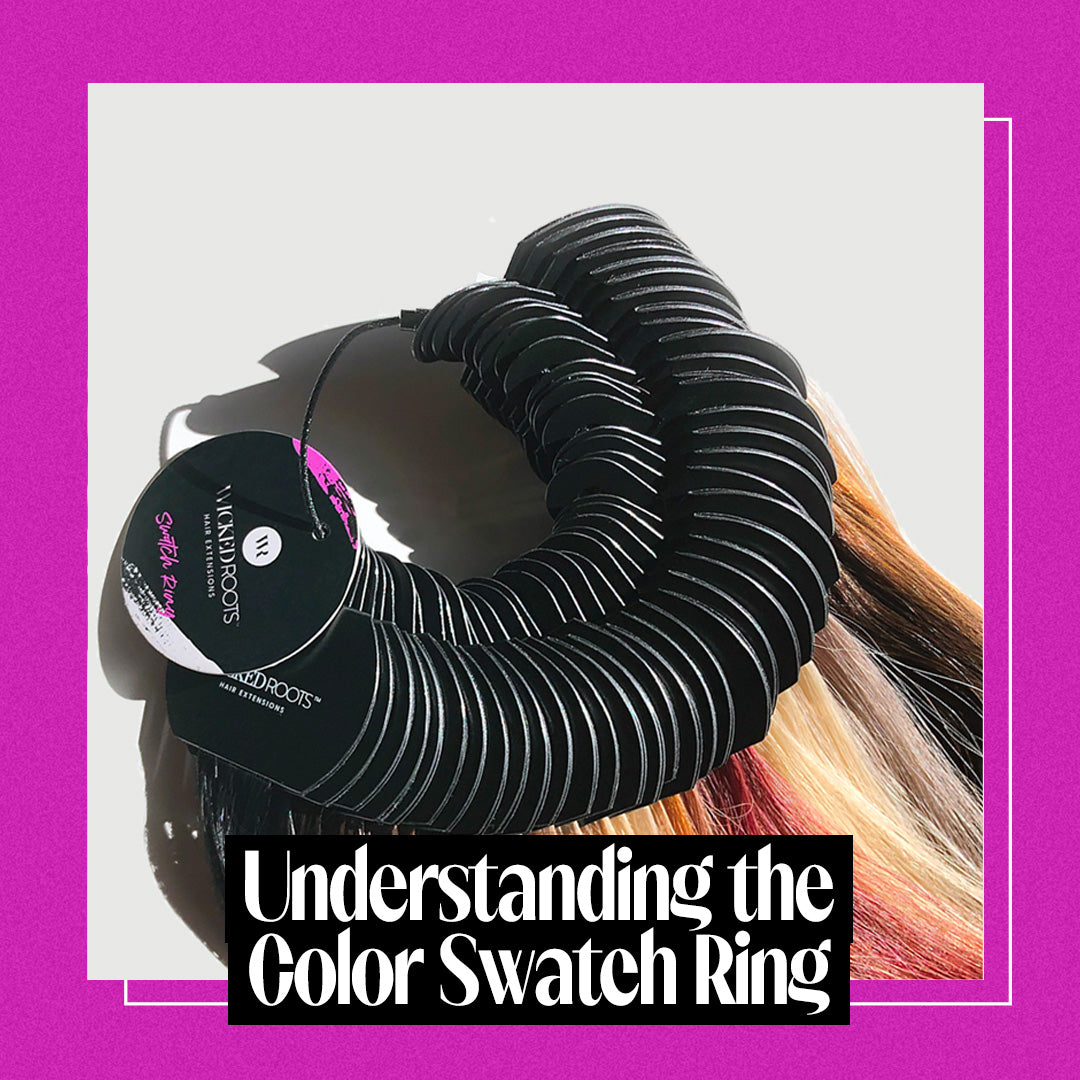 May 23rd 2022
How to Color Match: Understanding the Swatch Color Ring and Individual Color Swatch Samples
Finding the perfect
hair color samples
shouldn't stress you out but with hundreds of hair color samples out there across many different brands, how can you find your ideal shade and find it quickly? Don't worry, we gotcha covered in this blog.
Let's face it: Finding a perfect hair extensions match to your natural hair color can feel like an impossible task. There are hundreds of hair color samples out there across many different brands, so how can you find your ideal shade and find it quickly? Before we let you in on our little secret to color matching, let's start with some of the basics.
What Is a Color Swatch?
You don't have to be a professional to understand the process of choosing hair color samples – you just need to understand the basics. And it all starts with this post, of course.
A color swatch is a small weft of hair that's been colored to a particular shade and tone. The benefits of a color swatch is you can hold it against your natural hair in various lighting to see just how well it blends or adds dimension (depending on your goal). With natural, ombre, and rooted options to choose from, a color swatch is really the best way to determine the shade of your new favorite accessory.
Swatch Color Ring
vs. Individual
Hair Color Samples
When you choose Wicked Roots, you have the added bonus of being able to find the perfect shade through individual Swatch It's or with a full, 42-shade baddie of a swatch color ring. The Swatch It's are great for individuals while our 100% Remy hair color ring is ideal for stylists. Our individual swatch samples are 10" wefts, while our swatch color ring gives you a preview of every single Wicked shade on one convenient ring. 
How Do I Decide Which
Hair Color Sample
Is Right for Me?
One of the most common questions we hear is, how do I find the best hair color sample or color swatch to match my shade? 
Choosing Your Ideal
Color Swatch
No mane is a single color. Your natural hair, whether it's professionally colored or completely dye-free has varying tones. That's why we always recommend ordering a few color swatches that would appear closest to your everyday color to choose your ideal shade.
Here's how to color match:
Take a

color match quiz

to determine the closest colors to your natural locks.

Place your order – we always recommend ordering three swatches. (Plus, when you sign-up for our emails and loyalty program, you'll get a code for three FREE swatches!)

Once those

hair color samples

arrive, find that good lighting (aka natural lighting) by a window, door, or even outside. 

Clip up the top layer of your hair and compare the color swatch against the hair behind your ears, paying close attention to the color from midshaft to ends.

Brush the sample

into your natural hair to blend.

Check yourself out, send a friend a selfie, and select your perfect match.
What Hair Extensions Work Best for You?
So, once you decide on the perfect color, how do you pick the perfect extensions? Let's say you've picked your hair color and you're ready to make the hair of your dreams a reality. You'll want to consider a few things like:
The level of effort you like to put into your beauty routine

The final look you're going for

Your fave hairstyles
For example, if you prefer a quick, one-step beauty routine that you can DIY, Band It is the perfect addition to your look. If you're going for a more permanent style that can add color dimension along with depth and volume, Tape It (applied by your stylist) will be your new BFF. But, if you want a versatile look that creates lots of envy-inducing layers you can style in virtually any look at any time, Clip It is probably your best option.
Snag Your Perfect Hair Color Swatches from Wicked Roots
Finding the perfect hair color samples shouldn't stress you out. With our color match quiz and color matching tools like Swatch It and our Swatch Color Ring, we make color matching easy. 
Still not sure which shade's calling your name? Send us photos in natural lighting to info@wickedrootshair.com and our team will help you find your hair's perfect match!