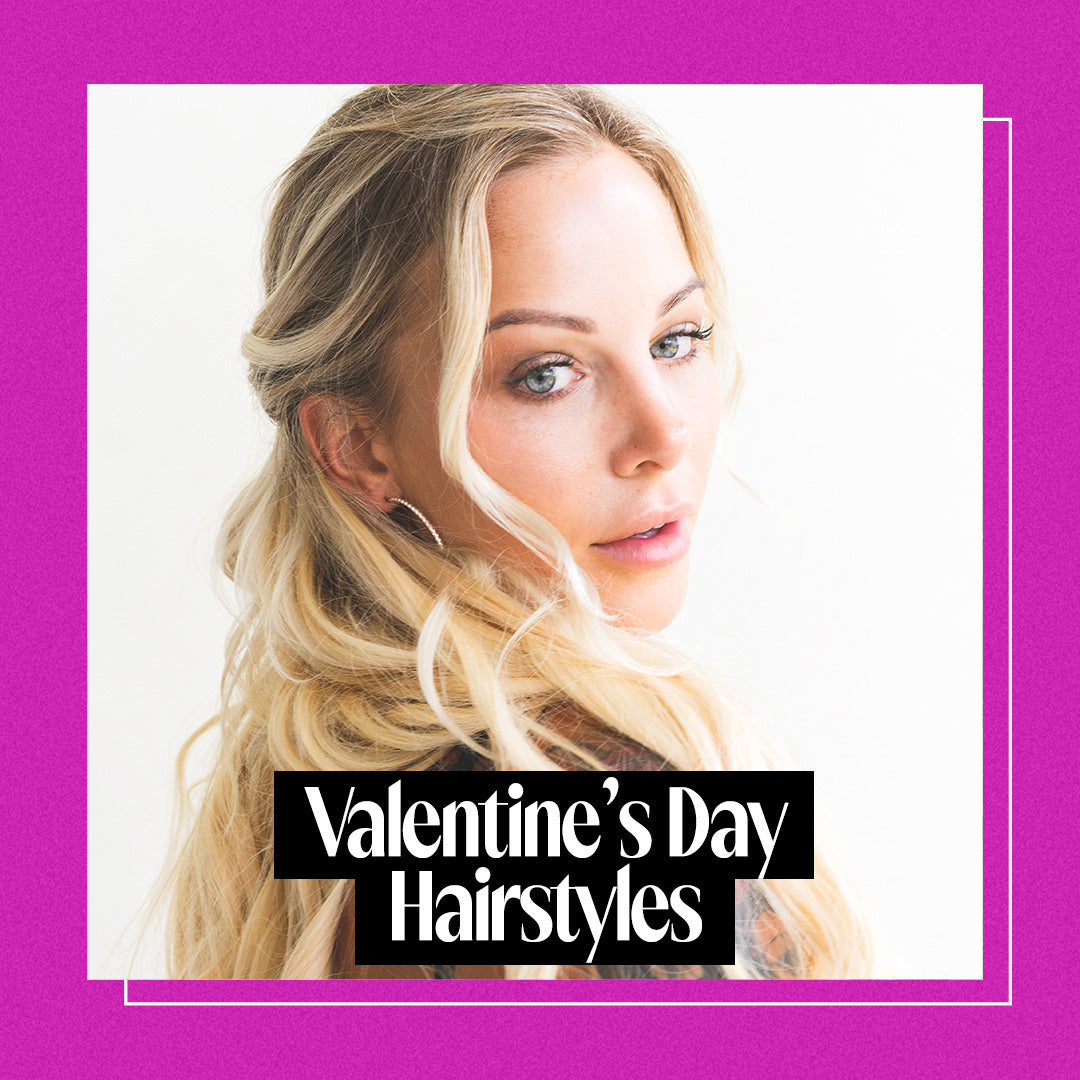 January 28th 2022
Special Hairstyles for Valentine's Day
Looking for your perfect match for

 
Valentine's Day Hairstyles
? We're here to help you fall head over heels in love with your hair. Our 
Wicked Roots ambassadors styled their favorite 
Valentine's Day hairstyles for your viewing pleasure
. Think of them as your own personal glam squad serving fun and flirty looks struck by cupid's arrow. 
Looking for your perfect match for Valentine's Day Hairstyles? We're here to help you fall head over heels in love with your hair.
We've got our Wicked Roots ambassadors sharing their favorite Valentine's Day hairstyles. Think of them as your own personal glam squad serving fun and flirty looks struck by cupid's arrow.
So, how does it feel to absolutely L.O.V.E. your hair?
L is for the way extensions lengthen my hair.
O is for the only Ombré I see.
V is very, very voluminous hair goals.
E is easy valentine's hairstyles that you adore… 
5 Simply Sweet
Valentine's Day Hairstyles
Whether you're spending Valentine's Day with the gals, your bae, or loving yourself, show your hair some love with these romantic hairstyles. 
Cupid-Approved Clips
We're absolutely smitten with this soft look using hair clips to create a classic style with a hint of romance. We've got our lovely Wicked Roots Ambassador @jessimorenon using her 16" Clip It extensions in Butter Ombré for this Valentine's Day hair inspo.
Pro Tip: Pull back a few pieces of face-framing strands into a cute heart-shaped clip or one with sparkle to add that extra flair.
Lovable Loose Waves
You can't go wrong with sultry loose waves for your sweetheart. When choosing from valentine's hairstyles, this one is super easy to style and goes with any outfit. Want to add extra volume and length to your Valentine's hair like Wicked Ambassador @jaxvicious? She uses the 16" Clip It in Platinum Blonde.
Pro Tip: Achieve the best results for this look using a big-barreled curling iron to get those full and bouncy waves.
Be Mine Bangs
Don't you just adore this look with youthful bangs to pull together your romantic night out?! The super sweet @alexandra.akorah rocks her fringe as her go-to style for her Valentine's Day hair. Get her lusciously long locks with the 20" Band It in Bronde Ombre.
Pro Tip: If your bangs are prone to flyaways or are a bit unruly, blow dry with a round brush and use hairspray to set.
Heartfelt Half-Up / Half-Down
Out of all of the Valentine's Day hairstyles, this one is perfect for those of you who can't make up your mind. Get the best of both styles with a half-up, half-down look you will love. Totally crushing on this style by Wicked Roots Ambassador @grill_zimmerman with her 16" Band It in Platinum Blonde.
Pro Tip: Section the top of your hair and loosely pull back toward the middle of your head. Use a curling wand to add some body to the front layers and face-framing pieces for an ultra-sophisticated look.
Beloved Braids
Turn up the desire and embrace beautifully braided Valentine's hair styles.  The versatility of this look is endless with a variety of braid styles to choose from. Loving this single side braid styled by Wicked Roots Ambassador @daniellemoinet? Get her dreamy and voluminous braid with the 20" Clip It extensions in Red Head. Plus, we've got some tips for you redheaded babes to rock your red hair color.
Pro Tip: Pull your hair to one side and start by creating a small braid with a few pieces at the front of your hair. Then, pull the rest of your hair into a low side ponytail and braid it. Next, wrap the small braid around the pony elastic of the larger braid and bobby pin it in place! Pull the braid pieces a bit to create a looser look. Bobby pins are your best friend here!
Fall In Love With Hair Extensions
These Valentine's hair styles are gorgeous on their own, but do you want to take your hair to the next level and really pump up the volume? No matter which of these romantic hairstyles you go for, adding extra length, volume, and dimension with hair extensions will enhance your look. We've got three types of extensions (Clip It, Band It, and Tape It) in varying lengths and 42 stunning shades of 100% Remy human hair.
Are you meeting hair extensions for the first time and feeling shy? We've rounded up everything you need to know about hair extensions!
Love Yourself This Valentine's Day with Wicked Roots
All you need is love, self-love that is.  Whether you're single, hate Valentine's Day with a burning passion, or are completely in love with the holiday and your partner, make sure to find some time for self-love this year.
Treat yourself with a gift like a spa day, amp up your morning skincare routine, or pour yourself a big glass of wine at home with your galentine's.
No matter how you celebrate Valentine's Day, looking good and feeling good is your gift to yourself.
Will you be our Valentine? Embrace your perfect match.
P.S. - Don't forget to tag us on social media using #WickedRootsFam with your gorgeous Valentine's Day hairstyles for a chance to be featured on our account!