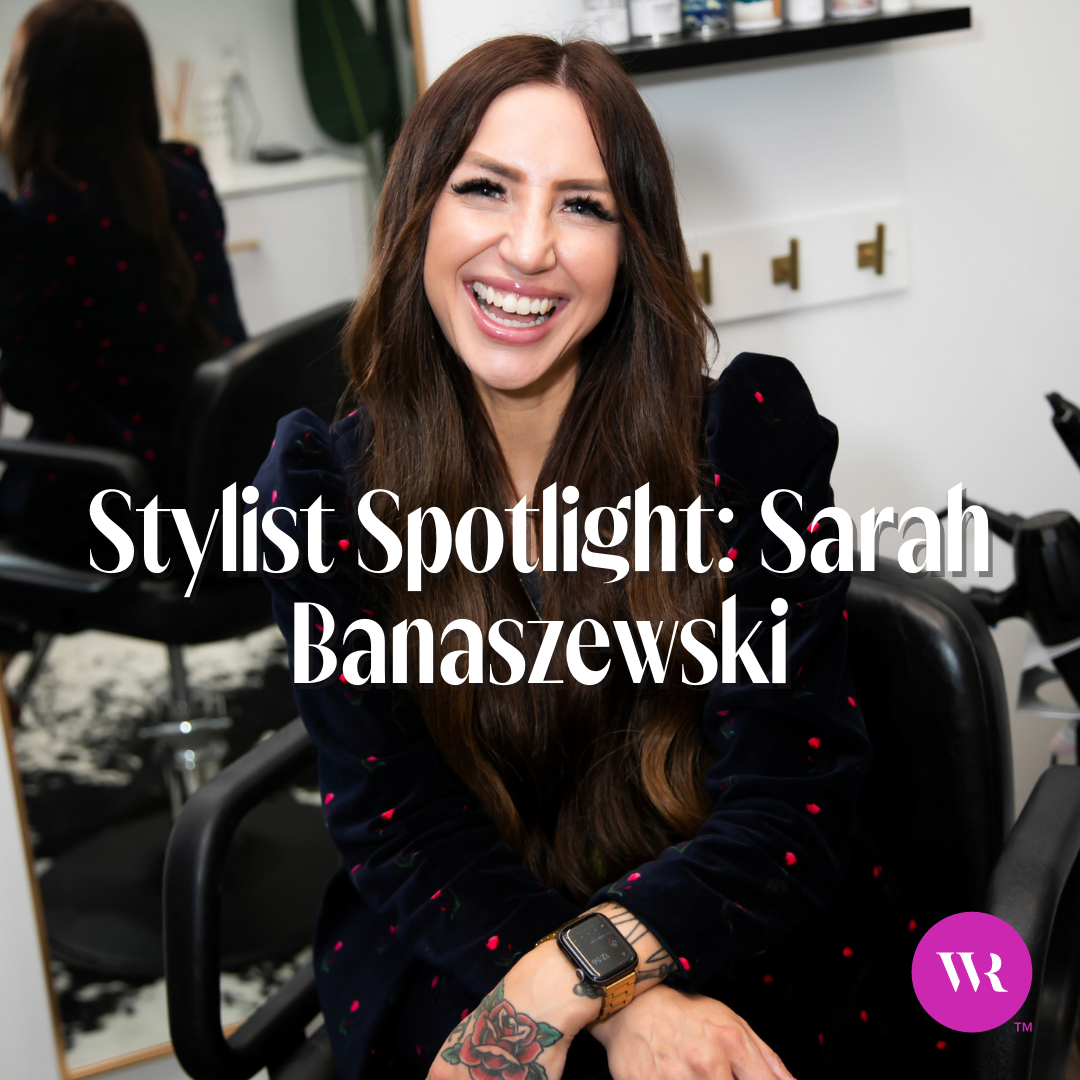 March 9th 2023
Stylist Spotlight: Sarah Banaszewski
Meet 
Sarah Banaszewski (
@sarahmiamihair
)—she knows a thing or two about 
how to style extensions
 and get that flawless 
hair extensions color match
 blend. 
If you want full, gorgeous, and long hair extensions, it's all about choosing quality extensions and finding the best hair extensions salon. Meet Sarah Banaszewski (@sarahmiamihair)—she knows a thing or two about how to style extensions and get that flawless hair extensions color match blend.  
We knew we wanted to partner with Sarah after seeing her stunning work with hair extensions colored to perfection. Whether she's combining tape in hair extensions colors for added dimension or pumping up the volume for her clients, we had to hear more about this talented hair extensions stylist! 
Learn more about Sarah and her Wicked Roots Hair collab: 
Tell us a bit about yourself. 
I grew up in Pittsburgh, PA, and relocated to Miami about 2.5 years ago with my fiancé and 8-year-old son. I have been a licensed cosmetologist for 11 years and also attended college for fashion marketing. We currently live in Aventura with our English bulldog, Stella.  
What are some of your hobbies & passions? 
My passion is definitely doing hair; I love it! But I also enjoy hot yoga and spending time with my family. We love to go to Disney for the weekend or do something fun. I also love to read, and I am a reality show junkie!  
What does a day in your life look like?  
As much as I'd love to be a morning person, I am not, haha! I usually wake up, get my son ready for school, get the dog out, grab my coffee, and then head to work after school drop off. Evenings are usually pretty chill, unwinding and having dinner. I'm in bed by 9:00! 
How did you decide you wanted to become a stylist?  
I love to make women feel good and boost their confidence. I have always enjoyed fashion and clothing, and I think the two industries go hand in hand. I didn't discover extensions until later, but I was just drawn to them and how much they can really change a person. 
How long have you been in the hair industry? 
I got my license in PA in 2012 and my Florida license in 2020. 
What's the best part about being a stylist?  
I have always been a social butterfly, so I really love meeting and interacting with my clients. It is so much more comfortable having my own studio because it's more personal, and we can have one-on-one time, which, I think, makes it a better atmosphere for everyone. Making my clients feel beautiful brings me so much happiness.  
What makes Wicked Roots Hair better than the rest? 
I definitely like their variety of shades. Their customer service is great, and the extensions last! 
What does your hair routine look like?  
I spent YEARS as a high-maintenance, platinum blonde and just recently made the transition to being a brunette. I wear a ton of extensions, so my hair routine does take a bit. I wash twice per week and blow dry and curl each time I wash. And I always brush and use my argan oil! 
What makes you feel wickedly beautiful? 
Honestly, clean hair and a spray tan. 
Who do you look up to when you want hair inspiration?  
I love Morgan Stewart, the Olsen twins, and Jennifer Lopez. I love a lived-in, loose curl. 
What's your favorite look or hairstyle when styling your clients? 
Beach waves 1000%. 
Does Wicked Roots Hair make it easier for you to use extensions as a stylist?  
I like that the tape extensions come in packs of 10 vs. 20. It makes it much easier to mix and match because I typically combine 2-3 shades for my clients. 
If you could give one piece of hair advice, what would it be? 
For extensions…brush and use your argan oil! 
Join The Stylist Collective by Wicked Roots Hair 
Using long hair extensions transforms clients' hair for the dream hair #glowup they've always wanted! If you're a hair extensions stylist that's looking to up their hair game, Wicked Roots Hair is here to slay. We keep it real with salon-quality 100% Remy human hair extensions. It's important to us that anyone who uses our hair gets hair that will look and feel great. You'll always find the right hair extensions color match with 42 shades to choose from.  
We love our stylists, so that's why we created The Stylist Collective by Wicked Root Hair.   
Our program offers exclusive discounts and perks for you and your clients when you join. There's no fee to join, and you'll save 25% on all of our products! Plus, you'll also make a 10% commission when your clients purchase Wicked Roots products directly from our online shop. They'll also get 15% off their purchases when they use your code—a win-win for both stylist and client.  
Ready to get started? Submit your application, and we'll be in touch! If you need help or have questions, contact us at info@wickedrootshair.com. We can't wait for you to join the Wicked Stylist fam!