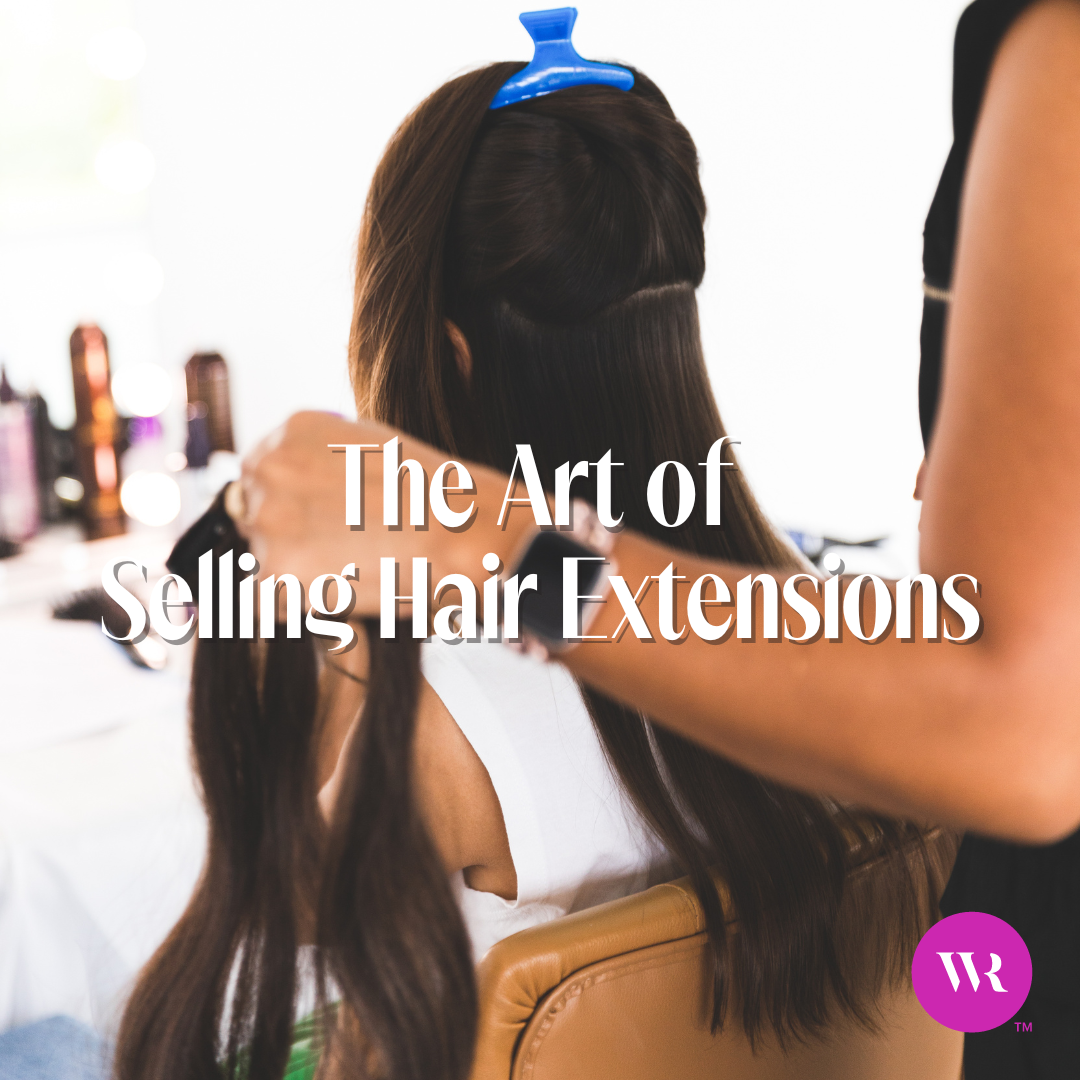 //wickedrootshair.com/cdn/shop/users/avatar_250x250_crop_center_f0ad1dc6-4182-4412-8f45-052bf7447aa9_200x200.png?v=1685998438
August 31st 2022
The Art of Selling Hair Extensions
Interested in selling hair extensions at your salon? We've got everything you need to know right here!
If you've ever installed hair extensions before or worn them yourself, you know that adding length and volume to otherwise thin and slow-growing hair is a game changer. You NEED to offer that to your clients, right?! But if you own a hair extensions salon or want to add hair extensions services to your hair styling repertoire, you have to figure out how to start selling hair extensions. 
We all know hair extensions are mega popular right now. In 2020, the global hair extension market was estimated to be $2.35 billion––and it's projected to grow to $3.43 billion by 2028. (That's A LOT of hair extensions!) 
Clearly, there's a demand for hair extensions salons and stylists who know how to apply them. And that's great––but, again, you need to know how to sell them. Your clients might be extensions-curious but haven't decided yet. Maybe they're wondering about hair extensions salon prices or if the look is right for them. That's where you come in! 
Hair Extensions Salon Selling Tips
Interested in selling hair extensions at your salon? We've got everything you need to know right here! Soon, you can answer all your client's questions. Like: "How much do salon extensions cost?" And: "What's the hair extensions salon application process?" Before you know it, you'll be a hair extensions selling pro, able to expertly guide your hair extension clients in the right direction so they have the best possible experience (especially if it's their first time getting hair extensions!).
Here are our top hair extensions selling tips for your clients.
Wear the Hair Extensions
You know what they say: Seeing is believing!! Trying to sell a product you don't use can be ridiculously difficult. Even if the hair gods blessed you (we're jealous!) and you don't need extra oomph from extensions, you could still rock the look at work. That way, your clients can see them in action. And if a client compliments your hair? Well, now you can bring up hair extensions more naturally.
Demonstrate How They Work
Sometimes it's hard for a client to visualize how something will look on them without actually seeing it. That doesn't mean you have to attach the hair extensions fully, though! Just hold them up to their hair and show them the lengths. If you're using tape-in hair extensions (like our Tape Its), demonstrate how the adhesive works and explain the application, maintenance, reapplication, and removal process. Giving your client a more hands-on approach can help them decide if hair extensions are right for them.
Expand on Key Selling Points
Educate your clients on the quality of your extensions and why the hair extensions you offer are better than other types. If you're using Wicked Roots Hair extensions (which you should be!), explain how they're made of 100% Remy human hair and why that matters. Outlining the details, highlighting the quality, and showcasing your ability to match their natural hair color (see color section below!) will help you land that sale. 
Suggest Hair Extensions for Special Events
Hair extensions take your look to the next level—and are perfect for creating gorgeous hairstyles for weddings, proms, or graduations. If your client is heading to a big event and wants to look glam and make a bold statement, suggest hair extensions. They might not have even thought that was an option! Show them photos of brides or other women wearing extensions and rocking various styles, like updos or loose waves with accessories, to give them an idea of what to expect with their extensions. 
Match Their Color with a Swatch Ring
For color matching purposes, you can bring out a swatch ring and show them all the colors they can choose from. (We have 42 shades!) The client can touch and feel the hair while you help to find the right color on the spot. This way,  they can order the hair extensions and make an appointment to apply them. Secure the sale with a deposit during the consultation for their application service at a later date.
Pricing
Let's say your client asks, "How much does it cost to apply hair extensions at a salon?" There are many different ways to price a hair extension application service, so let's break it down. Keep in mind that pricing depends on several factors including extension type, location, expertise, and more. Some stylists charge a flat fee, while others take into account the cost of the hair and add a service fee on top. Based on the extension type, you should also advise your client that they will need to come back for reapplication and removal, and you will be able to charge for that as well. The most important factor is to be upfront with your clients. 
Offer Discounts and Incentives 
You might even offer a discount—especially for first-time hair extension clients. Maybe you create an incentive or discount for your clients or partner up with a specific hair extension company. At Wicked Roots Hair, we have The Stylist Collective, a loyalty program for hair stylists who want to sell our hair extensions to clients. A rewards or discount program like this can make your client's decision to buy easier. 
Are you a hairstylist interested in selling our hair extensions? We'd love to work with you and your hair extensions salon! Join The Stylist Collective for exclusive benefits and perks for you and your clients! Send us an email at info@wickedrootshair.com if you have any questions.