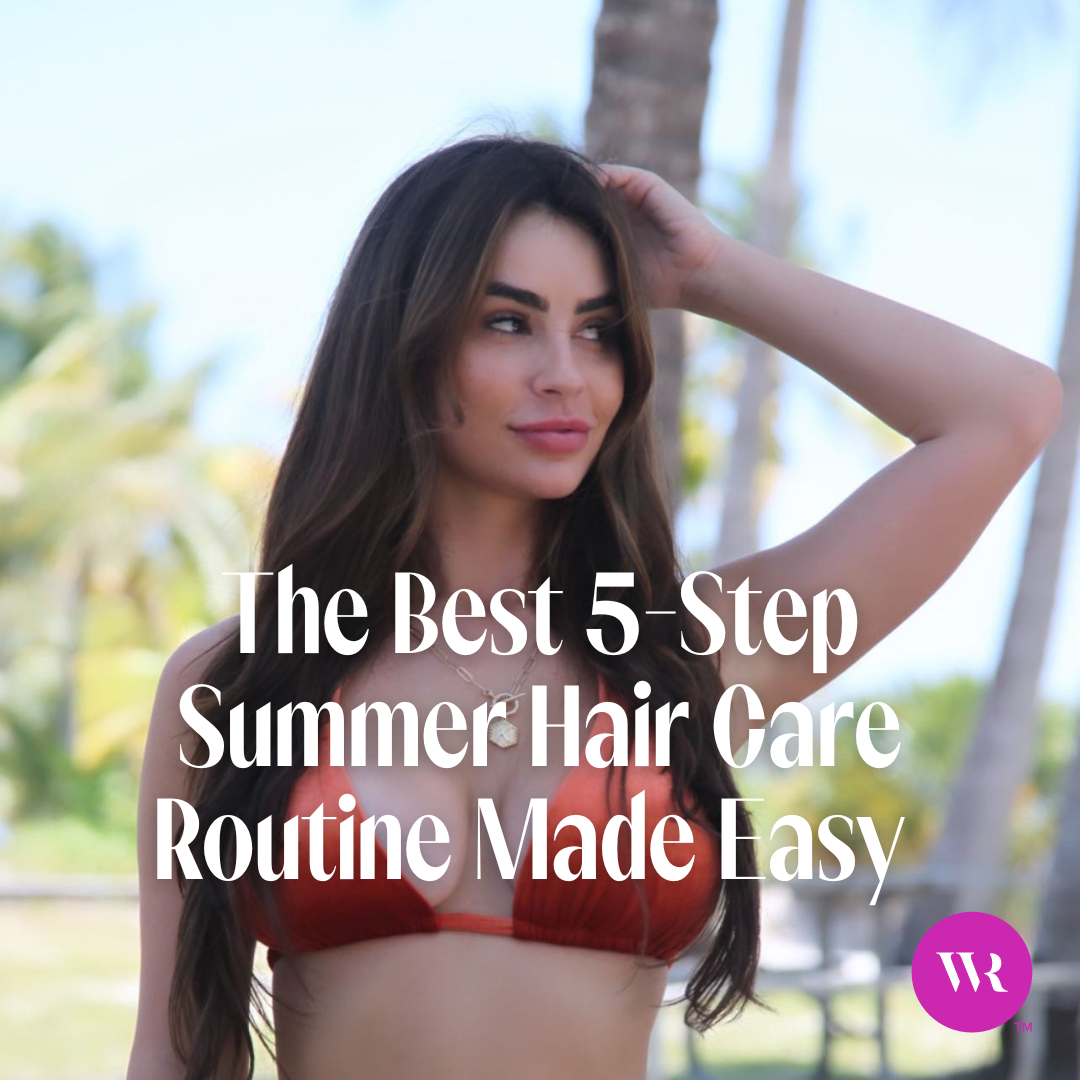 June 9th 2023
The Best 5-Step Summer Hair Care Routine Made Easy
Whether you're looking for hair extension or

 
natural hair care tips for summer,
 

you'll find all of the information you need in one place! It's essential to keep that

 
routine hair care
 

regimen in place for your extensions and your natural hair.

 
Summer is officially here! The weather is changing, and warmer days are ahead. It's time to rethink your summer hair care routine to transition to the new season. As you gear up for beach parties and poolside BBQs, you'll want your hair to be fresh and fabulous for all of the summer fun activities. Keep your fun summer hair colors looking their best with routine hair care so they last longer. 
Whether you're looking for hair extension or natural hair care tips for summer, you'll find all of the information you need in one place! It's essential to keep that routine hair care regimen in place for your extensions and your natural hair. That way, they can both work in hair harmony for healthy and strong strands all summer long! 
Make sure you take notes—you'll want to add these tips to your summer hair care routine.   
Summer Hair Tips
to Add to Your Daily Routine 
When we think of summer, it's carefree days enjoying the weather instead of being in cold, dreary mode. As the temperatures change, so should your routine hair care process! The secret is making sure your strands are moisturized so they don't get dried out with the hotter climate (not to mention frizz-city with more humidity too.)  
Follow these steps for the ultimate summer hair tips to make it the best hair summer ever:   
STEP 1: In the Morning 
When you first wake up, start your summer hair care routine by brushing your hair out with a boar bristle brush to distribute your hair's natural oils. During the night, your hair will naturally produce oil, so it's important to brush it all throughout your strands. Start from your roots down to your ends. If you're using Clip It™ or Band It™ extensions, use a gentle brush made for hair extensions when you're smoothing them out before applying them to your hair.   
STEP 2: Before the Beach or Pool 
Before heading to the beach or pool, use these summer hair tips to protect your hair from UV rays and chlorine/salt water. Shield your hair from the sun by wearing a cute hat or scarf. If you plan on swimming, you can either put your hair up to not get it wet at all or rinse it with cold water in the shower before taking a dip. This step helps prevent your hair from absorbing the chlorine or saltwater since it's already wet!  
STEP 3: Out and About 
Once you're at your summer get-togethers, continue your routine hair care to be kind to your strands. Look for a shady spot to relax and enjoy the breeze to avoid extreme heat and UV rays drying out your strands. If you're doing a physical activity such as kayaking, biking, or playing sports, put your hair in a braid or bun to avoid hair matting and tangling. Keep a brush in your bag so you can brush out any tangles after swimming or other activities.   
STEP 4: When You Get Home 
Next up is your summer hair care when you get back from your day of summer fun! If you feel like your hair needs a refresh, use some dry shampoo to reduce oil and make it feel good as new If you got your hair wet in saltwater or chlorine, you'll want to wash your hair when you get home. When using Clip It™ or Band It™ extensions, it's best to take them out and wash them separately. Since Tape It™ is semi-permanent, you'll wash them along with your natural hair. Use a leave-in conditioner to replenish moisture in your tresses.   
STEP 5: Before Bed 
After a long day, it's time for your night hair care routine. Work your fingers around your scalp in a circular motion to pump up the volume in your hair so your hair doesn't flatten out as much when sleeping. It feels great and also stimulates your scalp! If you're showering before bed, remove your Clip It™ or Band It™ extensions first.  
If you have Tape It™ extensions in, ensure they're fully dry before going to bed. Going to bed with wet hair is a recipe for bacteria and mold to thrive in your wet strands. It's a good idea to braid your hair extensions so they don't tangle in the night. Brush out and then store your Clip It™ or Band It™ extensions in their storage tote overnight for safekeeping. 
Routine Hair Care
Made Easy with Wicked Roots Hair™ 
Follow these hair extension and natural hair care tips for summer to keep the good hair vibes going! Get all of the best hair care products you need from Wicked Roots Hair™, from shampoo and conditioner to leave-in spray, stock up on the essentials. Our haircare products are gentle on our 100% Remy human hair extensions to keep your summer hair feeling and looking its best! 
For more tips on summer hair care and beyond, follow us on Instagram at @wickedrootshair.